UK research explores the effects of climate change on soil microbes
UK research explores the effects of climate change on soil microbes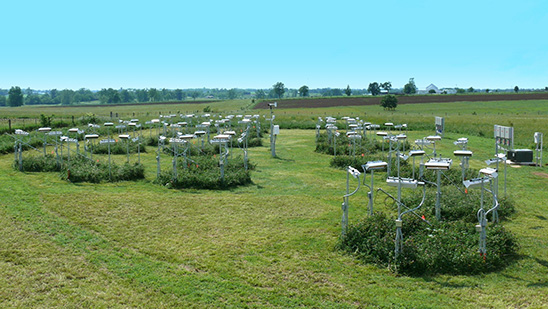 LEXINGTON, Ky.—
Soil microbes transform nutrients in the soil into a usable form for plants. A University of Kentucky College of Agriculture, Food and Environment researcher studied the effects climate change could have on these essential organisms.
During the one-year study, Lindsey Slaughter, a UK graduate student, studied an area of typical Central Kentucky cool-season pasture and took soil samples to see how the microbes would react to year-round temperatures that were warmer by 3 degrees Celsius and to a 30 percent increase in precipitation during the growing season. These figures are what scientists predict might occur in Kentucky as a result of climate change.
Slaughter found that the soil in the warmed plots, as well as the plots that were managed for both higher temperatures and precipitation contained more microbes year round. During the winter, these warmer microbes also consumed more carbon than normal, resulting in less available food for them to transform into nutrients for plants when they need it during the growing season.
"Areas that have less organic material are usually less productive," she said. "Maintaining a healthy amount of soil carbon is really important to long-term soil productivity and health."
She compared the simulated climate change effects to the seasonal effects that occurred during 2011, the year of the study. That year featured near-average temperatures and precipitation for the area.
"During that year, the pastures had more microbes during the spring and winter, but a larger active microbial community during the summer," she said.
Slaughter said scientists need more long-term studies before they can fully understand the effects of climate change on soil microbes. Her study occurred during the third year of a larger, five-year study led by UK grassland agroecologist Rebecca McCulley that looked at the effects of climate change on forages.
"The effects of climate change on microbes were really small in this study, but I'm not sure if my results are the starting or ending point of the effects of climate change," she said. If it's the start, these changes could escalate over the years, which could affect the health of the soil and the pasture's future productivity."
Slaughter's results were published in the Soil Science Society of America Journal.
---
Crops
Environment
Research
Sustainability
Weather