UK research finds a new threat to monarch butterfly food
UK research finds a new threat to monarch butterfly food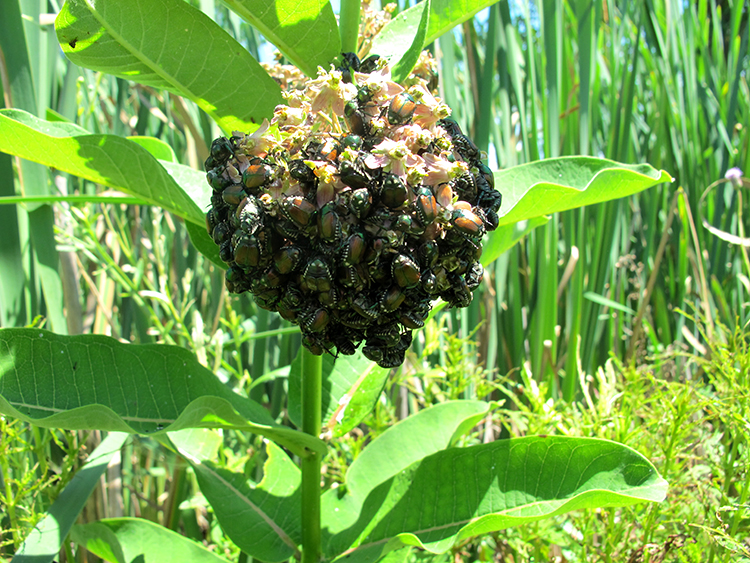 LEXINGTON, Ky.—
University of Kentucky entomology researchers have found that a common, invasive beetle is feeding on milkweed plants, which are the only source of food for monarch butterfly larvae. These beetles could hinder international efforts to rebuild the struggling pollinator's population.
Adam Baker, an entomology graduate student in the UK College of Agriculture, Food and Environment, first found Japanese beetles on milkweed plants while conducting routine surveys of monarch larvae for another research project.
"We observed large clusters of Japanese beetles feeding on common milkweed growing wild in pastures, naturalized areas of parks and other settings in Central Kentucky," Baker said. "They were gathering in large clusters and feeding on flowers. They reduced fruiting and seed set by more than 90 percent and caused extensive damage to plants in the field."
Japanese beetles were first discovered in New Jersey in 1916 and feed on about 300 species of plants. Over the years, the beetles have expanded beyond the Eastern seaboard and are now found across much of the Midwest. This is troublesome as the Midwest produces the highest numbers of monarchs that overwinter in Mexico each year.
In the past two decades, monarch butterfly populations across the United States have declined by 90 percent due, in large part, to the loss of milkweed host plants from primary breeding grounds. Conservationists have focused much of their efforts on rebuilding milkweed populations to improve butterfly populations. Japanese beetles had not previously been considered a contributor to the problem.
"Given the Japanese beetles' outbreak status in the Midwest and its continuing expansion in the main monarch flyways, this invasive pest is likely to limit outcrossing and reproduction of wild milkweeds, as well as those planted for monarch habitat restoration," said Daniel Potter, UK professor of entomology and Baker's advisor. "The beetle may also impact the milkweed seed industry in the central Midwest, which provides most of the seed used for monarch habitat restoration."
Baker's findings were recently published in the academic journal Scientific Reports. The full article is available online at https://www.nature.com/articles/s41598-018-30731-z#ref-CR8.
---
Entomology
Research