UK research helps take bite out of mosquitoes in backyards
UK research helps take bite out of mosquitoes in backyards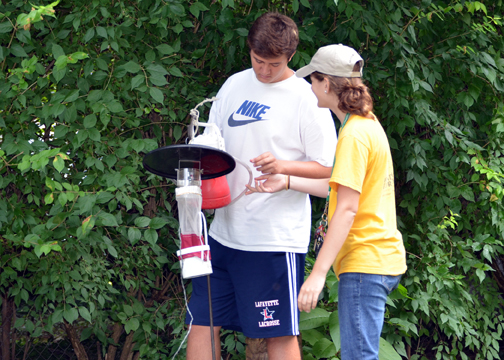 LEXINGTON, Ky.—
A University of Kentucky entomologist is conducting a study on mosquito pressure in Lexington and the effectiveness of various mosquito control methods.
The goal is for the 25 Lexington backyards in the study to serve as a model for the effectiveness of various control products methods in U.S. suburban backyards. The yards are located throughout the city and were selected because of their size and landscape.
"Mosquito pressure in Lexington is somewhat higher this year than in recent years, but that varies from neighborhood to neighborhood," said Grayson Brown, entomologist in the UK College of Agriculture, Food and Environment. "Older neighborhoods are having more mosquitoes than normal, but that's not the case in the newer ones."
He said the increased mosquito pressure is likely due to the wet summer and that the mosquito populations started arriving a little earlier this spring.
The Asian tiger mosquito has accounted for 90 to 95 percent of the biteson test subjects in Lexington. The mosquito, a native of Southeast Asia, has been in Kentucky since the 1980s and is the primary vector of canine heartworm. In Southeast Asia, it is known to transmit dengue fever to humans.
"Some Asian tiger mosquitoes have tested positive in the United States for other viruses, but it's not a principal vector for human disease right now in the U.S. But it sure is a possible threat as cases of dengue fever have been reported in South Florida," Brown said.
Various control products and systems were applied to Lexington backyards Aug. 1. Brown and UK graduate student Kyndall Dye and high school student Caleb Mass will monitor their effectiveness for the next six weeks. During that time, area Asian tiger mosquito populations should peak, Brown said. Products and methods being tested include various chemicals, traps that attract mosquitoes looking for a blood meal and traps that attract mosquitoes looking for a place to lay eggs.
Brown has conducted this study for several years. Effectiveness of the products and systems over the years has increased to about 90 percent control of mosquitoes for four to six weeks after initial applications.
Study participants and numerous pest control companies will receive a copy of the results.
---
Entomology
Extension
Research