UK research seeks to understand and reduce environmental exposures in Eastern Kentucky
UK research seeks to understand and reduce environmental exposures in Eastern Kentucky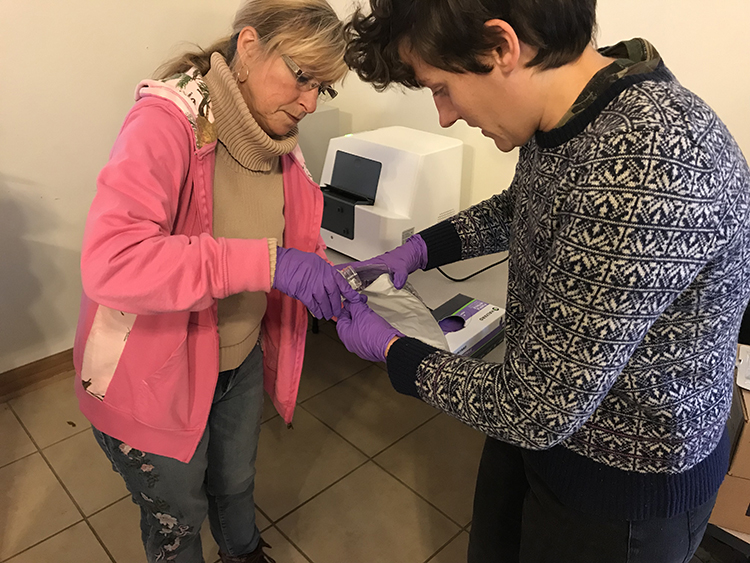 LEXINGTON, Ky.—
In a new study, University of Kentucky researchers and members of three community-based nonprofits will use a multidisciplinary, stakeholder-engaged approach to identify and reduce drinking water disinfection byproduct exposure in Martin and Letcher counties.
Disinfection byproducts, also known as DBPs, form when halogen-based disinfectants, such as chlorine, react with natural organic matter and algae in drinking water sources. DBPs include trihalomethanes, haloacetic acids, chlorate and other compounds. Exposure to high levels of DBPs have been associated with adverse health effects, such as cardiovascular birth defects, and in the case of long-term exposure, bladder cancer.
DBPs are among the most frequent drinking water quality violations in the United States. They are responsible for U.S. Environmental Protection Agency regulation violations in 85 of Kentucky's public drinking water systems, making DBPs by far the greatest source of violations statewide. The problem is exacerbated in Appalachian counties due to regional reliance on surface (rather than ground) water sources, and economic constraints that result in widespread use of free chlorine as the disinfectant at local wastewater treatment facilities.
The UK team, which includes scientists from three colleges with a vast array of expertise, is led by Jason Unrine, professor in the UK College of Agriculture, Food and Environment, and Anna Goodman Hoover, assistant professor in the College of Public Health. The project is funded by the National Institutes of Health's National Institute of Environmental Health Sciences' Research to Action program.
"Bringing this team together and working with local citizen scientists will help us better understand how the relationships among home location, seasonal changes in surface water chemistry and home characteristics influence DBP exposure risks," said Unrine, professor in the Department of Plant and Soil Sciences. "We also will be able to build models that can inform efforts to mitigate exposure to DBPs."
This study will build on findings from two previous pilot studies and one community grant funded by the UK Center for Appalachian Research in Environmental Sciences, which is led by Professor Ellen Hahn of the College of Nursing. These projects identified needs to expand DBP exposure sampling for both ingestion and inhalation and to incorporate seasonal fluctuations in DBP formation to understand factors influencing exposure risks.
The researchers expect the study will generate new insights about DBP formation and exposure pathways while building local partnerships and capacity to reduce DBP exposures at the local level.
"New scientific findings can only go so far without the ability to apply them in solving real-world problems," said Hoover, assistant professor in the Department of Preventive Medicine and Environmental Health. "From citizen scientists to our study's Stakeholder Consultation Core, we will be engaging community members in ways that build their DBP-related knowledge and skills while also learning about the feasibility and practicability of potential risk-reducing interventions."
In addition, the study integrates research teams and community partners from the pilot projects while also adding environmental health literacy and public health communication components.
The UK team includes College of Engineering researchers Lindell Ormsbee, Kentucky Water Resources Research Institute director, and Kelly Pennell, UK Superfund Research Center director. Jay Christian from CPH and Wayne Sanderson from CAFE are also part of the research team. Community-based co-investigators are Mary Cromer from Appalachian Citizens' Law Center, Hilary Miles from Headwaters Inc. and Betsy Taylor from Livelihoods Knowledge Exchange Network.
Research reported in this publication was supported by the National Institute of Environmental Health Sciences of the National Institutes of Health under Award Number R01ES032396. The content is solely the responsibility of the authors and does not represent the official views of the National Institutes of Health.
---
Community Development
Environment
Extension
Research