UK research shows how to build more effective monarch butterfly gardens
UK research shows how to build more effective monarch butterfly gardens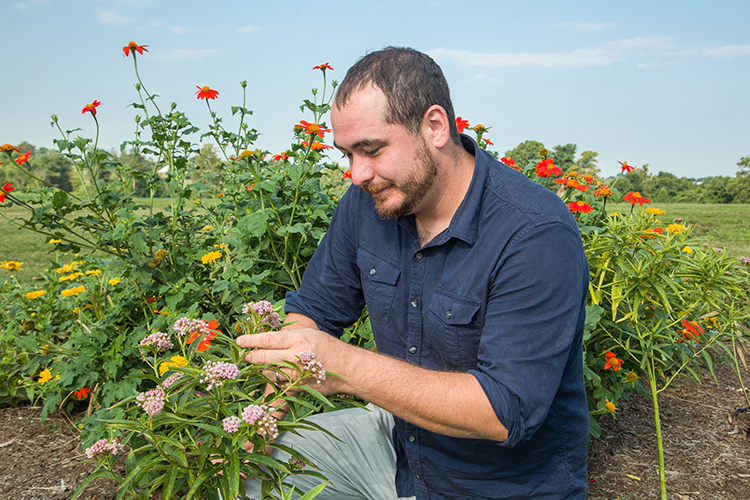 LEXINGTON, Ky.—
Installing gardens with milkweed and other flowering plants is a way for the public to help conserve the monarch butterfly, but University of Kentucky scientists have found not all gardens are equal when it comes to attracting them. A new study conducted by Adam Baker, UK doctoral student, and Daniel Potter, UK entomology professor, suggests that garden layout is important to making these so-called "Monarch Waystation" habitats more effective.
The monarch is a beloved, native butterfly whose population is declining due to habitat loss. Since the 1990s, eastern migratory populations have dropped by 80%. Scientists attribute the population decline to the loss of milkweed host plants due to agricultural practices and increasing urbanization. Baker and Potter showed in a previous study that the butterflies readily find and use small, urban gardens as steppingstones during their incredible cross-continental, annual migrations to Mexico.
"Numerous programs encourage citizens to establish gardens with milkweed and nectar plants to help offset habitat loss across the monarch's breeding range," Baker said. "Our recent findings suggest guidelines for garden design that can help make the urban sector's contributions to monarch habitat restoration more rewarding for participants, and of greater potential value to monarch recovery."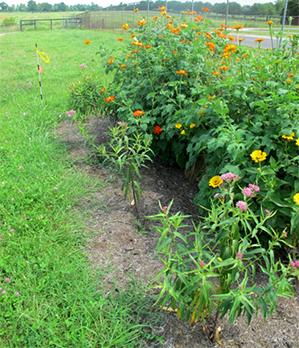 In the most recent study, Baker and Potter discovered that monarch eggs and larvae were 2.5 to 4 times more abundant in gardens with milkweeds planted around the perimeter as opposed to gardens in which milkweeds were surrounded by or intermixed with the other plants. They also found more eggs and larvae on milkweed plants in gardens that had 100 meters of north-south access unobstructed by buildings or other structures.
In a companion field study, the UK entomologists found female monarchs laid significantly more eggs on standalone milkweed plants as opposed to milkweeds that were visually "camouflaged" or physically blocked by adjacent non-host plants.
For the study, Baker monitored the presence of monarch eggs and larvae at 22 citizen-planted gardens in Central Kentucky and completed a field study of three different waystation layouts at UK's Spindletop Research Farm.
The study was published in the open-access academic journal, Frontiers in Ecology and Evolution, and is available as a free download at https://www.frontiersin.org/articles/10.3389/fevo.2019.00474/full.
---
Entomology
Environment
Research
Sustainability