UK research shows promise in fight against emerald ash borer
UK research shows promise in fight against emerald ash borer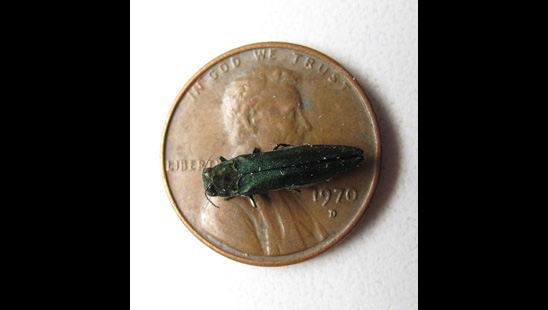 LEXINGTON, Ky.—
Entomology researchers in the University of Kentucky College of Agriculture, Food and Environment have received encouraging results in their fight to protect Kentucky ash trees from the emerald ash borer. EAB is an exotic wood-boring invader that kills ash trees.
During the past two growing seasons, UK forest entomologist Lynne Rieske-Kinney, her lab members and personnel from the Kentucky Office of the State Entomologist have released three species of parasitoid wasps that may be capable of helping to stop the invasive insect. This summer, Rieske-Kinney and Bill Davidson, UK entomology graduate student, recovered one species, Tetrastichus planipennisi, from several sites and by multiple sampling methods. Tetrastichus planipennisi lands on the bark of a tree and detects the chewing vibrations EAB larvae make while feeding within a tree. The parasitoid then lays its eggs in the EAB larvae, eventually killing it.
"Tree mortality occurs so rapidly that it is difficult to get parasitoids established in time, and ash conservation is primarily reliant on chemical protection," Rieske-Kinney said. "Our approach uses lower amounts of chemicals to slow EAB development and delay tree mortality, releasing biological control agents and giving native parasites time to discover newly invading EAB populations. Our findings suggest that the parasitoid is becoming established in the research area."
The emerald ash borer first appeared in the state in 2009 in Central Kentucky and has spread each year since. It now appears in 35 counties in varying intensity. According to the Kentucky Division of Forestry, the state has more than 130 million white ash trees and 92.5 million green ash trees, but their distribution varies across the state. Counties with the largest number of ash trees include Henry, Bath, Spencer, Pulaski and Hopkins. Rieske-Kinney conducted research in the north-central Kentucky counties of Henry, Spencer, Fayette, Anderson and Shelby.
"The emerald ash borer is really well established in Henry, Shelby and Anderson counties," Rieske-Kinney said. "While the EAB is present in Fayette and Spencer counties, we have not seen any tree mortality at our study sites in those counties yet. We're hoping to catch the infestation as it arrives."
In addition to the parasitoid establishment, UK forest entomology researchers found two native parasitoid groups with potential to be natural biological control agents for the borer.
"One of the groups, Atanycolus, has been recovered by researchers in northern states as well," she said. "The other genus, Heterospilus, is a parasitoid that has never been associated with the emerald ash borer before."
Heterospilus species are known to parasitize native wood-boring larvae, several of which are closely related to the emerald ash borer. Davidson and Rieske-Kinney recovered at least two species of Heterospilus in borer-infested logs.
"Our findings suggest that this genus may easily transition to EAB," she said. "They also suggest that our native parasitoids may be learning the emerald ash borer is available and may be using it as a host, hopefully contributing to EAB suppression."
---
Entomology
Forestry
Research