UK research validates, tweaks BMPs for woodlands
UK research validates, tweaks BMPs for woodlands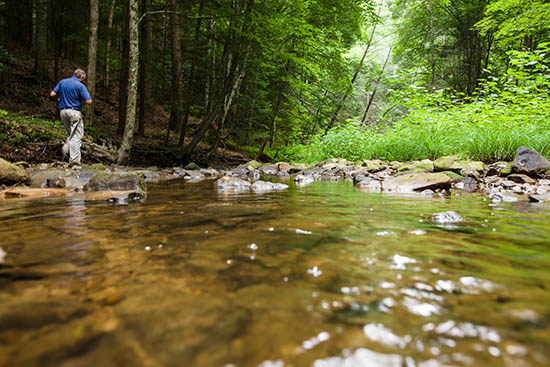 LEXINGTON, Ky.—
After spending 10 years collecting and analyzing data, University of Kentucky forestry researchers have determined which best management practices are effective and which need minor adjustments in order to protect woodland waterways from the effects of logging.
Kentucky is one of the top producers of hardwood timber in the nation, with logging operations in every county. The state also has more than 90,000 streams and rivers. The combination of thriving forest industries and access to an abundance of large and small waterways makes protecting the commonwealth's water a priority. The UK Department of Forestry has been a partner in the development of best management practices in woodlands since the Kentucky legislature created the Agriculture Water Quality Authority in 1994. The authority's mission is to alleviate pollution to surface and groundwater resources from agriculture and forestry activities.
UK forestry professors Jeff Stringer, silviculture, and Chris Barton, forest hydrology and watershed management, oversaw more than a dozen graduate students and a number of undergraduate interns from 2004 to 2014 who examined logging impacts on forest resources in eight watersheds located in Robinson Forest, the UK College of Agriculture, Food and Environment's research and education forest in southeastern Kentucky. Loggers harvested two watersheds using the current standard for best management practices. They logged four other watersheds using two different BMP treatments that the researchers theorized would provide more protection. Two additional watersheds were left unharvested as controls.
"At the end of the day, what we saw was that our current recommended BMPs do a pretty good job of protecting our water resources," Barton said. "With that said, we also found that the best management practice changes we made in the other watersheds actually provided some additional protection. Our BMP treatment that provided the most protection was not statistically different than the unharvested control for nearly all of the parameters examined."
One change resulting from the study was to increase the distance between streams and skid trails and logger roads. The process of mechanically moving trees can create erosion, which ends up in streams.
The standard distance between road and stream required by the existing best management practice is 25 feet on ground with less than a 15 percent slope. The new BMP will increase that to 50 feet. On steeper ground, the distance will increase from 55 feet to 100 feet.
"The distances we had been using were too small, and we got sediment in the stream, so we backed them up." Stringer said.
Erosion is a problem that costs everyone.
"It's a huge problem, because one of the biggest costs in treating drinking water is getting the sediment out of it," Barton said. "Billions of dollars are spent in the U.S. every year just removing sediment from water, so it can become drinkable. If we could do something to prevent erosion in our headwaters where these logging activities are occurring, then that basically is a big economic savings to everybody who relies on public water resources."
Loss of the tree canopy can also cause water pollution from excessive sunlight hitting a stream. Excess sunlight increases the temperature of the stream, which reduces dissolved oxygen, causing problems for life forms living in the water. To prevent this, one of the best management practices dictates the amount of standing trees loggers must leave around streams. The researchers' analysis determined that the original recommendations were sufficient and no changes were made to that particular BMP.
These protections also have significant benefits for aquatic biology and wildlife that use streams and streamside areas.
"We looked at the effects of our treatments on sensitive aquatic species," Stringer said. "Our research indicates the BMPs and the changes we made provide adequate protection of our streams."
The new BMPs will take effect on Jan. 1, 2017. Stringer is in the process of rolling out the new requirements by holding workshops for Kentucky Division of Forestry county rangers who inspect logging sites, through a new BMP manual, and by informing woodland owners and training master loggers, a program that Stringer oversees. Each commercial logging site is required to have at least one master logger on site.
"Not only did we provide information that is useful for anybody who is entrusted with water resources, but the research project was an incredible training tool and educational tool. In addition to the students who worked on the project, we've incorporated it into our courses," Barton said. "We did this as a research project. It ended up not only having research implications, it had policy implications too. And just having those sites as outdoor classrooms and as a platform for teaching and educating students and professionals has been tremendous."
Stringer counted the many benefits from the project: researchers assessing the situation and developing answers, UK Cooperative Extension helping to disperse the information and college courses benefiting as well.
"This is a perfect example of how the land-grant system is supposed to work—research, extension and education," he said.
Other members of the research team included Randy Kolka, a hydrologist with the U.S. Forest Service and former UK Forestry hydrologist, and Scott Grubbs, an aquatic biologist from Western Kentucky University.
---
Environment
Extension
Forestry
Research