UK students to elevate annual fashion show with local supporter Elisabeth Goth and emcee Carson Kressley
UK students to elevate annual fashion show with local supporter Elisabeth Goth and emcee Carson Kressley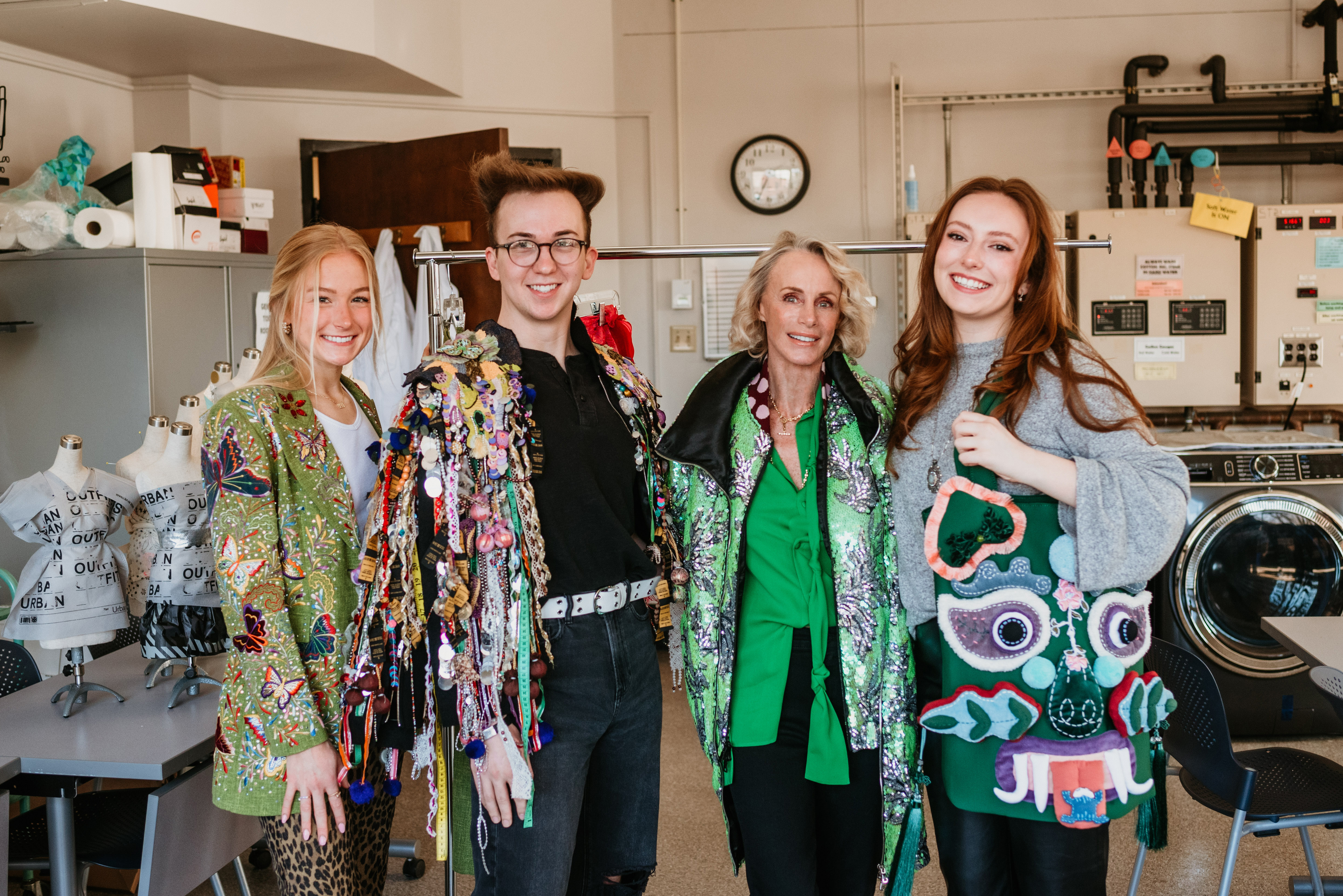 LEXINGTON, Ky.—
Warming temperatures and a waning pandemic have many fashionistas eager to see and be seen. At least, that's what University of Kentucky merchandising, apparel and textiles students are hoping.
Undergraduates are inviting the campus and greater Lexington community to their "Color Me Kentucky" fashion show set for 6 p.m. Thursday, April 14 in the Longship Club at Kroger Field.
The coordination and execution of this event is the main focus for students in class MAT 559: Fashion Show Production.
"The students in MAT 559 produce the fashion show from start to finish, partnering with local boutiques and showcasing as much Lexington fashion as possible," said Scarlett Wesley, course instructor and associate professor of retailing and tourism management in the UK College of Agriculture, Food and Environment.
The class offers hands-on learning, and funds raised from the show go toward student travel opportunities, such as the department's Paris Fashion Week program. With potential scholarships on the table—or runway, if you will—organizers are especially eager to run the event at a scale not seen since 2019, including the return of a cocktail hour and silent auction.
This year, students are elevating the show even further. In addition to a new venue and increased capacity, the students are receiving motivation and creative inspiration from Lexington's fashion-forward Elisabeth Goth.
"By the time I was five, I was using Chapstick to glue outfits on my paper dolls," said Goth, whose passion and style remained throughout her professional life in the Saddlebred industry.
Outside of her equine work, Goth's personal ventures have led her to international fashion shows, connections with top designers and an exceptional wardrobe filled with one-of-kind, handmade garments. These experiences, coupled with a commitment to lifelong learning, led her to the UK merchandising program in Fall 2021 where she joined Wesley's merchandising strategy class. Since then, Goth has had "a tremendous amount of fun" learning alongside the students, offering them guidance and instilling the importance of individualism—a value she believes is paramount in both fashion and life.
"America is one of the few countries that does not recognize fashion as art, and that's why I want to be involved with this program," Goth said. "It fills me with joy to see the energy and excitement coming from these students."
Students in MAT 559 have taken Goth's enthusiasm to heart.
"Elisabeth has been a true inspiration," said Whitney Augustine, junior merchandising, apparel and textiles student. "She is the true meaning of being 100% yourself... (and) she has made it possible for us to not limit our vision in this show."
In addition to being an irreplaceable soundboard and cheerleader, Goth is lending several couture pieces to the show and one special friend: television personality, actor and designer Carson Kressley, who will preside as master of ceremonies for the event.
"This fashion show is already pushing all of us out of our comfort zones, making us more confident, more knowledgeable," said Augustine. "And Carson Kressley is going to be the cherry on top."
While the fashion show is shaping up to be an unforgettable event, Goth hopes the students remember something well after the night is over.
"Mostly, I hope these students will have the courage to go, and do, and be... exactly who they are. For me, fashion has always been a way of expressing that."
VIP and general admission show tickets may be purchased at https://go.uky.edu/fashionshow while supplies last. Local retailers interested in advertising at the event, donating an item to the silent auction or contributing merchandise for attendee swag bags may contact Scarlett Wesley at scarlett.wesley@uky.edu.