UK students learn about Blue Zones in overseas trip
UK students learn about Blue Zones in overseas trip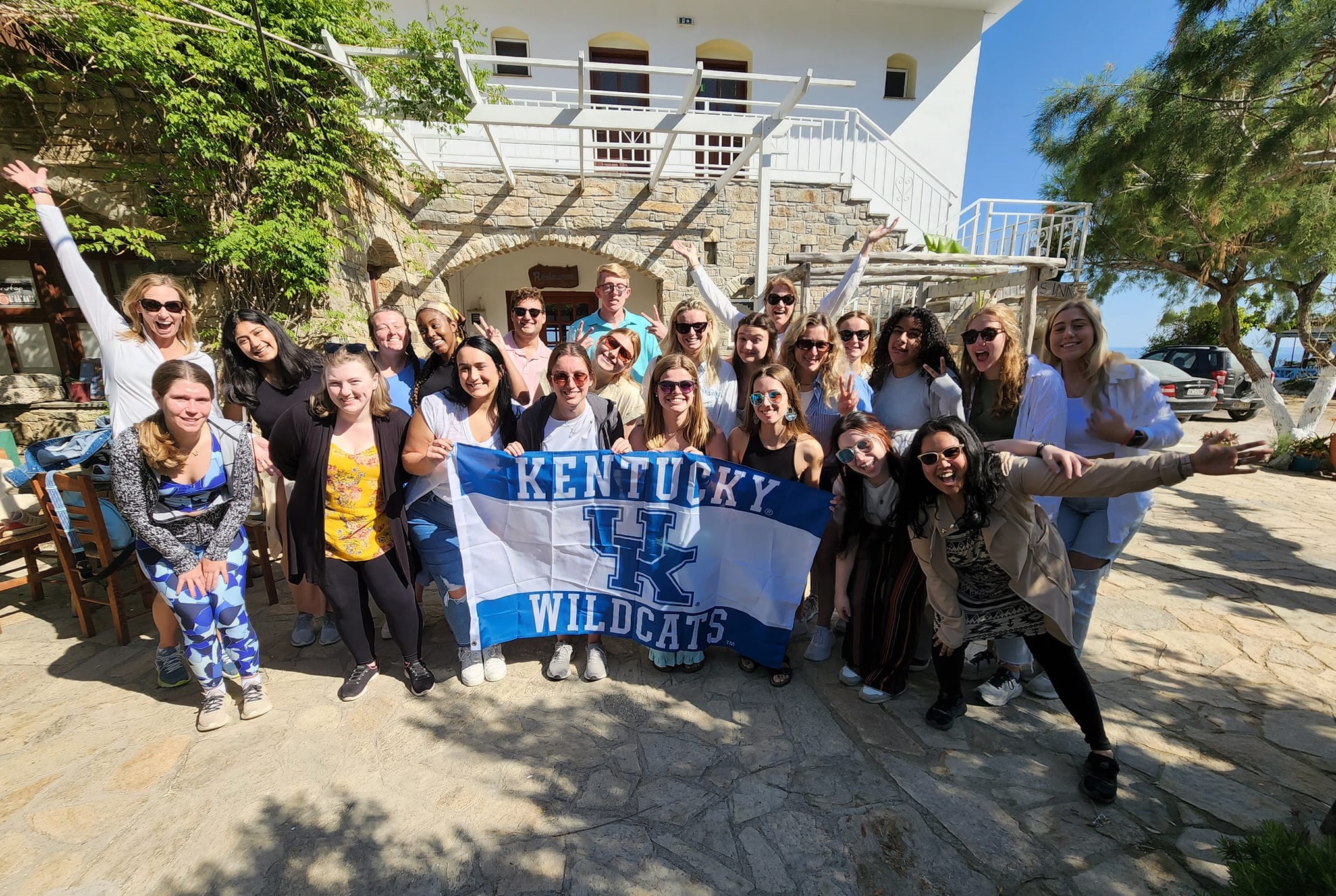 LEXINGTON, Ky.—
University of Kentucky students, including many from the College of Agriculture, Food and Environment and College of Nursing, are learning how some populations of the world live exceptionally long and healthy lives.  
On the secluded Greek island of Ikaria, 36 students learned firsthand how cultural practices influence health, well-being and lifespan. Organizers chose this site as the venue for the Education Abroad course because it is one of five international "Blue Zones," which are areas where individuals are more likely to live to be 90 years old or more.  
"Ikarians are a fantastic example in terms of a population that experiences long lifespans," said Kendra OoNorasak, director of community outreach in the Department of Dietetics and Human Nutrition and one of the directors of the Greece Education Abroad program. "We got to spend some great time with residents of the country learning about their diets and ways of life." 
Throughout the spring semester, students spent classroom time examining and discussing contributing factors to health and wellness. They discovered that life purpose, family interaction, meaningful social ties, good diets, outdoor physical activity and spirituality all contribute to Ikarians' lifespans. Students learned about the balanced and integrated way of life on Ikaria by using these lifestyle qualities as a guide, and gained skills and insights into how to incorporate Blue Zone ideals into their daily lives at school and in local communities. 
During their time in Ikaria, students sampled and made authentic Mediterranean Greek foods, talked to healthcare professionals, met with local residents, learned about the educational system and visited numerous historical sites.  
"While we were there, we were able to see and experience things that can't be taught in a classroom," said Allison Henderson, a senior dietetics major. "One thing that struck me about Ikaria was the strong sense of community among its residents. The Ikarians were always visiting their neighbors and talking amongst each other. They weren't concerned about what time of day it was or if they felt they had more important things to do. They always stayed in the moment and appreciated the time spent together, rather than becoming stressed or worried about other things." 
In Athens and Ikaria, students explored the city's markets and spice streets, browsed mom-and-pop specialty shops offering local wine, olive oil, cheese and olives and sampled goods from family-run delicatessens. In addition to visiting and learning about ancient Greece, students immersed themselves in the food culture, its evolution and the health benefits of locally sourced, organic produce. 
"The Mediterranean diet and lifestyle is something that we all respect," OoNorasak said. "There is a lot that we can take away from it. Getting a chance to see what makes it so healthy and unique from the Western diet was very interesting and I believe transformative for the students." 
Henderson said it was informative learning how a healthy diet and lifestyle went hand-in-hand with the feeling of community. Many meals were eaten "family style," which she said promoted conversation among the students and strengthened their relationships and friendships with one another. 
"This point is something that would be useful in my future work as a registered dietitian," Henderson said. "Eating a healthy diet and having a healthy lifestyle is important, as the Ikarians have demonstrated, but combining those things with the fellowship and company of others can also be beneficial. Living that lifestyle then becomes something you enjoy rather than simply being good for you. 
Originally slated for 10 students, the demand for the program far exceeded the number of minimum spots allotted, attracting more than 50 applications. 
OoNorasak, explained they accepted as many eligible students as possible to accommodate student interest after many months of lost travel and Education Abroad opportunities due to the pandemic.  
Future education abroad trips include a Costa Rican Blue Zone, Australia, Stockholm, Sweden, Italy and Hawaii.  
"We try to engage our students in all sorts of cultures, not just what they experience in the United States," OoNorasak said. "It's really fascinating how people live in different areas of the world and I believe for students to carry forward, it is important they have a well-rounded knowledge and that is what we hope to accomplish with our travel programs." 
For more information about Education Abroad programs and opportunities, visit the UK International Center at http://www.international.uky.edu/EA. For more information on Education Abroad Health and Wellness programs to the Blue Zones, contact program directors, Amy Kostelic, amy.kostelic@uky.edu and Hartley Feld, hartley.feld@uky.edu. 
---
Nutrition