UK students making gin in a real-world distilling experience
UK students making gin in a real-world distilling experience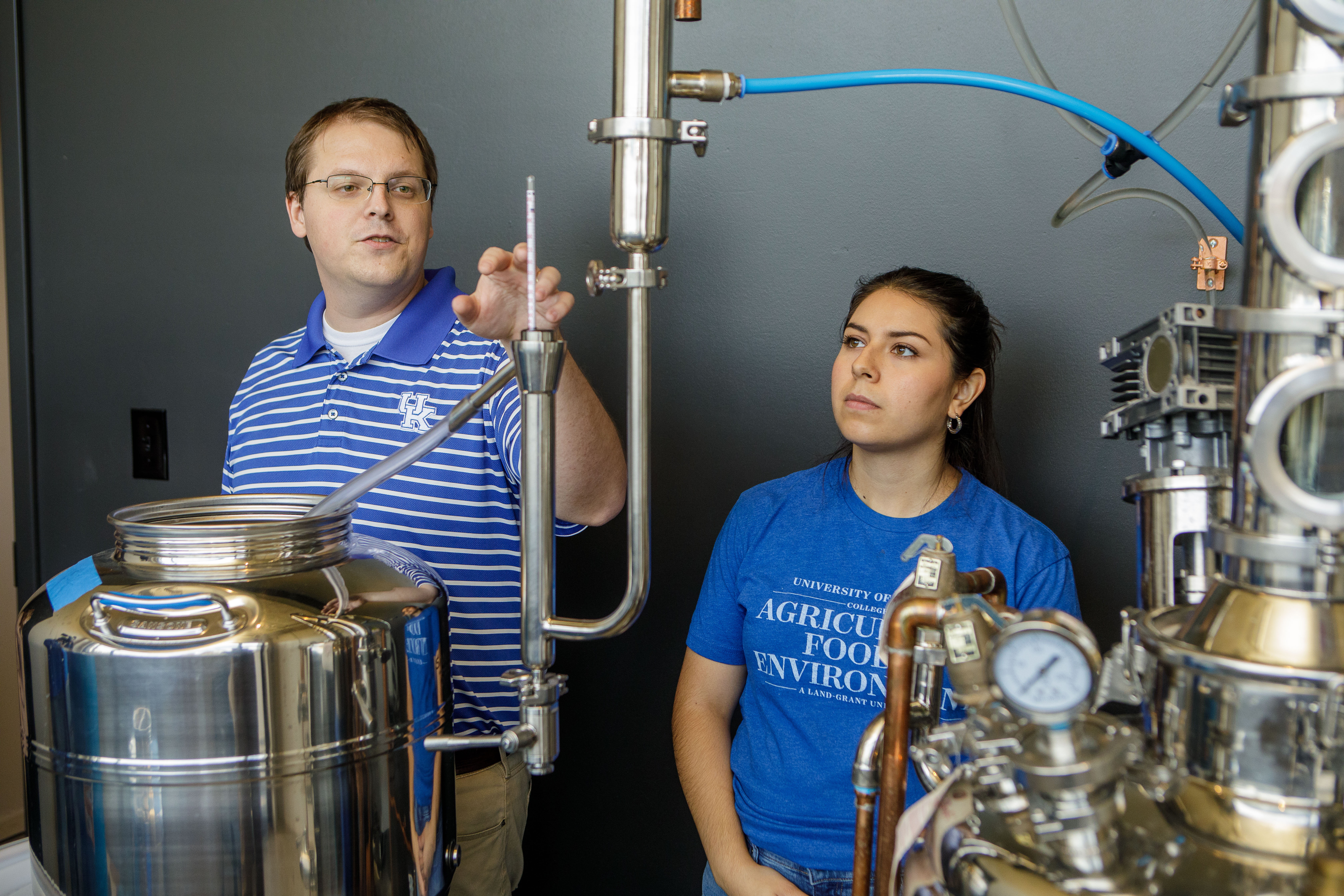 LEXINGTON, Ky.—
Making bourbon is not a quick process. It takes years after distillation to taste the final product. Students in the University of Kentucky's Distillation, Wine and Brewing Studies program don't have years to wait, so professors and industry partners are teaching them to make gin. Students can produce gin in one semester from concept to bottle.  
"Making gin allows us to give students some freedom in creativity while still teaching them about distillation," said Jarrad Gollihue, technical director for the James B. Beam Institute for Kentucky Spirits. "RD1Spirits approached us about partnering in a hands-on educational experience, and we decided on this gin production class."  
Gin does have a period where it needs to rest a bit before it's ready for consumption, but Gollihue said that time is much shorter than the multiple years that bourbon requires. 
Meeting weekly at RD1's William Tarr Distillery in Lexington, students crafted their own recipes using a variety of botanicals. Juniper berries are required, but beyond that, class members could choose from many additional ingredients. The students conducted a sensory panel to decide which recipe they would use to scale the product. RD1 representatives also provided business insight to give students an idea of what consumers would buy.  
One student's recipe and vision rose to the top. Kimberly Lopez-Torres is a senior food science major in the UK College of Agriculture, Food and Environment. A native of Mount Sterling, she's also pursuing the Distillation, Wine and Brewing certificate.  
"Gin is one of those alcohols I was honestly not familiar with," she said. "Having more experience in learning what it is and how it differs from other spirits was interesting. My classmates found that my gin was pretty applicable to all our demographics. I decided to do something a little more traditional and then added some spices not usually found in gin to give it a Kentucky twist." 
Lopez-Torres said Kentucky's southern hospitality has always impacted her life, so she wanted to make something that embodied all of that.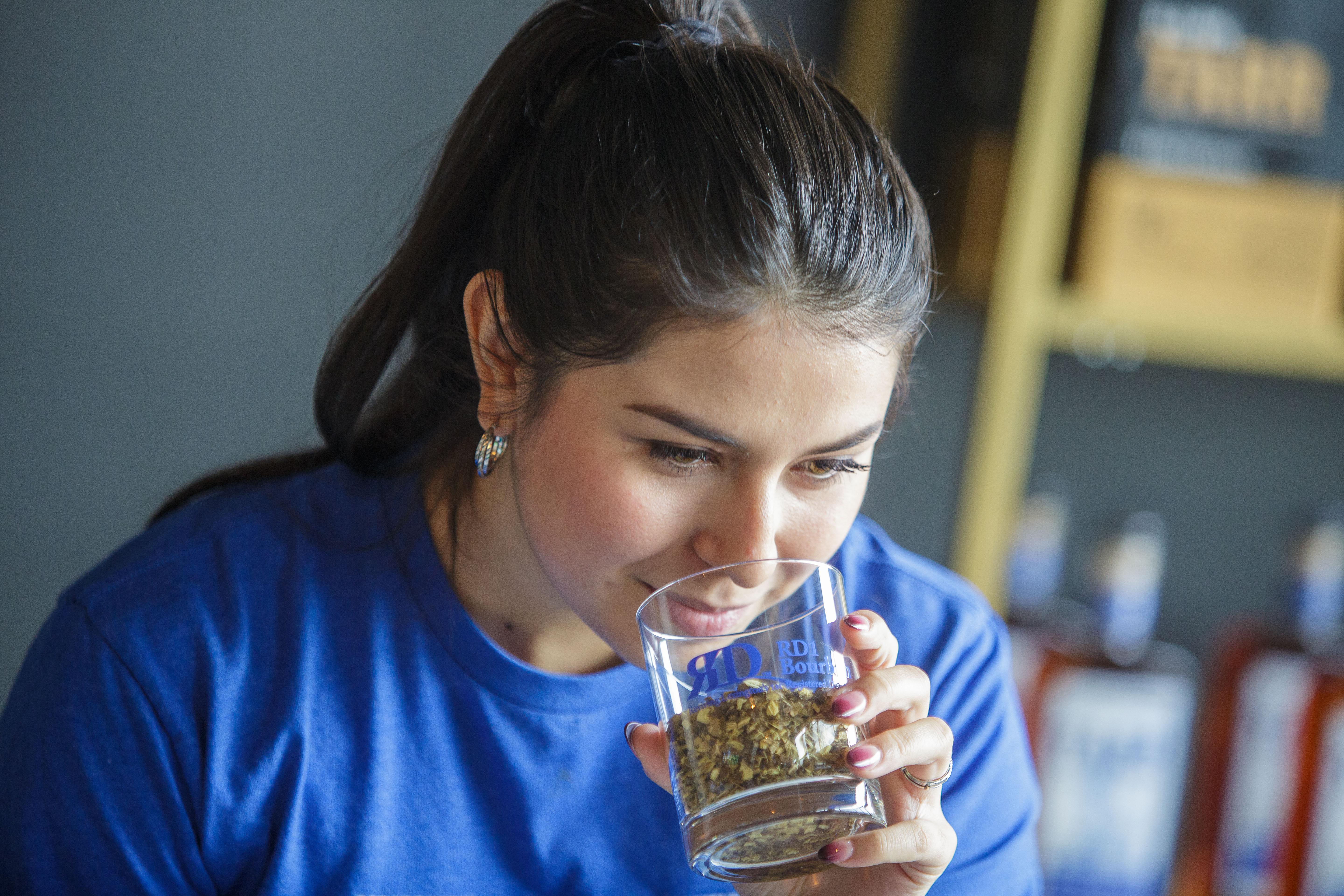 "I wanted gin to have its own warmth and using ingredients like green cardamom, cinnamon and cassia root really adds those sweet, but spicy flavors that I feel highlights the hidden gem that is Kentucky, with its rolling hills and beautiful horses," she said.  
Glenna Joyce, distilling education coordinator at the Beam Institute, said she was pleased with how the students immersed themselves in the creative process. 
"There were several students who came in with some really creative botanical recipes," she said. "One recipe used lime leaves instead of orange or lime zest and it still imported quite a bit of lime flavor into the final product. Other recipes included lavender, nutmeg, peppermint tea and even one with a fresh mash of strawberries and lemons—almost making a strawberry lemonade gin. We really just tried to see their vision and help them make it happen."  
Gollihue said it is encouraging that businesses in the spirits industry want to collaborate with the Beam Institute. 
"The industry is showing that it's really interested in training the next generation of distillers," he said. "There's quite a learning curve in distilling careers, so having this kind of experience before they graduate will shorten that curve and position students well for moving into a distillation career." 
The James B. Beam Institute for Kentucky Spirits ensures the welfare and prosperity of Kentucky's spirits industry. Through teaching, research and outreach, the institute promotes economic sustainability, environmental stewardship and responsible consumption. The Beam Institute is a multidisciplinary effort of experts from the UK College of Agriculture, Food and Environment, College of Engineering, College of Arts and Sciences and Gatton College of Business and Economics. For more information, visit the Beam Institute website at http://beaminstitute.ca.uky.edu.  
---
Beam Institute
Research