UK students re-think the role of design in Kentucky town
UK students re-think the role of design in Kentucky town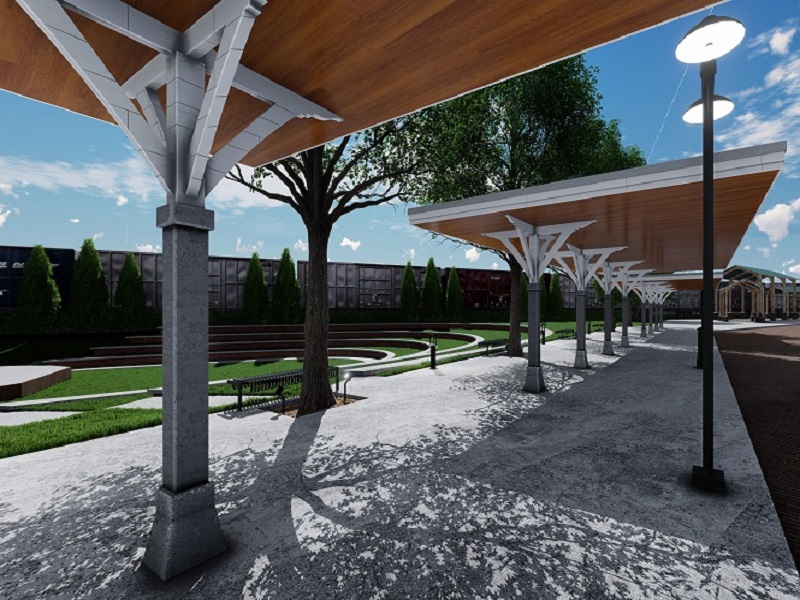 LEXINGTON, Ky.—
Winchester is getting a little help revitalizing its downtown thanks to students from the University of Kentucky College of Agriculture, Food and Environment. A collaborative project between the city, CAFE's Department of Landscape Architecture, UK's Community and Economic Development Initiative of Kentucky and the UK College of Design is bringing regenerative enhancements to the small town. 
Launched in May 2019, the Winchester Design Studio is a three-year pilot project to visualize what a downtown storefront could look like by fully embedding the design and economic development resources of UK into a small Kentucky community. Due to the large nature of the project, decision makers opened a storefront across from the courthouse in downtown Winchester, a move to allow the most efficient use of the university's community design work.  
"Areas which have experienced decades of downtown disinvestment, specifically rural towns, can overlook their existing assets," said Ryan Sandwick, Winchester Design Studio director. "The collaboration with CAFE brought Winchester's assets to the forefront and we've been able to tie Winchester's regeneration efforts in with their heritage and the things that make the town unique." 
Community design is an important approach in downtown regeneration efforts, however, smaller communities are frequently underserved. The UK project provides these services through both an academic and professional setting and addresses the community's needs based on their specific circumstances.  Originally, the studio's aims were to primarily assist the town with physical downtown development and community design. However, in early 2020, the COVID-19 pandemic changed the scope of the program. The goal pivoted to include support for the community with an emphasis on health and wellness. With this revised focus, the mission of the studio adapted to reflect what it would look like to design a city for children and more shared experiences between community residents. 
"We've done all sorts of different things with the community, especially when COVID-19 was at its peak and everything was virtual," Sandwick said. "We've really been able to adapt to the community's needs. We've been able to undertake efforts that will really bring out the best that Winchester has to offer." 
Winchester Design Studio helped bring positive change with a book club to facilitate conversations about ways to advance health and wellness. The Happy City Virtual Book Club brought together members from all over central Kentucky to discuss avenues to attain more happiness in their local environment. Topics included the health impact, designing areas for children and being community advocates. After piloting this book club through the Winchester Design Studio, additional book clubs began and adapted based on Cooperative Extension audiences and their needs.  
The studio also assisted the Winchester/Clark County Farmers Market's effort to create a permanent facility. 
"We've worked on a master plan for Depot Street with the city and the farmers market to help create a new downtown green space as a northern anchor of Winchester," Sandwick said. "One great unforeseen benefit is that other projects to improve the area, such as the renovations of other structures, are underway, which has been really exciting to see. While we don't take credit for those projects, I can't say they would have happened if we hadn't been such strong advocates, pushing forward over the past few years." 
Not only has the Winchester Design Studio been able to reposition design in the community, it has also centered students efforts in beneficial, real-world projects. 
Harrison Knifley, a 2021 landscape architecture graduate currently a designer with the landscape architecture company EDSA, was one of many students who touted the experience of working with the studio helping their careers. 
"As a young professional, I could not have hoped for a better initiative to galvanize my career," Knifely said. "While working with the Winchester Design Studio, I was able to tie university practice with practical experience while consecutively sharpening my design skills. Most importantly though, I started to understand the importance of asking 'Why does design matter?' Having the experience to communicate the 'why' behind the design has no doubt amplified my growth within our practice." 
"The studio has been the first real-life experience for a lot of the students we've worked with," Sandwick said. "They've had to design for specific situations, such as with housing security. Second-year students from the School of Interiors worked with housing service providers that help people in Winchester and Clark County experiencing homelessness and substance use disorder."  
Sandwick said students created designs specifically geared to bring dignity and hope.  
"The first time someone walks into a provider, how does the design of the building make them feel? They want to know that they are welcome and dignified," he said. "It was a little overwhelming to some of the students at first, but it really pushed them out of their comfort zone and will help, not only the community but the students as they continue in their work."