UK students receive immersive Costa Rican educational experience of a lifetime
UK students receive immersive Costa Rican educational experience of a lifetime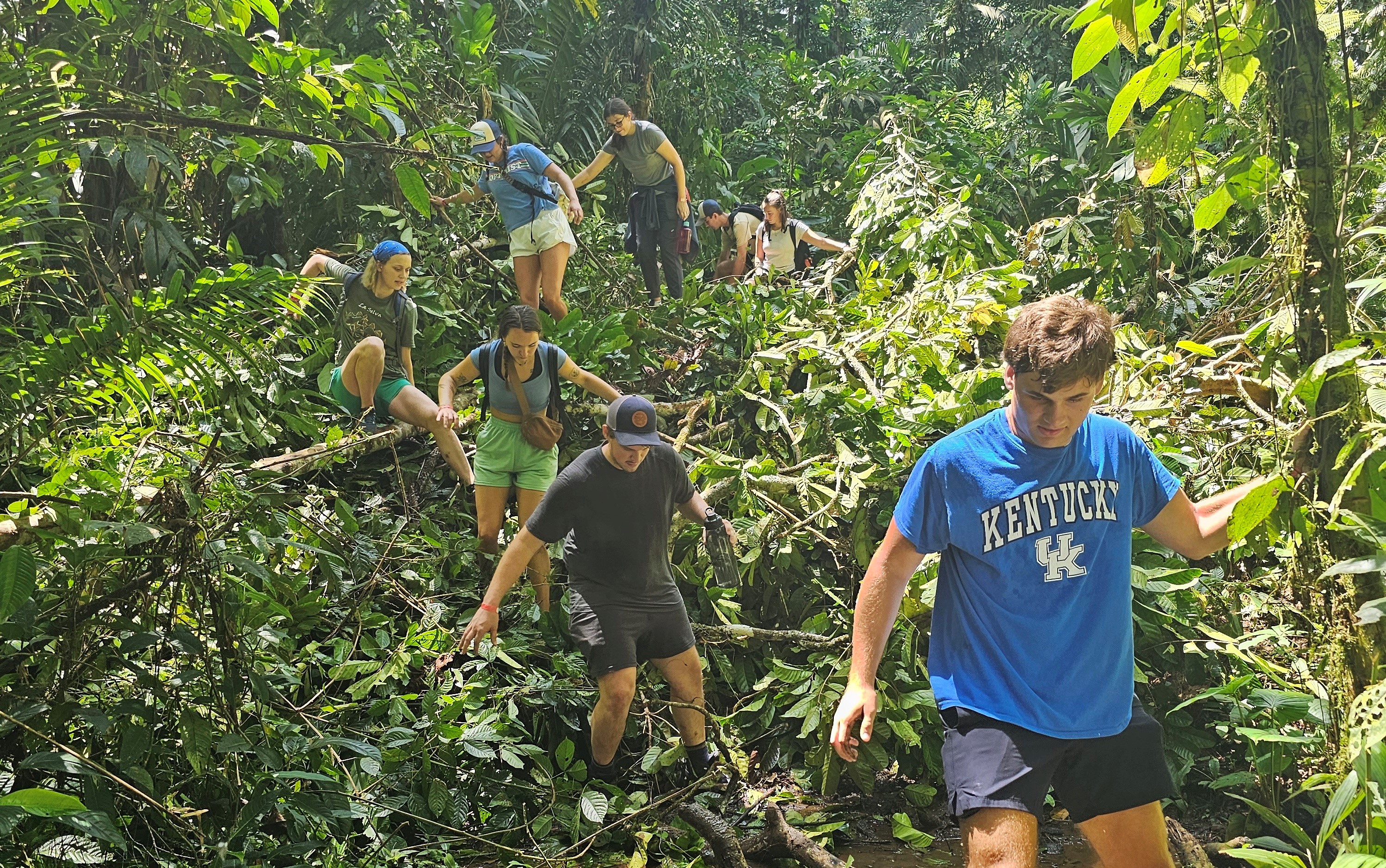 Lexington, Ky.—
University of Kentucky students recently completed a study-abroad trip to Costa Rica, immersing themselves in the nation's rich ecological diversity and innovative sustainability practices. Led by Robert Paratley and Sybil Gotsch from the UK Martin-Gatton College of Agriculture, Food, and Environment, the journey blended academic exploration with new discoveries. 
Throughout the program, the group remained focused on finding solutions to pressing environmental challenges. 
"This course, which Rob Paratley developed, has been a part of the Natural Resources and Environmental Science (NRES) curriculum for 10 years," said Gotsch, UK Department of Forestry and Natural Resources associate professor. "It has endured due to its profound impact on students. As this year's group departed from Costa Rica's landscapes, they carried a newfound appreciation for the intricate equilibrium within ecosystems. This expedition extends beyond experiential learning and underscores the vital connection between academic knowledge and its practical applications." 
Indeed, students said the trip was very eye-opening and one they will never forget. 
"The program was a unique, once-in-a-lifetime experience that I would encourage all Natural Resources and Environmental Science students to consider," said April Eling, an NRES senior. "The scope of the material covered was broad and every topic had multiple hands-on experiences." 
The expedition commenced with a lecture on Costa Rica's energy policy, setting the stage for a deeper exploration of the country's environmental landscape. The group visited several agricultural and ecological locations. 
"Near Monteverde, we stopped at a local coffee farm," said Paratley, Department of Forestry and Natural Resources former adjunct instructor. "There, students received an education on how these farms sustainably produce and export coffee beans. It was enlightening and a good showcase of how farming and ecology are intertwined." 
A visit to a small family banana farm highlighted sustainable farming practices, showcasing responsible agriculture's pivotal role in preserving the environment and supporting local livelihoods. 
The group also stopped at the CATIE facility (Center for Tropical Agricultural Research and Education), known for its research into tropical crop improvement and sustainable agricultural practices. There, they learned about the importance of developing new varieties of crops such as cacao, the source of chocolate, through modern plant breeding techniques.  
One of the expedition's ecological centerpieces occurred during a visit to the La Selva Biological Research Station, where guided hikes through the rainforest gave students a unique opportunity to witness biodiversity up close.  
"La Selva is world-renowned for tropical ecological research," Paratley said. "It contains one of the few remaining tracts of uncut rainforests in the region, now mostly cleared and converted to commodity agriculture." 
Another of the trip's highlights was a visit to the Irazú Volcano National Park, situated more than 11,000 feet above sea level, where students gained insights into Costa Rica's geological marvels. 
"There were a lot of fascinating places we visited, such as Tortuguero National Park where we saw a green turtle lay her eggs on the beach," Paratley said. "It was very inspiring and had an emotional impact on everyone there. Tortuguero is very important for preserving endangered sea turtles' nesting sites. It offers both them and the surrounding swamp forests protection from humans." 
The group visited the Monteverde Cloud Forest Reserve, which served as a reminder of the interconnectedness of ecosystems and the delicate balance that sustains life. Cloud forests are bathed in fog and mist as well as rain. Climate change has impacted these systems as the fog moisture has become less consistent, creating longer dry spells. 
"The cultural and ecological aspects were fascinating and a part of the class that you cannot get without physically traveling to a new place," Eling said. "This trip will go down as a highlight of my time at UK and I am very grateful to our incredible professors for making it what it was." 
For more information on the college's study abroad trips, visit https://students.ca.uky.edu/educationabroad.  
---
Forestry
Students