UK students, staff rally around Eastern Kentucky flood victims
UK students, staff rally around Eastern Kentucky flood victims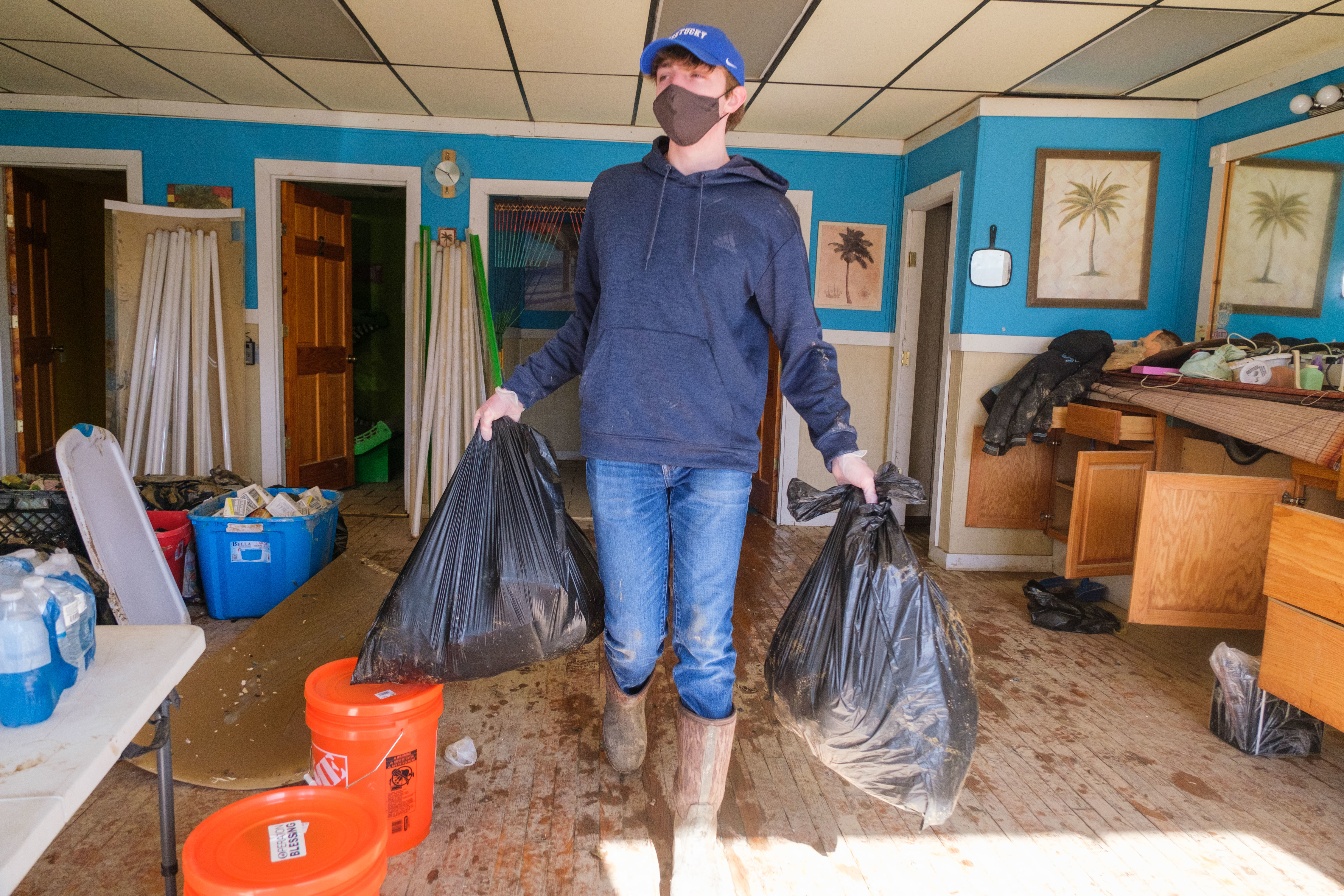 BEATYVILLE, Ky.—
"It takes a village" is a common saying, but in the case of a natural disaster, it can take an entire state. University of Kentucky students and staff stepped up when they recognized the need to help their fellow Kentuckians who are victims of the recent Eastern Kentucky floods. 
A group of 19 UK College of Agriculture, Food and Environment students from the Alpha Gamma Rho Fraternity spent March 5-6 volunteering in Beattyville and Manchester. They helped businesses and individuals like Robbie McKinney clean up from the flood. 
McKinney is the Lee County Farm Bureau agent and has an office on Main Street. At the height of the flood, his office was filled with 4.5 to 5 feet of water and he lost nearly everything. Fraternity members helped McKinney remove furniture, cabinets and flooring. Their work will help him begin the rebuilding process sooner. 
"I already had two customers who came in to help me today, but when the boys got here, it was like we went into hyper speed," McKinney said. "The office is almost cleaned out. We are so thankful and so grateful." 
Wyatt Lucas, UK sophomore agriculture economics major from Beattyville, was one of the volunteer organizers, along with Greyson Philpot, a fraternity member from Clay County. 
"It's just really sad to see everything you grew up with being destroyed like this," said Lucas, who is also the AGR recruitment chair. "I called every brother in the fraternity, and most were willing to help if they did not have somewhere else to be. Some even took off work to be here. It was a huge compliment to me. We definitely look out for each other." 
In addition to helping with the cleanup efforts, the fraternity raised $300. They used the funds to purchase cleaning supplies for flood victims. They brought the supplies with them on Friday.  
"I'm always happy to help," said Dustin Liver, AGR president and an agricultural economics sophomore from Carlisle. "Being an agriculture-based fraternity, a lot of our guys are from small towns. I am from a small town, and it is always good to give back to the people who have given to you." 
About 30 minutes away, extension agents Heather Graham, Alyssa Cox and Jessica Morris worked diligently to organize donations and answer calls at the Wolfe County office of the UK Cooperative Extension Service. The office is serving as a donation and distribution site for flood victims. They accept cleaning and farm supplies. 
"We knew a lot of our neighboring counties were severely impacted by flooding," said Graham, the county's agriculture and natural resources extension agent. "We felt this would be a good way to help our fellow Kentuckians." 
Since they began collecting supplies, they have had calls from Michigan, Missouri, Arkansas, Indiana and across Kentucky from people wanting to help. 
UK faculty, staff and members of the greater Lexington community brought donations to UK Agricultural Communications Services' Agriculture Distribution Center. Volunteers delivered those supplies to Wolfe County Extension on March 5. 
The extension office began distributing donations the week of March 8. The agents are working with their extension colleagues in other communities and local emergency management directors to make sure donations go to those with the greatest need. 
"We would like to move stuff out as quickly as possible and into the hands of those who need it," said Cox, the county's family and consumer sciences extension agent. 
Wolfe County Extension plans to collect donations for flood victims as long as the need remains.  
"This is not going to be a one-and-done-type of situation," Graham said. "This will be a long-term need. We will rely on the affected counties to help us identify the needs and how long we need to collect donations." 
---
Community Development
Economics
Events
Extension
Family Consumer Sciences
Weather