UK study shows promise for drone fungicide applications
UK study shows promise for drone fungicide applications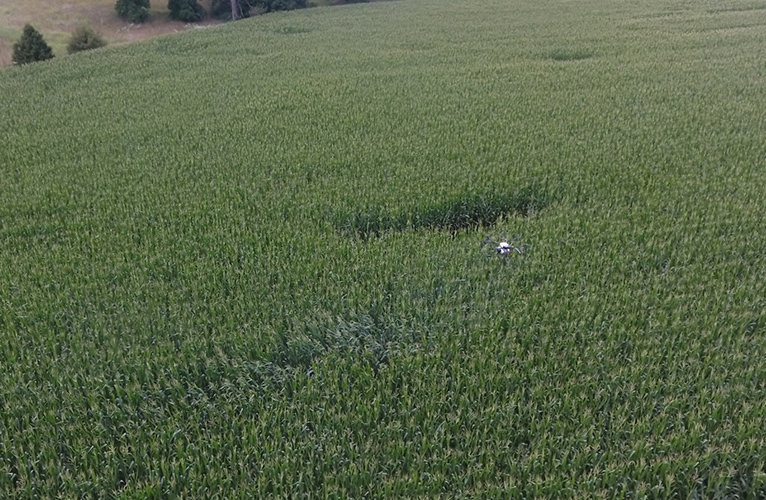 LEXINGTON, Ky.—
 Drones are an effective way to apply fungicides to corn facing disease pressure according to a University of Kentucky study.
The study, which was conducted during the 2019 growing season, looked at the cost effectiveness and feasibility of drone-applied fungicides to corn in Adair, Taylor and Green counties.
Most corn fungicides are applied aerially in Kentucky due to the height of the crop and limited high clearance ground spray equipment. However, aerial applications are not always possible.
"In many areas of Kentucky, the fields are too small or surrounded by trees or power lines, which makes aerial fungicide applications by fixed-wing aircraft or helicopters challenging if not impossible," said Kiersten Wise, extension plant pathologist with the UK College of Agriculture, Food and Environment. "A drone can apply fungicide in a similar manner as other aerial methods (over the top of the crop) and can be used in fields that other aircraft may not be able to spray."
Wise began the study at the request of Nick Roy, agriculture and natural resources extension agent in Adair County. He had a commercial drone fungicide applicator in his county and producers wanted to know if the technology worked. He asked Pat Hardesty and Ricky Arnett, extension agents in neighboring Taylor and Green counties, respectively, to find producers to participate in the study. Participants contributed 10 acres of corn that had four replications of sprayed and unsprayed areas each. The drone applicator applied fungicide when the crop reached the R1 (silking) growth stage. Researchers used water-sensitive paper to measure whether fungicide coverage was adequate.
The study found drone fungicide applications provided adequate coverage and reduced foliar diseases like gray leaf spot, and the cost was similar to other types of aerial applications.
Taylor County producer Jeff Arnold was one of the research participants. For the past decade, he has applied fungicide to corn in his larger fields by helicopter and was curious to see how a drone would compare.
He was happy with the results as his corn plot had a significant amount of gray leaf spot. The plot had been in continuous corn for the past three years, which may have contributed to its disease susceptibility. The drone fungicide application resulted in a 22.8 bushel per acre gain compared to untreated plots. He had a helicopter apply fungicides to some of his other fields.
"We got a better yield bump from the drone application than the helicopter application," he said. "In the past, I've only been able to spray my larger fields due to field size and trees. This year, I'm going to have the drone apply fungicides to all of my fields."
Plots in Adair and Green counties did not have significant disease pressure and did not see a significant yield increase.
"While the drone fungicide application was comparable in price to other types of aerial applications, producers need to gain six to 12 bushels per acre to pay for the cost of either application," Wise said. "Before making an application, producers need to consider their disease pressure and how susceptible their hybrid is to disease."
The group plans to replicate the study during the 2020 growing season.
"As a result of the study, my farmers have indicated they feel more comfortable using this technology to prevent diseases in grain crops," Roy said.  "I have also had another ag business in Adair County purchase a drone for spraying."
---
Crops
Extension
Research