UK Water Week 2017 overflows with events Oct. 7 to 13
UK Water Week 2017 overflows with events Oct. 7 to 13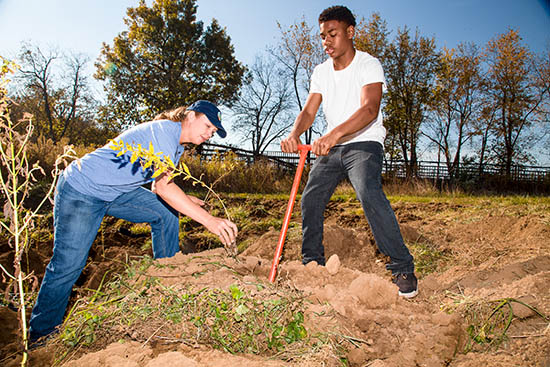 LEXINGTON, Ky.—
Water, essential to health, to the economy, and to the sustainability of the environment, can be impacted by any number of things, not the least is the climate. The University of Kentucky's Water Week 2017, a week of films, panel discussions, invited speakers and service activities, will examine climate change impacts on water quality.
A Project WET certification workshop aimed at K-12 teachers, cooperative extension agents and students who are studying to become teachers will kick off the week on Sat., Oct. 7 at Raven Run Nature Sanctuary in Lexington.
Fostering Dialogue and Collaboration on Climate Change, a symposium built around Ignite Talks and a panel discussion, will focus on water-related, climate change research at UK. The event will take place from 12 to 2 p.m. Monday, Oct. 9 at the Hilary J. Boone Center on campus. Ignite Talks are rapid-fire, five-minute presentations. A free lunch will be provided. The event is sponsored by the Tracy Farmer Institute for Sustainability and the Environment and the College of Arts and Science's Keys to Our Common Future.
From 6 to 8 p.m. Tuesday, Oct. 10 in the W.T. Young Library auditorium, there will be a screening of the film Chasing Ice. Afterward, Steve Evans of the Kentucky Water Resources Research Institute will lead a panel discussion. A free dinner will precede the screening, at 5 p.m. The event is sponsored by the Kentucky Water Resources Research Institute and Tracy Farmer Institute.
Randy Kolka, of the U.S. Department of Agriculture Forest Service, will discuss the SPRUCE project, peatlands and climate change on Wednesday, Oct. 11 from 11:45 a.m. to 1:30 p.m. in Room 202 of The 90. SPRUCE, which stands for The Spruce-Peatland Response Under Climate and Environmental Change, tests the effects of increased temperatures and elevated carbon dioxide levels on peatland ecosystems in the MARCELL Experimental Forest in Minnesota. A free lunch will be provided. The UK Appalachian Center, UK Department of Forestry and Natural Resources and the Tracy Farmer Institute are sponsors.
On Oct. 12 from 12:30 to 1:30 p.m., the student group, UK Water Professionals, will host a career panel with Rick Price, director of Global Environment, Health and Safety at Beam Suntory; Jennifer Hubbard Sanchez, state specialist for sustainable programs at Kentucky State University; Andrea Erhardt, assistant professor Department of Earth and Environmental Sciences; and Jon Walker, a hydrologist with the U.S. Forest Service. The panel members will discuss career options in water research in the private, government and nonprofit arenas. A free lunch from Bourbon n' Toulouse will be provided at 12 p.m. The event will take place in B-108 W.T. Young Library.
Also on Oct. 12, Geoff Ellis, a research geologist with the U.S. Geological Survey, will conduct a seminar on coal-sourced natural gas resources in the U.S. and China. The seminar will be held in Room 139 Chemistry-Physics Building from 4 to 5 p.m. with refreshments served at 3:30 p.m.
CATchment Cleanup, a service activity led by Biosystems and Agricultural Engineering students, will cap off Water Week from 3 to 6 p.m. Friday, Oct. 13. Students, faculty and staff are invited to help trim, mulch and mow the rain garden on Farm Road.
Water Week 2017 is a collaborative effort between the Colleges of Agriculture, Food and Environment, Arts and Sciences, and Engineering, and the Kentucky Geological Survey, all of which are members of the Tracy Farmer Institute for Sustainability and the Environment's water systems working group. Kentucky Water Resources Research Institute is also a collaborator.
More information about Water Week 2017 can be found at http://tfise.uky.edu/water_week_2017 or on Facebook at http://www.facebook.com/UKWaterWeek.
---
Biosystems Ag Engineering
Environment
Events
Extension
Forestry
Sustainability