UKAg partners in six-state dairy improvement effort
UKAg partners in six-state dairy improvement effort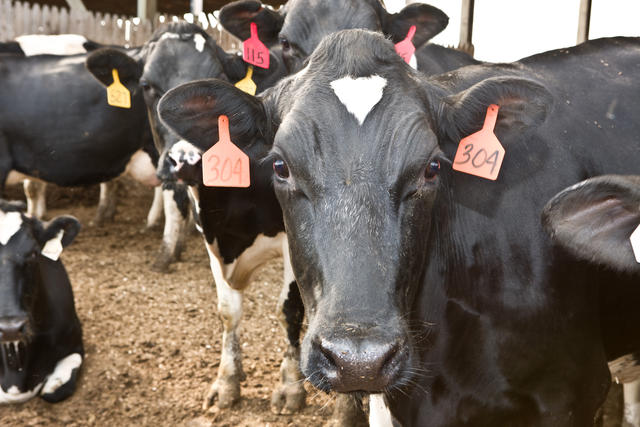 LEXINGTON, Ky.—
The nation's dairy producers have been celebrating June as Dairy Month for more than 75 years. In the past decade, celebrations have declined, just like the size of the dairy industry. Statistics show that more than two-thirds of the dairies in the Southeast have closed since 1995. The University of Kentucky College of Agriculture is joining five other universities to find out why and to try to find a way to reverse the decline.
The U.S. Department of Agriculture's National Institute of Food and Agriculture is funding the $3 million effort.
Steve Oliver, assistant dean of University of Tennessee AgResearch and a professor of animal science, will lead the project. He explained the study will focus on improving herd health and milk quality and quantity by lowering the incidence of mastitis.
"The Southeastern dairy industry is in serious trouble," Oliver said. "Although the nation is experiencing a surge in milk and dairy demand, the Southeast has experienced a greater than 37 percent decline in total milk production. Milk quality is also consistently the poorest of all the regions of the U.S."
The reason for the low milk quality in the region is the high levels of mastitis, an inflammation of the cows' udders.
"Improved milk quality and greater production quantities are all about consistent employment of good management practices for the health and well-being of the cow," Oliver said.
The University of Tennessee Institute of Agriculture will serve as the study's lead institution, and regional participants include the University of Kentucky, the University of Florida, the University of Georgia, Mississippi State University and Virginia Tech.  
Researchers plan to reach out to challenged and underperforming dairies to enhance regional milk production and improve overall milk quality.
Jeffrey Bewley is an assistant extension professor for dairy at the UK College of Agriculture. He is part of a UK team that includes Michelle Arnold, extension veterinarian; Donna Amaral-Phillips, extension professor and dairy specialist; Lori Garkovich, professor  in Community and Leadership Development; Amanda Sterrett, extension associate and graduate student and Derek Nolan, graduate student in UK's Department of Animal and Food Sciences.
"This grant provides an exciting opportunity for us to gain a deeper understanding of issues affecting milk quality at Kentucky dairy farms," Bewley said. "Most of managing for mastitis revolves around keeping cows clean and proper milking procedures. Although some people argue that we cannot achieve low mastitis rates in the Southeast, we have many dairy producers in Kentucky who demonstrate this is very possible every day."
Bewley said the team will work with Kentucky dairy producers to assess factors affecting their milk quality.
"The team of people we have put together for this program combines a unique skill set to help address this important issue," Bewley said. "We are looking forward to working with Kentucky dairy farmers over the next five years in this project. We will be developing user-friendly support tools to help producers understand the economics of mastitis decisions."
All research partners will work to identify economic, social and psychological factors that affect regional farmers' limited adoption of known practices to control mastitis. The researchers plan to develop strategies to counter the rationale for non-adoption.
Teams will conduct applied research and on-farm demonstrations focusing on strategies for controlling mastitis and enhancing milk quality. Stakeholders will also include veterinary practitioners, university students, extension personnel and other industry representatives serving the dairy community.
They will train dairy producers to use current and new tools to make on-farm decisions that improve milk quality and therefore production. Methods will include printed publications, face-to-face meetings and online teaching tools (including DAIReXNET webinars) in both English and Spanish.
Teams will develop continuing education programs for those serving the dairy industry and provide undergraduate and graduate student education for long-term solutions for the region. Directed internships could provide real-world experiences for students and result in a more knowledgeable workforce.
Oliver said the effort should buoy hope for the battered Southeastern dairy industry by motivating producers to change management practices and improve animal health and well-being.
"Implementation of cost effective, science-based mastitis prevention and control strategies can help producers improve milk quality, increase production and therefore improve industry profitability and sustainability," he said.
The partners will measure success by increased production and higher milk quality from the participating states.
---
Extension
Livestock
Research
Sustainability