UKAg student to intern at Walt Disney World
UKAg student to intern at Walt Disney World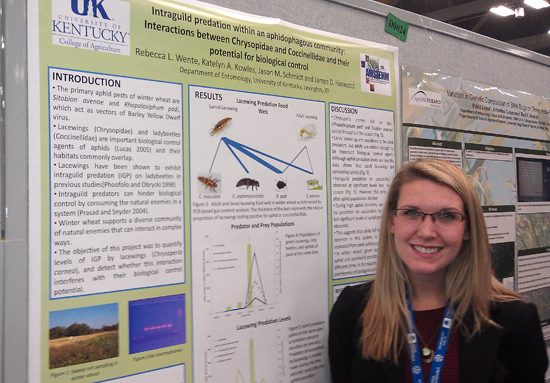 LEXINGTON, Ky.—
A student in the University of Kentucky College of Agriculture, Food and Environment earned a coveted entomology internship with Walt Disney World in Orlando, Fla.
Rebecca Wente, an agricultural biotechnology senior from Grayson, was selected as one of two undergraduate students serving as entomology interns.
"It's a confirmation of my life path," she said. "I've been working hard in the lab for two years, and this is a signal to me to continue to pursue a career in entomology and that I can succeed at a higher level in this field."
Beginning at the end of December, she will spend six months working in Epcot's The Land Pavilion. Her internship will include working with the theme park's integrated pest management program. Her job responsibilities include rearing and maintaining insect colonies, releasing beneficial insects and predators into the greenhouses and assisting with pest monitoring and greenhouse IPM programs. She will also lead informative and interactive guest tours through the greenhouses, labs and aquaculture facility and staff the Behind the Seeds Tour desk.
For the past two years, Wente has worked with doctoral student Katelyn Kowles in the lab of James Harwood, UK associate professor of entomology.
"Rebecca has a good foundation of biological control knowledge and agricultural knowledge to be successful in this internship," Kowles said.
Kowles and Wente conducted a study this summer on the beneficial insects lacewings and lady beetles and their interaction with each other and with the bird cherry-oat aphids. The aphids carry the barley yellow dwarf virus, the most widespread and destructive virus of wheat.
Kowles and Wente tracked the time each pest came into the field and determined what ate them using molecular gut content analysis. This cutting-edge technology allows them to obtain and analyze the DNA of prey found in a predator's digestive tract to gain a better understanding of food webs. This research was recently presented at the annual meeting of the Entomological Society of America in Austin, Texas. The paper, presented by Wente and co-authored by Kowles and Harwood, won first place in the President's Prize competition for undergraduate students.
"Understanding how different predators interact with each other is important to pest management programs, because they can either complement each other or interact in detrimental ways," Harwood said. "This internship will help Rebecca build upon what she's been trained on in the lab and afford her the opportunity to advance her career in entomology."
---
Awards
Entomology
Research