University of Kentucky's Department of Veterinary Science responds to Nocardioform placentitis
University of Kentucky's Department of Veterinary Science responds to Nocardioform placentitis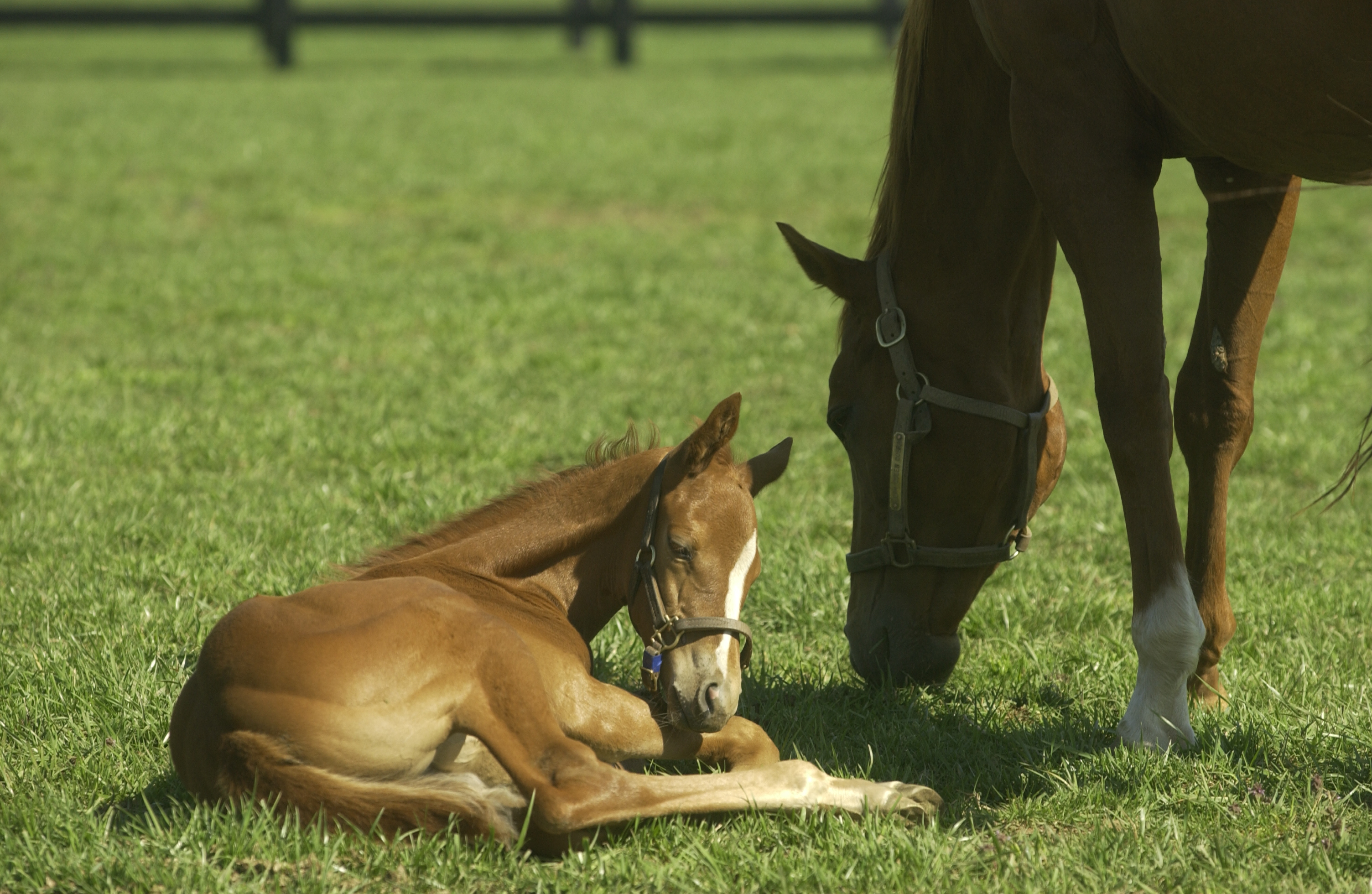 LEXINGTON, Ky., (Feb. 14, 2020) – The 2019-2020 foaling season has seen an increase in reports of Nocardioform placentitis, both in cases submitted to the University of Kentucky's Veterinary Diagnostic Laboratory and in reports from equine practitioners in the field. Nocardioform placentitis is an equine placental disease affecting pregnant mares and their foals during pregnancy.
UK's VDL provides real-time surveillance of this and other livestock diseases and has been sending reports updating practitioners and farms about what is being seen since positive tissue samples started appearing in late October. Additionally, the Gluck Equine Research Center announced at its foundation board meeting Feb. 6 that it was activating Koller Emergency Response Funds to immediately augment existing research efforts and launch new projects to study the disease while it is occurring, with an aim of understanding the disease better. Currently, early identification of the disease is a challenge, making it difficult to identify at-risk mares and treat them proactively.
"Obviously, those of us who are private equine practitioners have been working closely on a daily basis with area horseman in Central Kentucky and have been extremely engaged in sharing our experiences of Nocardioform placentitis cases from these most recent occurrences, as well as our experiences observed in previous years," said Stuart Brown, Gluck Equine Research Foundation Board chair and equine veterinarian from Lexington-based Hagyard Equine Medical Institute. "These conversations with the research team at the Gluck Center, along with specialists at the UK VDL, provide all of us a unique opportunity to collaborate on our observations to understand the presentation of these cases."
The disease, a complex and relatively rare condition caused by bacteria, primarily Crossiella equi and Amycolatopsis spp., affects the placenta of the pregnant mare and can cause foal losses from late-term abortions, stillbirths, prematurity or early neonatal deaths due to placental insufficiency.
While it is typical to see a handful of cases each year, an increase in positive cases reported usually only occurs intermittently. The last increased cluster of cases occurred during the 2017 season, and before that, during the 2011 season. While there have been similar numbers of cases reported by the UK VDL compared to the 2011 season, it is important to note that positive cases refer to all samples received, including affected placental tissues, not necessarily the loss of a foal. In fact, in many cases where the placenta might have been affected, the foal was born healthy and unaffected.
Because the Central Kentucky region lies at the heart of the world's Thoroughbred breeding industry, and is home to the world-renowned equine medical infrastructure that cares for that population, it stands to reason that the highly tuned equine health surveillance mechanisms in place would catch the disease when it occurs. Cases of Nocardioform placentitis have also been reported sporadically in Florida, South Africa, Italy and, most recently, New Zealand. 
"Given the number of foals born in this area each year, the expertise of the local veterinarians and farm managers and the surveillance efforts of the UKVDL, we are well positioned to identify these types of occurrences as they emerge," said David Horohov, chair of the UK Department of Veterinary Science and director of the Gluck Equine Research Center.
"Many of our farms have experienced little or limited cases while others have noted incidence numbers that would be greater than anticipated," Brown said. "On many farms with the vigilant surveillance associated with farms in Central Kentucky, there are mares that have delivered foals of acceptable size and development from cases that have been identified by farm managers and veterinarians working together to treat suspected cases before foaling. It is these experiences that will help us solve this puzzle and help us understand the incidence of occurrence associated with Nocardioform placentitis." 
Given the pressing need to develop better diagnostic tests and preventative strategies, UK is proceeding with new research projects to gain additional information about the mare's response to Nocardioform placentitis. This coordinated effort involves faculty with expertise in reproduction, microbiology, immunology and pathology, as well as collaborations with clinical partners throughout the region.
"Drs. Barry Ball, Erdol Erol, Rebecca Ruby, Allen Page, Emma Adam and Jacqueline Smith are leading this research effort, which aims to identify at-risk mares, collect samples from infected mares for further analysis and continue to screen the identified bacteria for antibiotic sensitivity and resistance," Horohov said.
Nocardioform placentitis abortions typically occur between November and June, with a peak incidence in January and February. The majority of affected pregnancies occur in the last trimester of gestation, and the identification of nocardioform lesions on the placenta of term pregnancies is a common presentation.
It is generally accepted that this is an extremely complicated disease, primarily because there does not seem to be a simple causative relationship between the pathogen(s) and the condition. Another complicating factor is that identification of affected mares is difficult and often delayed, meaning harm to the placenta-fetal environment may already have occurred by the time cases are identified.
The disease was first identified and tracked in 1986. Related bacteria are ubiquitous in the U.S. and around the world, but researchers have been unable to pinpoint where the causative bacteria emerge in the environment.
According to Ball, a Gluck Center faculty researcher specializing in equine reproduction, diagnosing affected mares before an abortion diagnosis remains difficult. While Nocardioform placentitis diagnoses can be made following pathological examination of the placenta, pre-partum/abortion diagnosis relies on abdominal ultrasonographic examination of the uterus, where changes may only be noted once the disease has progressed significantly.
He said the intermittent occurrence of the disease complicates researchers' work to better understand the origin of Nocardioform placentitis and improve its diagnosis.
According to research done at UK, the disease will sometimes result in the loss of the foal, but other times may only show up as a change or series of changes in the placenta with no noticeable effect on the foal. Because the bacterial infection is limited to the placenta, the foal itself is not infected. The foal can be underweight at birth or born healthy with the only sign anything was amiss being the telltale lesions found on the placenta.
Treatment and prevention options can be limited due to timing and questions surrounding the cause and progression of this disease.
According to Ball, attempts to induce the infection in mares by intrauterine inoculation of Crossiella equi at breeding and in pregnant mares via oral, intravenous and intranasal routes have been unsuccessful. Importantly, the ecology and biology of the causative organisms, Crossiela equi and Amycolatopsis spp. remain unknown, as these organisms have only been isolated from affected placentae.
Prior work at the Gluck Center has suggested that a hot and dry fall may be correlated with increases in the disease seen during the following winter and spring foaling season, but more research is needed to confirm what that correlation means.
A retrospective study of on-farm risk factors associated with the 2010-11 series of Nocardioform placentitis cases also identified a number of associations that were positively associated with the incidence of the disease, including the farm being categorized as a larger farm with higher mare numbers and higher stocking density. Conversely, longer grazing times during late winter, prebreeding administration of progesterone to mares, hCG administration post-breeding and NSAIDs were not noted to be associated with an increased incidence of Nocardioform placentitis.
Researchers also note that it is worth considering that the bacterial family responsible for Nocardioform placentitis may also originate as soil-born organisms, despite the failure thus far to isolate these organisms from environmental sources.
According to Ball, it appears highly likely that the disease development of Nocardioform placentitis is multifactorial and may involve environmental conditions (hot, dry periods in late summer) and possibly effects related to host susceptibility. Pregnancy in many species, including the mare, involves some degree of immunosuppression, and many of these bacteria may be more pathogenic in immunocompromised hosts. More research is needed to better unravel this complex disease process in the mare.
The research conducted from samples collected over the next few months will focus on assembling genome sequence data from these bacteria, the role of inflammation in the disease as well as characterizing changes in gene expression identified in blood samples. Ongoing surveillance of antibiotic susceptibility patterns of these bacteria and continued investigation of samples submitted to the UK VDL will continue as usual.
 In the short term, researchers aim to collect as much information as possible while the disease is present, with an analysis of those data to begin as early as summer. In the longer term, the goal of the research efforts is to learn more about the disease and to provide possible diagnostic tests to identify at-risk mares so they can be treated early in the disease and limit any impact on the foal. A sustained research effort is important even in years when the disease is at a low level.
Researchers will be working with participating farms and collecting weekly blood samples from mares suspected of having the disease, as well as samples from control mares from the same farm that don't have the disease. Sample collection would begin at the time of diagnosis and continue until foaling. Additionally, all placentas (affected and control), as well as any euthanized foals or aborted fetuses, will be evaluated at the UKVDL for definitive diagnosis.
Farms are encouraged to work with their veterinarians and practitioners are encouraged to get in touch with researchers by emailing equine@uky.edu if they suspect Nocardioform placentitis on their farms. All of the testing for this research will be done at no cost to enrolled mares on participating farms.
To see the near-real time nocardioform positive sample (placenta, swabs and fetuses) distribution map and graph for the 2019-2020 reproductive season, visit the  www.vdl.uk58y.edu link at http://vdl.uky.edu:8080/informer/DashboardViewer.html?locale=en_US&embedToken=c67e307c-b90c-4256-9427-8afae2438c93 . A historical picture of the disease going back to 2010 can be found at http://vdl.uky.edu:8080/informer/DashboardViewer.html?locale=en_US&embedToken=d58d8dbf-bef0-4619-b57c-9d4343260338.
The Gluck Equine Research Center and the UK Veterinary Diagnostic Lab are part of the UK College of Agriculture, Food and Environment.
---
Equine
Research