University of Kentucky distillation, wine and brewing students visit St. Croix for interactive rum, vodka production tours
University of Kentucky distillation, wine and brewing students visit St. Croix for interactive rum, vodka production tours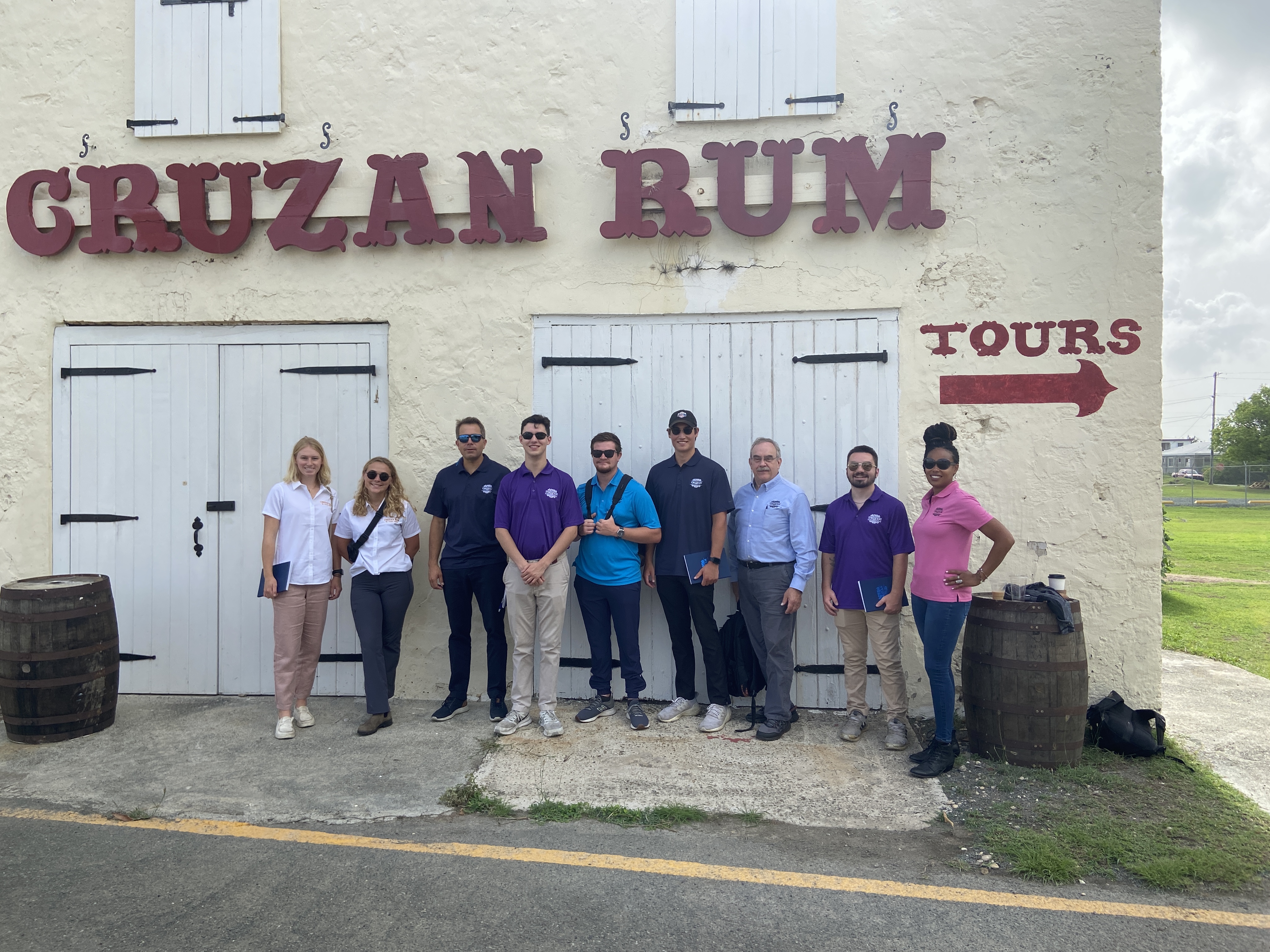 LEXINGTON, Ky.—
The University of Kentucky James B. Beam Institute for Kentucky Spirits' students and faculty recently traveled to St. Croix in the U.S. Virgin Islands. They brought some of their distillation, wine and brewing classes to life at the island's rum and vodka production facilities.  
Before the trip, students studied comprehensive modules covering topics such as fermentation, raw materials, distillation and specific rum production. They also learned about sugarcane cultivation and trade with the help of study materials created by Devyn Benson and Vanessa Holden in UK's African-American and Africana Studies program.  
Students spent nearly two days at Cruzan Rum, a rum producer distillery owned by Beam Suntory. They learned about business planning, safety and what goes into creating an efficiently running supply chain while on an island. They also walked through each step of the rum-making process from molasses delivery to yeast seeding, fermentation and distillation.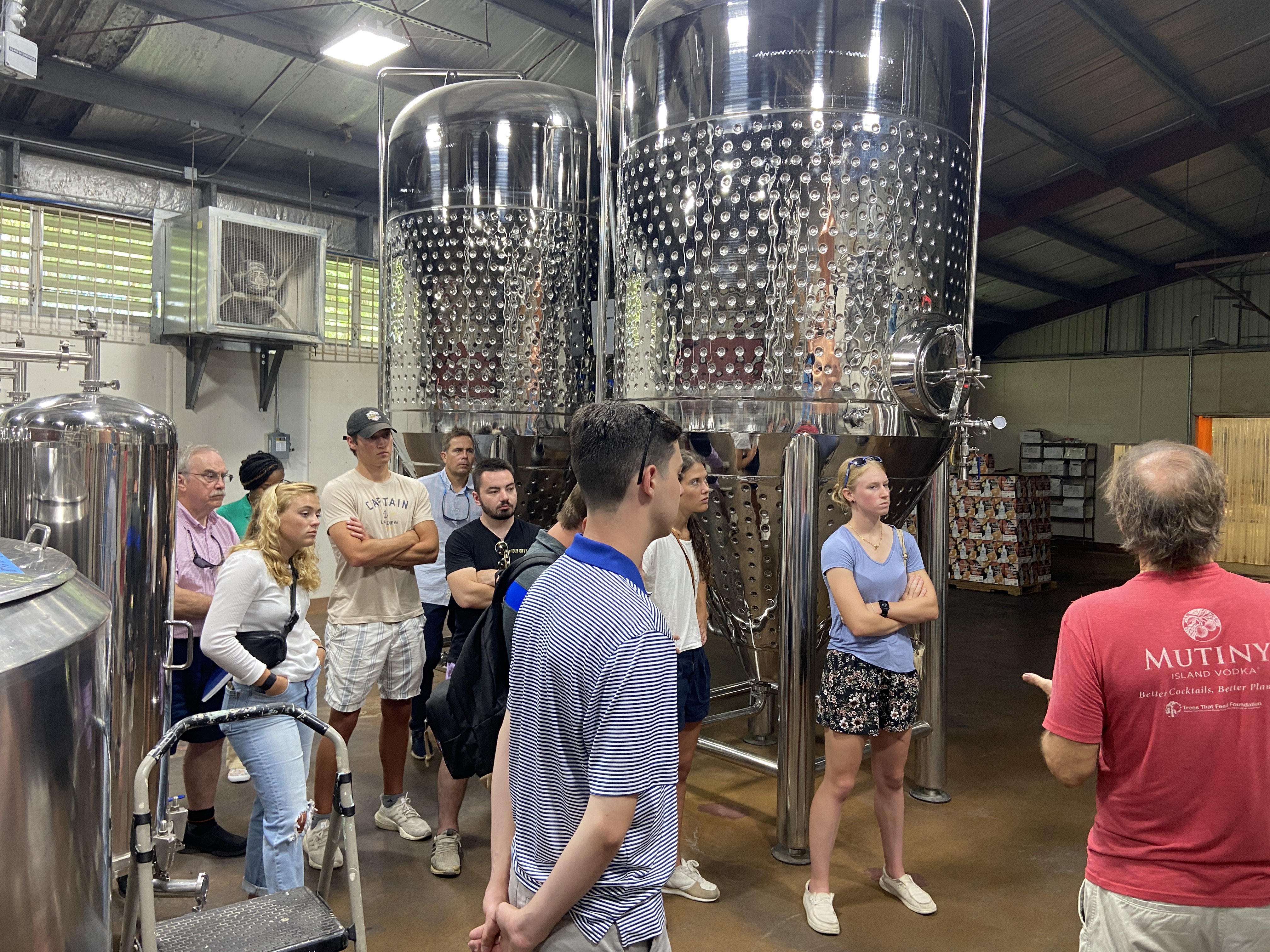 Lexington environmental law attorney and UK alum Blaine Early is completing the DWB program through UK's Donovan Scholar's Program. The program allows anyone 65 years of age and older to take UK courses for free. He was one of eight students on the trip. 
"I am interested in issues related to natural resource management, conservation and water," Early said. "Seeing how distilleries handle those issues is helpful in advising my clients." 
At Cruzan Rum, the group learned about power generation and water conservation, both critical inputs due to the island's limited resources, extreme weather, power outages and water scarcity.  
"At Cruzan, we are committed to building the next level of talent by developing a consistent passageway through Cruzan from institutions such as UK," said Ayanda Daniels, Cruzan Rum Distillery human resources manager. 
The group also visited Mutiny Island Distillery, an innovative startup focusing on making vodka from locally grown breadfruit. Early observed that Caribbean distilleries handle fermentation and distillation in the same way as their United States' counterparts. However, water management is where the differences begin to show.  
"Their wastewater handling and energy use are very important," he said. "They are limited by how much fresh water they have. The cost of energy there is about five times what we pay here. They are very committed and insightful professionals in the way they deal with resource limitations." 
On the last day of the trip, the group toured Diageo's Captain Morgan distillery to explore the company's sustainability practices and how they maximize resources. The tour guides led the group through a sensory session to help them better understand quality standards.  
Holly Shade, a senior studying food bioscience research and development, is also earning the distillation, wine and brewing studies' certificate.  
"The St. Croix program was extremely valuable and educational for someone wanting to get into the Spirits Industry," she said.  
Beam Institute director Seth DeBolt said the program was beneficial in advancing the institute's goals of internationalizing its curriculum.  
"We invited students to learn about the rich history and production of rum in the Caribbean," DeBolt said. "The more that we extend the opportunity to enrich students through lived experiences, the better our students will be in the workforce and in life."  
– 30 – 
The Martin-Gatton College of Agriculture, Food and Environment is an Equal Opportunity Organization with respect to education and employment and authorization to provide research, education information and other services only to individuals and institutions that function without regard to economic or social status and will not discriminate on the basis of race, color, ethnic origin, national origin, creed, religion, political belief, sex, sexual orientation, gender identity, gender expression, pregnancy, marital status, genetic information, age, veteran status, physical or mental disability or reprisal or retaliation for prior civil rights activity. 
The James B. Beam Institute for Kentucky Spirits ensures the welfare and prosperity of Kentucky's spirits industry. Through teaching, research and outreach, the institute promotes economic sustainability, environmental stewardship and responsible consumption. The Beam Institute is a multidisciplinary effort of experts from the UK College of Agriculture, Food and Environment, College of Engineering, College of Arts and Sciences and Gatton College of Business and Economics. For more information, visit the Beam Institute website at http://beaminstitute.ca.uky.edu.
---
Students