Virtual education brings Cooperative Extension into Kentucky homes
Virtual education brings Cooperative Extension into Kentucky homes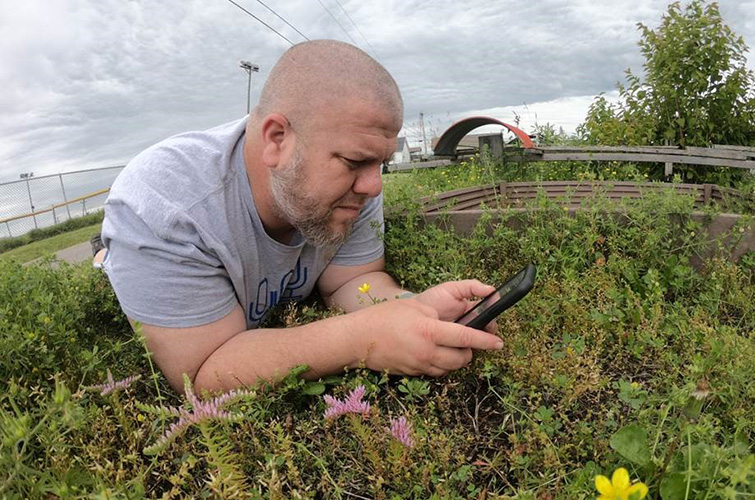 LEXINGTON, Ky.—
University of Kentucky Cooperative Extension Service agents have used creative techniques and the internet to meet their clients wherever they are during the Covid-19 pandemic.
"Whether it is in-person or online, it is important to me that I reach my clientele," said LaToya Drake, Barren County family and consumer sciences extension agent. "It made sense for me to take my programming online as soon as the pandemic struck."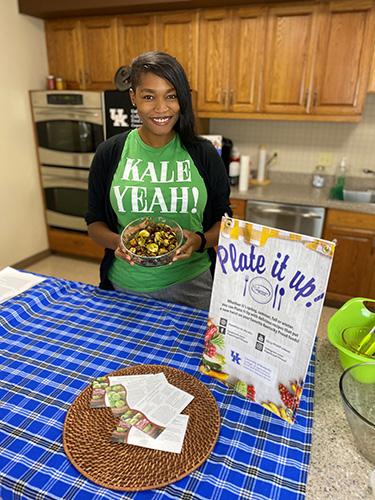 Drake is one of numerous UK extension agents who are successfully implementing virtual education opportunities. Since the pandemic began, agents from all extension areas have migrated programming online and reached thousands of Kentuckians. They have offered virtual programs to encourage young people to get outdoors, help individuals and families work through financial insecurities, and provide regular livestock and grain market updates to help producers navigate these uncertain times.
Online programming was nothing new to Drake. In 2019, she and other family and consumer sciences agents in Southern Kentucky received a national award for social media education for their Plate It Up Kentucky Proud YouTube series. When the pandemic began, one of the first programs Drake transitioned online was her popular in-person class Cooking through the Calendar. In this class, she teaches people how to prepare the healthy, inexpensive meals featured in the Nutrition Education Program's annual calendar.
While her in-person class would have maxed out at 25 participants, she reaches more than 350 people online with her monthly Facebook Live videos. She also created the Bounty of the Barrens Instagram account for the county's farmers market at the beginning of this growing season. The account features in-season produce information and local farmer spotlights. It has nearly 1,000 followers.
Some virtual extension programs, like the podcast, "Dirt to Dollars," were in the works prior to the pandemic, but the pandemic gave agriculture and natural resource agents Whitney Carman, Daniel Carpenter and Matt Adams, who work in Grayson, LaRue and Hardin counties respectively, a prime opportunity to start new programming.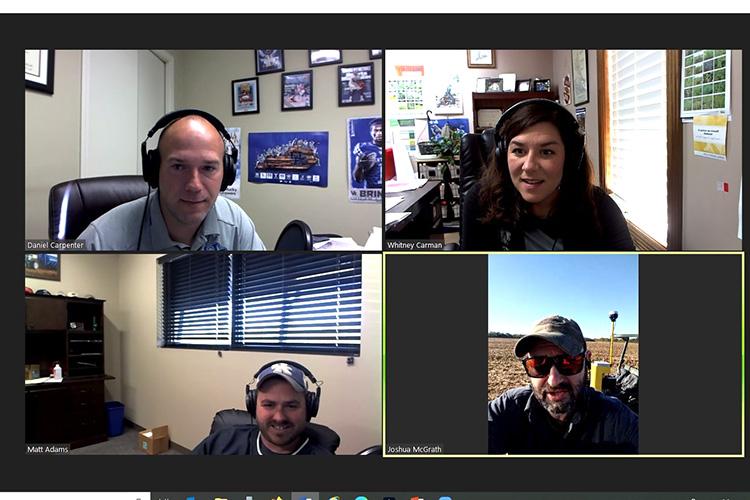 "We are all millennials and listen to podcasts ourselves, so we thought this might be a way to reach a new audience," Carman said. "We have been pleased with how well it has gone over."
The podcast, which they record through Zoom, features the agents discussing timely farming topics in their tri-county area. They are often joined by local farmers and UK specialists.
"It's really helped us get information to farmers that we otherwise would not have been able to," Adams said. "We have a good following in the tri-county area, but we also have listeners across Western and Central Kentucky. While it focuses on Kentucky agriculture, I know of at least one person in Oklahoma who listens to our podcast every week."
The weekly podcast averages 100 downloads. In addition, it airs on ABE 93.7 FM, a radio station based in LaRue County, each Saturday morning.
For Eric Comley, Garrard County 4-H youth development agent, the pandemic provided an opportunity to share his passion for nature with 4-H'ers and their families. Since March, Comley has hosted the YouTube series, "On the Ground." In this series, he travels around the state showcasing its native and sometimes rare wildflowers. He shows viewers how to identify wildflowers and talks about their history, any past or current medicinal uses and rarity.
"The big thing I wanted people to get out of this series was just to learn about nature," he said. "Most people are not aware they have a specific ecosystem so close by."
The series has earned him an occasional guest spot on the UK Department of Forestry and Natural Resources weekly webinar, "From the Woods Today." He has been contacted from as far away as Montana by people wanting to know more about the location of Kentucky's native plants. He has also had numerous people call him with suggestions of where in the state he should go next.
"It has been a lot of fun. I've been able to talk to my 4-H'ers about photographing native wildflowers and how to identify them through the iNaturalist app," he said. "I've also had several parents tell me they are using the videos to supplement their children's virtual school lessons about plants."
---
4 H Youth
Community Development
Crops
Events
Extension
Family Consumer Sciences
Forestry
Horticulture
Livestock