Washington County injects education into agricultural investment program
Washington County injects education into agricultural investment program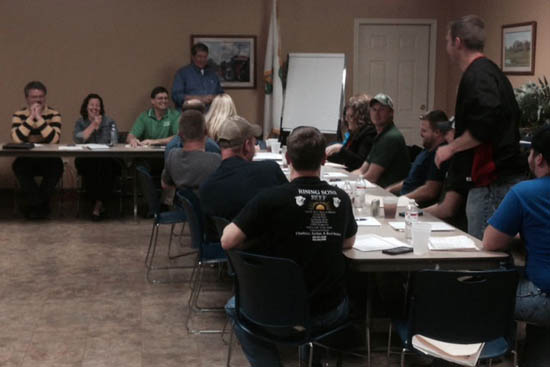 SPRINGFIELD, Ky.—
It's all about the budget. Those who grow up on farms are immersed from birth in production methods, but handling the checkbook could be another matter. That's where a new University of Kentucky program, Next Generation Farmers, is making a difference—especially in Washington County, where the incentive to enroll was $5,000 in cost-share grants.
Approximately 80 percent of Kentucky's 120 counties participate in the County Agricultural Investment Program, offered by the Kentucky Agricultural Development Board. The program provides up to $5,000 in cost-share grants for farmers who want to develop different aspects of their business. Money is available for diversification, livestock, infrastructure, fencing, on-farm water, and forage and grain improvement. Each participating county has a committee that accepts applications and handles the approval process, based on the parameters that the Governor's Office of Agricultural Policy sets.
"You can do it as easy as possible, throw it all in one pot. But that's not growing your county. We like to think we can do better here," said Rick Greenwell, recently retired agriculture and natural resources extension agent in Washington County.
The Washington County committee saw the grant process as a chance to encourage and support young farmers, a goal that has been part of the committee's comprehensive plan for Phase I money from the beginning.
To be eligible for 2016 cost-share grants, farmers with three to 10 years of experience were required to attend four meetings that covered budgets, conservation programs and borrowing opportunities. Farmers were encouraged to apply lessons they learned directly to their own situation.
Bart Mattingly was one of the 23 farmers, most of whom were in their late-20s or early-30s, who enrolled in the Next Generation Farmers program.
"Many of us who have families use this (the cost-share dollars) as an opportunity to make a financial investment that we wouldn't have been able to, because our financial interest right now is our families, our homes, or we just bought a farm," he said.
According to Mattingly, a good percentage of those who took the program work full-time off the farm, often in local industry, and farm on the evenings and weekends.
"The dream to farm here is pretty intense, and the road to achieve that dream can be pretty interesting," Greenwell said.
Mattingly himself is a graduate of the UK College of Agriculture, Food and Environment, with a bachelor's degree in agriculture education. He teaches agriculture at Washington County High School. Once away from school grounds, he works with his father, who raises beef cattle and grows tobacco.
"It's my turn to make some financial investments and assume some responsibility," Mattingly said. "What better way to capitalize on that than with this program."
Lee Meyer, UK agricultural economics professor, and Jonathan Shepherd, UK area extension specialist in farm business management, led the lesson on enterprise budgets, a presentation Mattingly characterized as "great." The lesson was broken up into a couple of sessions, with the farmers assigned homework that was applicable to their own enterprises or investments.
"What we wanted to do was to have them really assess their proposal from an economic perspective, resulting in a good, legitimate program that's going to make good use of that money for their farm," Meyer said. "What we really want is long-term behavior change, that whenever they're thinking about an investment on their farm, they'll know how to use partial budget analysis. If they're going to put a feeding pad on their farm, they'll have a framework to evaluate it."
Toward the end of the program, local lenders were invited to talk about their programs and loan opportunities. After the participants wrote a justification for their proposed investment, the lenders returned to evaluate the proposals.
"What better way to do that than just to sit down and kick the ball around," Mattingly said. "It was amazing how Farm Credit would say, 'We could take a large loan of that sort and pair that with Ag Development, and you would have this kind of opportunity.'"
Mattingly invested his cost-share dollars into constructing facilities for working cattle.
"That's an investment that's going to support my agriculture investment for the long-term. The structure I built, I hope my kids are able to work cattle in it when they're 30 or 40," he said. "I think the key to it is the word 'growth.' We were all able to grow our enterprises or invest in a new enterprise that we probably wouldn't have before."
Mattingly and Greenwell both said they saw opportunities open up as a result of the Next Generation Farmers sessions.
There should be another 119 counties in Kentucky utilizing this program," Greenwell said. "If they don't, they're missing out on a good opportunity."
More information about the Next Generation Farmers program is available at http://www.uky.edu/Ag/AgEcon/kyfarmstart/nextgeneration.php
---
Community Development
Economics
Extension