UK's Hemp Field Day to highlight current research Sept. 12
UK's Hemp Field Day to highlight current research Sept. 12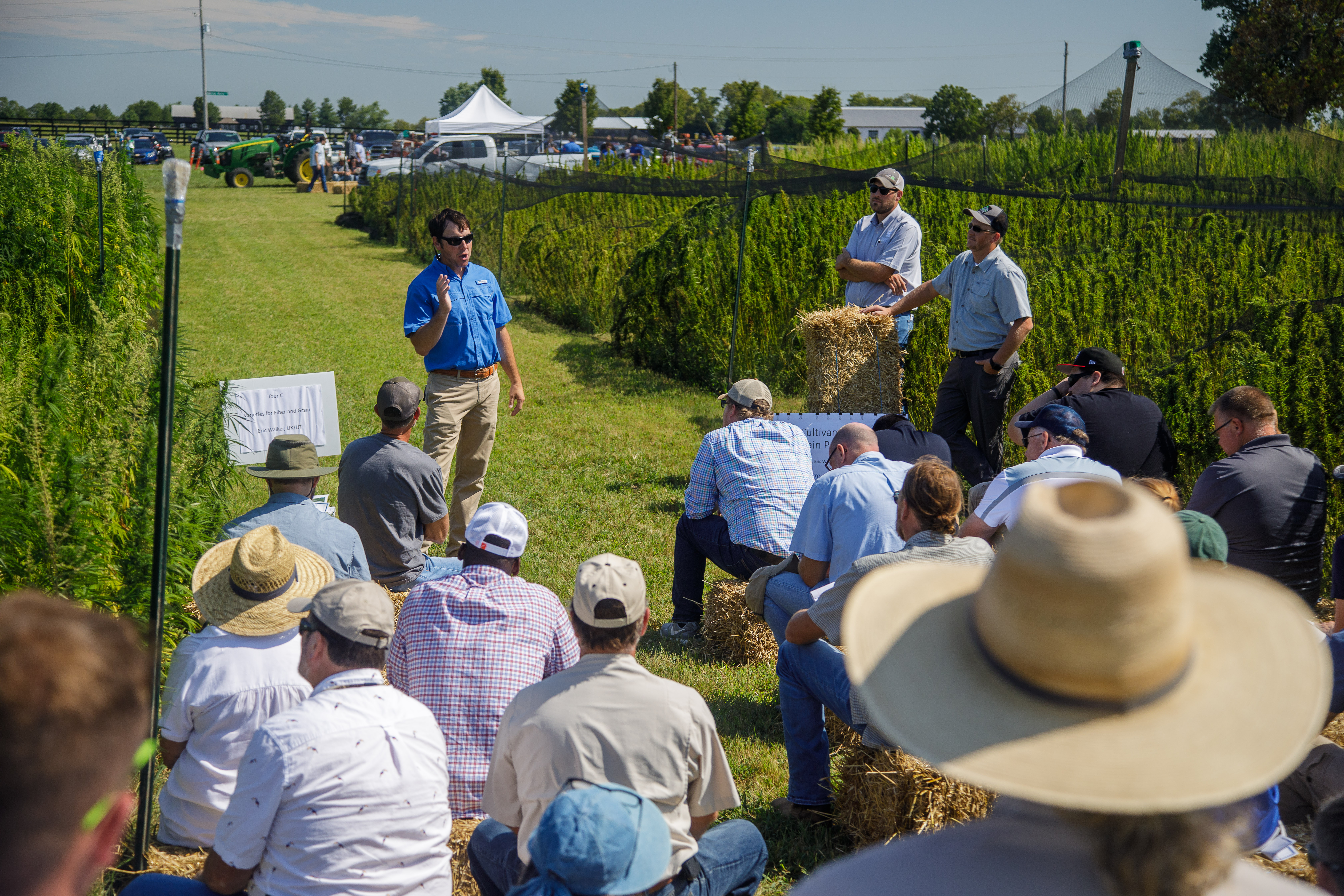 LEXINGTON, Ky., —
The University of Kentucky Martin-Gatton College of Agriculture, Food and Environment will host the 2023 Hemp Field Day Sept. 12 at the Pirri Equine Pavilion at UK's Maine Chance Farm in north Lexington.
Throughout the day-long event, attendees will see presentations and demonstrations about grain dehulling, germination and establishment, fiber and grain variety trials, grain harvest, hemp diseases and insects, and much more.
The hemp industry in Kentucky has seen extreme volatility during the nearly 10 years since the 2014 Farm Bill allowed states to begin research on hemp production.  Throughout these ups and downs in the marketplace, production research at the University of Kentucky has continued to identify and solve production problems that could be potential roadblocks to the development of a viable hemp industry. 
"We are working on production systems for different end uses of hemp, including bioactive compounds, grain and fiber applications," said Bob Pearce, director of UK Hemp Programs. "Currently, we are working with Kentucky-based hemp grain and fiber processors to identify best management practices to produce the raw materials they need to grow their businesses.  Many challenges remain, and it will be a long road to full market development, but we want to share the progress we have made thus far with our stakeholders."      
The event will begin at 8:30 a.m. EDT with registration and a light breakfast, followed by a welcome session at 9:30 a.m. Educational sessions and demonstrations will take place before and after lunch. At 4:30 p.m., field tours will begin. Tours include a transplanted field, seeded plots and pest identification and control.
At 6:30 p.m., Martin-Gatton CAFE specialists will discuss current hot topics in hemp. Activities conclude at 7:30 p.m.
To secure meal tickets, register by Sept. 5 at https://tinyurl.com/2jkb3948. Victory Hemp Foods is sponsoring the morning session and meals. The Pirri Equine Pavilion address 2011 Star Pilot Lane, Lexington, KY 40511.
– 30 –                                
The Martin-Gatton College of Agriculture, Food and Environment is an Equal Opportunity Organization with respect to education and employment and authorization to provide research, education information and other services only to individuals and institutions that function without regard to economic or social status and will not discriminate on the basis of race, color, ethnic origin, national origin, creed, religion, political belief, sex, sexual orientation, gender identity, gender expression, pregnancy, marital status, genetic information, age, veteran status, physical or mental disability or reprisal or retaliation for prior civil rights activity.
---
Events
Extension
Research