UK Nutrition Education Program works with Gray Street Farmers Market, hosting Recipe Sampling Days for public
UK Nutrition Education Program works with Gray Street Farmers Market, hosting Recipe Sampling Days for public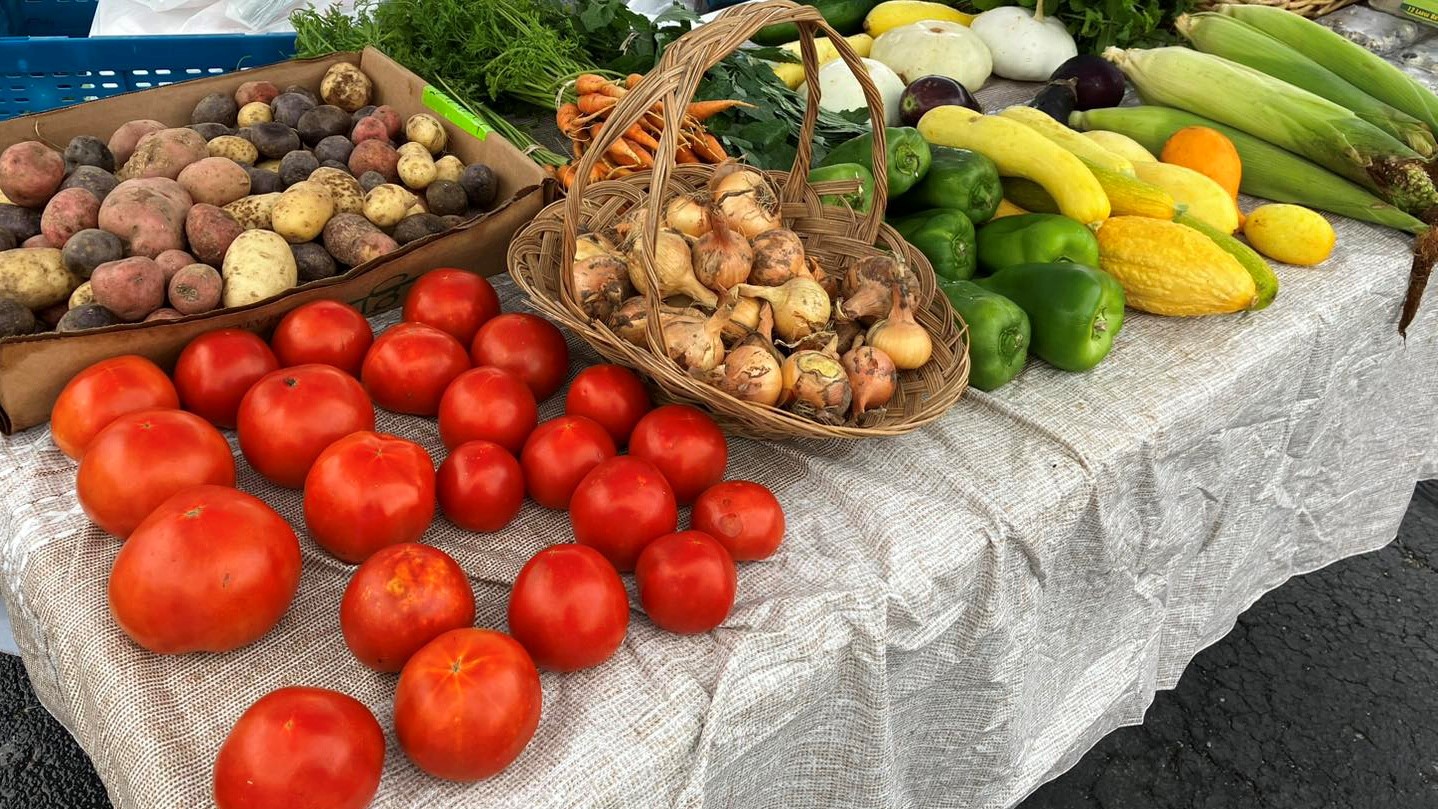 LOUISVILLE, Ky.—
Market Recipe Sampling Days are in full swing at Louisville's Gray Street Farmers Market (GSFM).
Starting this month, the community is invited to join local farmers to sample customary recipes featuring locally grown produce, and discover how to use water spinach, cow peas, enoki mushrooms and other produce from traditional Somalian and Myanmar recipes.
GSFM works with the University of Kentucky Nutrition Education Program, housed at the University of Kentucky Martin-Gatton College of Agriculture, Food and Environment, to take common meals from the farmers' country of origin and create recipes that are healthy and accessible by using locally available produce.
The market's goal is to increase access to fresh, locally grown food in downtown Louisville, where food access and food insecurity are major problems in Louisville.
"Healthy eating is an important to everyone and we are excited to partner with GSFM and Common Earth Gardens to showcase how diverse cultures prepare healthy meals," said Bethany Pratt, senior extension associate with the Kentucky Nutrition Education Program.
Common Earth Gardens (CEG) collaborates within Kentucky's diverse and multicultural communities to increase land access to grow food, develop new farm businesses, and build healthy community networks. CEG's key aspect is supporting farmers with international farming experience to adapt their agricultural knowledge and traditions to Kentucky's climate and then sell their food via local farmers' markets.
"We're excited to have this opportunity to showcase our farmers and their produce, and these recipes that highlight healthy meals from our farmers' country of origin," said Melissa Schreck, Market Co-Manager at GSFM.
Schreck adds, "The GSFM has been in operation since 2009 as an outreach program of the UofL School of Public Health & Information Sciences. The market also partners with the Louisville Metro Department of Public Health and Wellness. We had a few years off due to Covid (2020, 2021) and started up last year with a monthly market. This year, we are back to a weekly market due to our new collaboration with Common Earth Gardens."
Sampling will take place during market hours of 10:30 a.m.-1:30 p.m. (EDT) on the following days:
The Gray Street Farmers Market is open every Thursday from 10:30 a.m. to 1:30 p.m. (EDT) through Oct. 26 and is located at the 500 Block of E. Gray Street in Louisville, Kentucky.
- 30 -
The Martin-Gatton College of Agriculture, Food and Environment is an Equal Opportunity Organization with respect to education and employment and authorization to provide research, education information and other services only to individuals and institutions that function without regard to economic or social status and will not discriminate on the basis of race, color, ethnic origin, national origin, creed, religion, political belief, sex, sexual orientation, gender identity, gender expression, pregnancy, marital status, genetic information, age, veteran status, physical or mental disability or reprisal or retaliation for prior civil rights activity.
The Kentucky Nutrition Education Program (KYNEP) encompasses two separate USDA programs: The Expanded Food and Nutrition Education Program (EFNEP), and the Supplemental Nutrition Assistance Program (SNAP-Ed). Both programs are administered by the University of Kentucky Cooperative Extension Service and target low-income families and individuals with nutrition education.  The goals of both are to educate limited resource families with young children and SNAP eligible individuals to plan nutritious meals on a limited budget, acquire safe food handling practices, improve food preparation skills and change behavior necessary to have a healthy lifestyle.
---
Extension
Nutrition