UK Signature Industries Career Fair successfully presents job seekers with equine and distilling opportunities
UK Signature Industries Career Fair successfully presents job seekers with equine and distilling opportunities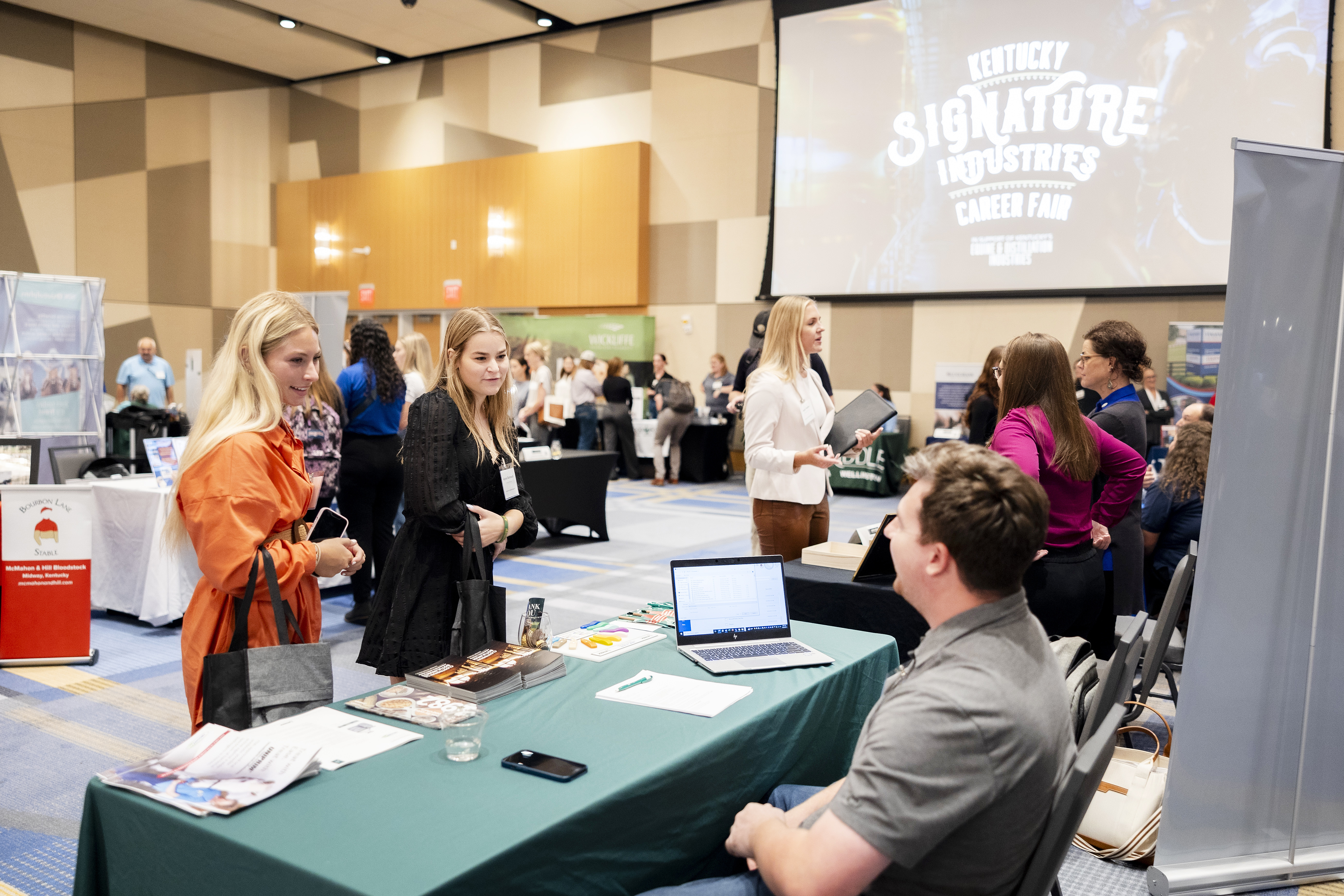 Lexington, Ky.—
The University of Kentucky Martin-Gatton College of Agriculture, Food and Environment recently hosted its annual career fair featuring two of the state's most iconic industries, equine and bourbon. 
The UK Signature Industries Career Fair presented professional opportunities to more than 400 participants. 
Attendees represented 84 different majors and academic programs across UK's campus, along with five other universities. Participants met with more than 200 recruiters and employers from the equine and distilling industries.  
According to Savannah Robin, event co-organizer and lecturer of career and professional development at Martin-Gatton College of Agriculture, Food and Environment, developing undergraduates' professional capacity is essential to future career success. 
"This is an opportunity for our students to apply the professionalism skills they develop in class. The art of networking in any career is essential, and in the equine industry, it's even more important," Robin said. "The career fair not only helps students explore what opportunities may exist in the industry, secure internships and jobs, but it also provides the space to practice networking skills and grow as equine professionals."  
The equine and distilling programs have previously held separate career fairs over the past decade. Starting in 2022, the two industry-focused programs merged into one fair. 
Ilka Balk, associate director of the James B. Beam Institute for Kentucky Spirts and event co-organizer, said students are well-prepared through the UK Distillation, Wine and Brewing Certificate program to fill the industry's need for talent — giving many attendees an opportunity to show employers their abilities.  
"We were excited to host the distillation, wine and brewing portion of the Kentucky Signature Industries Career Fair," Balk said. "The strong employer participation shows a great need for talent in the distillation, wine and brewing industry. The industry is growing exponentially, with room for many disciplines and backgrounds." 
Participating employers also found it beneficial for their businesses and professional networks. 
"We were fortunate to be able to attend this year's career fair and discuss multiple employment opportunities with attendees. Our representatives were pleasantly surprised at the networking opportunities to meet other industry professionals and pleased with the quality and quantity of young people in attendance," said Anthony Koch, Hallway Feeds director of sales and marketing. "The students were all prepared to have professional conversations about our company and available positions." 
Those sentiments were echoed by Dot Morgan, founder and executive director of New Vocations Racehorse Adoption Program.  
"We met with eager students, seeking work in the equine industry including internships, full or part-time, and volunteer opportunities. The Bluegrass is a fertile region for these aspiring young people, and we need their contributions to grow and preserve our equine resources. This was our second year attending and once again, I left inspired with the response we received," Morgan said. 
Students who attended also shared positive experiences. 
"The whole experience was clear and streamlined," said Mari Crosby, a UK senior equine major. "I had very productive conversations with leaders in the industry. Our college seems to have such key professional development opportunities and I think that sets us up for success,"  
Daniel Smith, another UK equine senior was equally complimentary.  
"The career fair was amazing. It was encouraging and exciting to see so many farms and equine businesses excited to talk to the next generation," he said. 
The impact of both industries on the state is significant. The most recent Kentucky Equine Survey reported the state is home to 209,500 horses on 31,000 operations with $2.1 billion in total income from sales and services. The bourbon industry generates more than 22,500 jobs with an annual payroll topping $1.23 billion. The impact goes further with more than $286 million in annual tax revenue in the commonwealth attributed to bourbon, combined with both industries generating substantial tourism revenue and visitors to Kentucky worldwide.   
"Kentucky's important cultural heritage in both areas reflects a long and deep history.  Horses and distilled spirits truly are signature industries for the Commonwealth," said James MacLeod, UK Ag Equine Programs' director and professor in the Department of Veterinary Science. " The growth and diversity of career opportunities across multiple STEM, social and business disciplines is evident. In addition to their historical and cultural significance, these two industries will continue to provide valuable economic opportunities for Kentucky citizens." 
For a list of employers at the fair including information about next year's event, visit https://students.ca.uky.edu/KY-signature-industries.  
– 30 – 
The Martin-Gatton College of Agriculture, Food and Environment is an Equal Opportunity Organization with respect to education and employment and authorization to provide research, education information and other services only to individuals and institutions that function without regard to economic or social status and will not discriminate on the basis of race, color, ethnic origin, national origin, creed, religion, political belief, sex, sexual orientation, gender identity, gender expression, pregnancy, marital status, genetic information, age, veteran status, physical or mental disability or reprisal or retaliation for prior civil rights activity.  
---
Beam Institute
Equine
Events
Students