University of Kentucky's Aged Horse Care and Education Facility marks official opening, launching new possibilities for research and training
University of Kentucky's Aged Horse Care and Education Facility marks official opening, launching new possibilities for research and training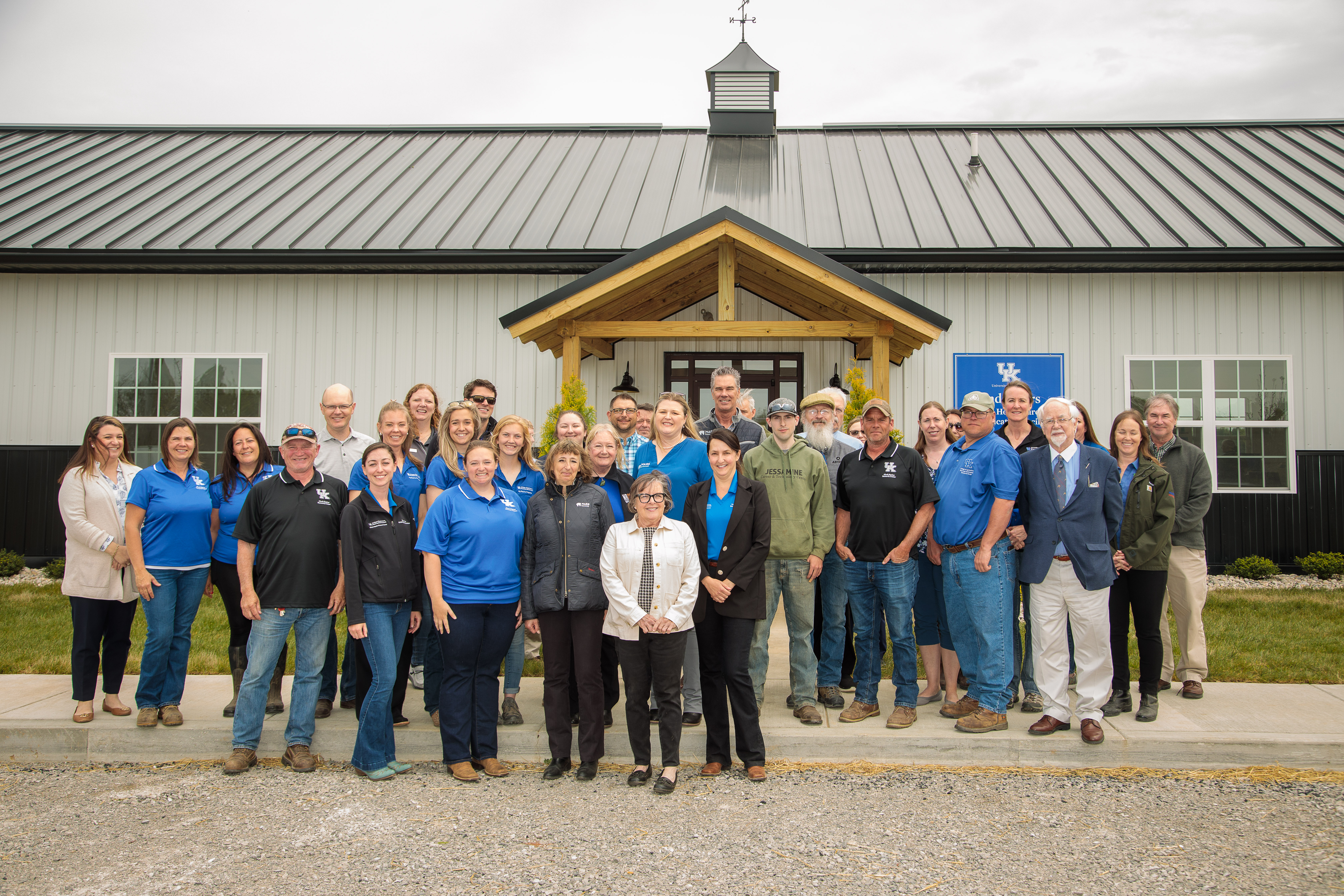 Lexington, Ky.—
The Linda Mars Aged Horse Care and Education Facility, located on the University of Kentucky Martin-Gatton College of Agriculture, Food and Environment's C. Oran Little Research Farm, recently marked its official opening with a ribbon-cutting ceremony — unlocking future training and research innovations in care for revered, older horses. 
The new center will help lead breakthroughs in care for older horses, a demographic making up approximately one-third of the worldwide horse population. Additionally, the space will help train the next generation of scientists and serve as an important resource for the university's equine undergraduate students.    
Support from Linda Mars, philanthropist and avid horsewoman, made the facility possible. 
"By supporting the enhancement of our scientific knowledge, I hope more horses around the world will be able to grow old gracefully, remain healthy, active and enjoy a high quality of life in their older years," Mars said. 
Gluck Equine Research Center associate professor Amanda Adams, established the University of Kentucky's Aged Horse Research Program. Adams, who specializes in caring for senior horses, is also an adjunct faculty member at Lincoln Memorial University College of Veterinary Medicine. She established and supports a herd of aged horses with conditions ranging from pituitary pars intermedia dysfunction (more commonly known as Cushing's disease), to obesity, equine metabolic syndrome and insulin dysregulation. 
"We are thrilled that the facility is now open and that we can put it to good use. We need this space to support our efforts and in training the next generation of scientists," Adams said. "The best part of the ceremony was Linda Mars leading the first senior horse into the new facility. I am incredibly thankful for her dedication and love of senior horses." 
The new facility features state-of-the-art laboratory space to support Adams' onsite research program, allowing previously unfeasible studies. The facility will also house teaching and workshop space for 40 graduate and undergraduate students and serve as home to the MARS EQUESTRIAN™ Scholar program. The space will host small public workshops focusing initially on topics such as the care of aging horses, nutrition, management and endocrine diseases. 
"For the past 20 years Mars Horsecare, via the WALTHAM™ Equine Studies Group, has been proudly helping to lead the way with numerous global research collaborations to support the wellbeing, performance and longevity of senior horses and ponies," said Pat Harris, head of the WALTHAM™ Equine Studies Group, "The new the Linda Mars Aged Horse Care and Education Facility is an extremely exciting addition to our resources, to help us expand and share knowledge to support our mission to make the world a better place for horses." 
The mission of the Gluck Center is scientific discovery, education and dissemination of knowledge for the benefit of the health and well-being of horses. Gluck Center faculty conduct equine research in seven targeted areas: genetics and genomics, immunology, infectious diseases, musculoskeletal science, parasitology, pharmacology, therapeutics and toxicology and reproductive health. The Gluck Equine Research Center, a UK Ag Equine Program, is part of the Department of Veterinary Science in the Martin-Gatton College of Agriculture, Food and Environment at the University of Kentucky.  
MARS EQUESTRIAN Sponsorship by Mars, Incorporated is the link between our iconic brands and the equestrian community. For generations, Mars has celebrated a rich equestrian heritage, and through purposeful partnerships, MARS EQUESTRIAN is committed to the sport and building an enduring legacy. From world-class competitions across all equestrian disciplines, to stewarding the power of horses on society and sustainability, MARS EQUESTRIAN is dedicated to our purpose to improve the lives of horses, pets, and the people who love them. For more information, please visit our website at www.marsequestrian.com and follow us on social media @marsequestrian. 
The Waltham Petcare Science Institute is Mars Petcare's pet research center. Our work focuses on the nutritional and behavioral needs of pets, as well as preventive health. We use this knowledge to support development of innovative products and services, advancing science to deliver our Purpose: A BETTER WORLD FOR PETS™. The WALTHAM™ Equine Studies Group, which is headed by Pat Harris, MA, PhD, VetMB, DipECVCN, MRCVS, is dedicated to advancing the science of horse nutrition and provides the scientific support for MARS Horsecare globally including the BUCKEYE™ Nutrition, SPILLERS™, and WINERGY™ brands. By collaborating with key research institutes and universities around the world its work remains at the forefront of equine nutritional science.
---
Equine