2012 Kentucky Equine Survey reaches critical funding goal; data collection closes Oct. 12
2012 Kentucky Equine Survey reaches critical funding goal; data collection closes Oct. 12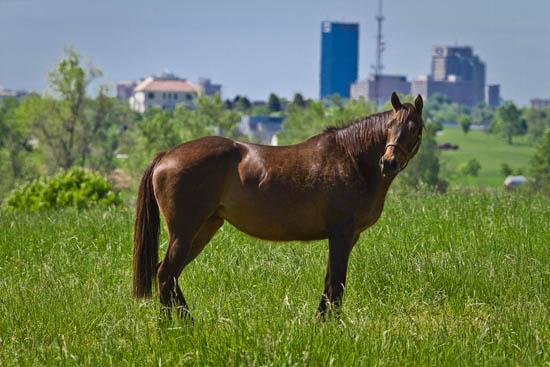 LEXINGTON, Ky.—
A critical fundraising threshold was met this month for the 2012 Kentucky Equine Survey, a statewide comprehensive survey of horse breeds. The state's equine industry and its supporters, among them organizations, businesses and individuals, responded to the challenge of raising enough funds to be eligible for an equal amount from the Kentucky Agricultural Development Fund.
The University of Kentucky's Ag Equine Programs and the Kentucky Horse Council have partnered on the 2012 Kentucky Equine Survey, in conjunction with the Kentucky field office of the U.S. Department of Agriculture National Agricultural Statistics Service and the University of Louisville's Equine Business Program. The last comprehensive study of this type was conducted in 1977.
 "We thank all those equine associations, large and small, as well as individuals all across the commonwealth, who contributed to the Kentucky Equine Survey," said Ginny Grulke, executive director of the Kentucky Horse Council. "Every amount donated, whether $5 or $5,000, helped us reach this major milestone. We are proud of our grassroots riders who dug down deep to support the whole industry, enabling us to meet the $100,000 challenge."
"It is encouraging to receive such strong industry-wide support for the Kentucky Equine Survey, because it again underscores the importance of having good data to help develop the state's signature industry to its fullest potential," said Jill Stowe, UK associate professor in agricultural economics and project lead.
The survey was mailed in June to 15,000 Kentucky horse owners and data collection will close Oct. 12. Horse owners who have not completed and mailed in their information are urged to do so now. Representatives from the National Agricultural Statistics Service are making phone calls to those who haven't submitted their information.
The purpose of the study is to get an accurate inventory of all horses in the state by breed and use, and to describe their economic impact at the farm and community levels, through races, shows, trail rides and other events. The survey requests information relating to capital investments on the farm and in farm equipment in order to better assess the full economic value of Kentucky's horse industry. Horses being inventoried include those on farms owned by the horse owner as well as those boarded at equine boarding and breeding facilities.
The survey asks for information about breeds, their uses and their estimated value. Other questions include the number and value of horses sold or purchased in 2011 as well as approximate expenses for horse care, including wages, taxes, feed, bedding, health, supplies, farrier, insurance, boarding and training fees.
All farm and individual names are confidential and will not be available to any state or federal agency, including UK and the Kentucky Horse Council. Summary results from the survey are expected in December, with in-depth economic impact results becoming available during early 2013.
The cost of the study is $600,000. The Kentucky Agricultural Development Fund committed $300,000 to the project, with $100,000 of that funding contingent on a match of $100,000 from Kentucky's horse industry and organizations. Seventy such organizations, businesses and individuals stepped up to help secure that match. UK's College of Agriculture committed $200,000 for the study.
"This study is critical to every horse activity in Kentucky and will create a rich and unbiased set of data that should be a foundation for decisions by policymakers, educators, investors and business leaders for many years to come," said Nancy Cox, associate dean for research in UK's College of Agriculture, Kentucky Agricultural Experiment Station director and administrative leader for UK Ag Equine Programs. "We are extremely grateful to the equine industry for recognizing the importance of this study and responding with financial contributions."
The bulk of the budget goes to the Kentucky field office of the National Agricultural Statistics Service, an agency that conducts this type of research regularly and is able to provide the highest level of confidentiality to participants.
Early and major financial support for this effort came from the Kentucky Horse Council, Kentucky Quarter Horse Association, North American Equine Ranching Information Council, Kentucky Thoroughbred Association/Kentucky Thoroughbred Owners and Breeders and Kentucky Thoroughbred Farm Managers Club.
Other major financial support was also given or pledged by Alltech, Butler Schein Animal Health, Commerce Lexington Inc., Equine Medical Associates, Hagyard Equine Medical Institute, Keeneland, Kentucky Equine Education Project, Kentucky Hunter Jumper Association, Merck Animal Health, Pfizer Animal Health Inc., Rood & Riddle Equine Hospital, Spycoast Farm and the United States Equestrian Federation.
Additional financial support was given or pledged by Beta-Rock Stables, Cane Run Farm, Daniel Boone Distance Riders, Farmers Feed Mill, Fort Harrod Back Country Horsemen, Kentucky Association of Equine Practitioners, Kentucky Dressage Association, Kentucky Paint Horse Club, Kentucky Ropers Association, Kentucky Veterinary Medical Association, Kentucky Veterinary Medical Association Foundation, Lexington Equine Surgery, Maplecrest Farm, Masterson Station Equestrian Trust, McMahon & Hill Bloodstock LLC., Misty Ridge Farm, Mountain Pleasure Horse Association, Northern Kentucky Horse Network, Shawhan Place LLC., Siena Farm, Sierra Farm, Society for Arabian Horses in the Bluegrass Area and Webster Pharmaceuticals.
Additionally, the Kentucky Horse Council raised money through a grassroots campaign where private horse owners contributed to the survey. A list of those contributors, currently more than 30 individuals, is available on the Kentucky Horse Council and Kentucky Equine Survey's websites.
More information about the 2012 Kentucky Equine Survey can be found at http://www2.ca.uky.edu/equine/kyequinesurvey or on Kentucky Horse Council's website at http://www.kentuckyhorse.org/.
---
Economics
Equine
Research