Children's therapy center gets boost with aid of UK students
Children's therapy center gets boost with aid of UK students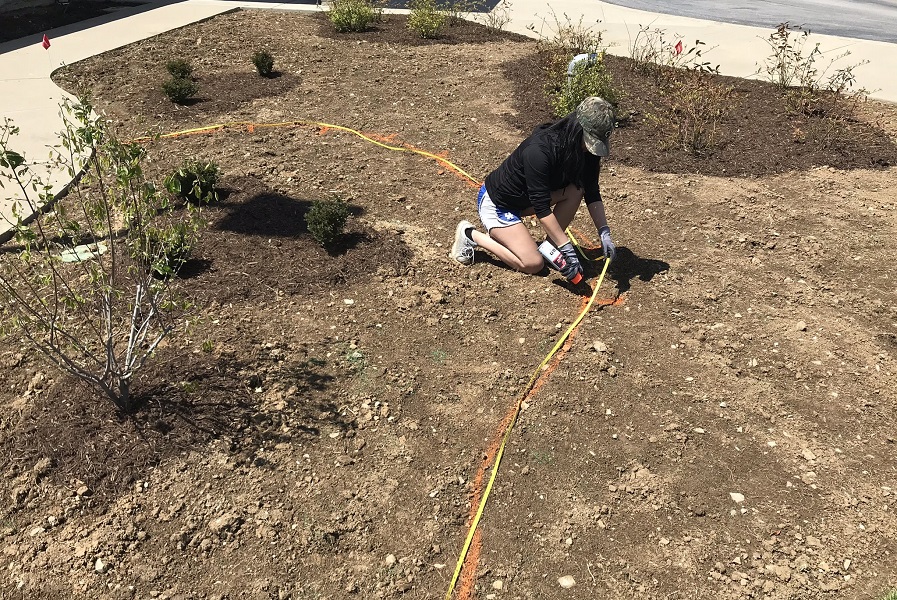 LEXINGTON, Ky.—
Students from the University of Kentucky College of Agriculture, Food and Environment are striving to make better use of Kentucky's natural surroundings to enhance the lives of children. Students in the UK Department of Landscape Architecture contributed to the design, development and planting of a green space for the children and staff at the Child Development Center of the Bluegrass, a preschool and out-patient physical therapy facility located on the Lexington campus near The Arboretum.  
Students created the new area, consisting of a nature play space and native landscape, to improve the quality of play and diversity of activities for the preschool's children. They hope the project will increase outdoor play and physical activity opportunities, enhance the site's ecological integrity, increase sustainable site management and document and evaluate potential applications in other settings, such as parks and public schools. 
"This has been a long time coming," said Jordan Phemister, a landscape architecture lecturer and the project's manager. "Before this project, the CDCB had standard playgrounds with off-the-shelf equipment and very little vegetation near where children play and come and go from school. We wanted to introduce more plantings and natural elements to provide different opportunities for the children to experience and play in." 
By extending the CDCB's spatial capabilities, this project will support accessible, engaging and sensory-rich play, an essential component of healthy child development, and increase physical activity in children. At the same time, the CDCB's "natural" capacity is growing by creating a native landscape that offers children a broader variety of activities and increases connections between staff, children and nature. 
The project will replace more than 4,500 square feet of lawn with a native landscape and nature play space, reducing long-term maintenance requirements while improving the ecological integrity and functioning of the site. By transitioning turf areas to native plantings, the project improves essential ecosystem services that include stormwater infiltration, evapotranspiration, carbon sequestration and it provides shade. The plant- and sensory-rich environment will also support diverse play types, allowing children to touch, manipulate and navigate natural materials not currently available on site. Along with strengthening relationships with nature, the project provides a template for more environmentally friendly planting and maintenance procedures for other areas of UK's campus. 
To tap into and develop a growing network of stakeholders in nature play, the design has engaged a variety of UK students, faculty, staff and community members. 
"As the project comes to a close, staff from UK's Physical Plant Division have been instrumental in the design development, site preparation, tree planting, salvage lumber fabrication and construction for the nature playscape," Phemister said. "Trees are periodically taken down during construction projects across campus. Instead of sending those trunks to the chipper, UK arborists have milled the salvaged lumber into a higher and better use as a play area, for seating and for edging elements in the nature playscape, reducing UK's waste stream." 
 Megan Griebel was one of the students working on the project. The recent UK grad earned a bachelor's degree in landscape architecture in 2019 and was responsible for the planting design in front of the school, culminating in a volunteer planting day in May 2020. Megan helped select and arrange a diverse array of native trees, shrubs, perennials and grasses that benefit wildlife and display a variety of ornamental qualities throughout the year. Griebel and fellow volunteers planted more than 400 native perennials and grasses grown by UK's Horticulture Department on campus in their greenhouses, and contractors installed 79 native shrubs and 39 native trees. Through this native landscape, youth, families and staff may connect with nature through a diverse mix of plants that stimulate the senses and support increased biodiversity. 
"The new area is great for the kids to see what kind of plants exist in the state they might not necessarily have gotten exposure to before," Griebel said. "There are a lot more plants out there which you just won't find at a home improvement store. So, this is a great way for them to learn more about the Bluegrass State. I believe this is going to be a really great playground for every age." 
Phemister agrees the new play area will boost children's engagement with nature. 
"The whole idea of introducing native landscapes and natural materials is that we're hoping kids are going to not only be moving differently, but learning about different plants, as well," Phemister said. "Children and their parents can develop an affinity for the plants and hopefully become stewards of the landscape and the environment into the future." 
UK's Sustainability Challenge Grant program funded the project that brought together CAFE students, faculty and staff as well as the Colleges of Design and Education and UK's Physical Plant Division. It also involved partnerships with the larger community, such as the Children at Play Network at the Bernheim Arboretum. 
---
Community Development
Horticulture