Community garden takes shape in Metcalfe County
Community garden takes shape in Metcalfe County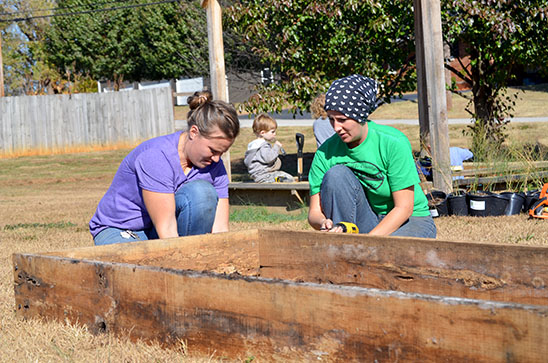 Edmonton, Ky.—
On a late fall day, volunteers laid the framework for what will be a bustling place full of fruits, veggies and children come next summer.
The Metcalfe County community garden is an outreach of the county's office of the University of Kentucky Cooperative Extension Service and its farmers market. It is a direct result of the growth of the market and the expansion of extension efforts on local gardening for children.
In the past five years, the Metcalfe County Farmers Market has doubled in vendors and customers through active promotional efforts by Lynn Blankenship, the county's extension agent for family and consumer sciences education, and Corina Common, farmers market manager, with support from a U.S. Department of Agriculture farmers market promotion grant.
Blankenship and Common received a grant from the Barren River District Health Department to lay the foundation for the new community garden, which included building raised beds and a compost bin and installing fencing.
"Lynn and Brandon (Bell) at the extension office, the extension council and other local leaders have been so supportive of the market, which is what you need in a small town, if you want something like this to succeed," Common said.
The community garden space was previously a garden that Bell, the county's extension agent for agriculture and natural resources education, established with the local senior citizens center. With the summer heat, it became difficult for the center's clients to manage.
"I'm glad to see it no longer sitting idle," said Bell, an active proponent of the community garden. "I'm glad we've got the volunteers that are energetic enough to come out and help with this. They have a passion for the farmers market and a passion to help the community."
The community garden's location, adjacent to the farmers market and across the street from the extension office, will allow both groups to use it.
Blankenship plans to use the garden as part of a four-day summer camp focused on gardening and cooking for second- through fourth-graders. She also will use the garden to educate adults about composting and companion plantings to help minimize pesticide use.
"These are things that no one has really taught in a long time in Metcalfe County," she said. "I always say hands-on education is the best education. You have a great learning experience when you are actually doing something and interacting with it, and that is the whole purpose of this project."
Common sees it as a good opportunity for children and adults to taste new foods, as anyone can pick fruit and vegetables from the garden. As a mother of a young son, she also wants it be a safe place to take children and to help attract families to the market. A sandbox in the garden is already a popular attraction for the county's young people.
"All of us who live in more rural areas and have small kids are always looking for an opportunity to get them around other children so they can play, especially during the summer," she said. "We want to make the farmers market a really attractive community space all season long and really make it the happening place in town."
---
Crops
Extension
Family Consumer Sciences
Horticulture
Nutrition