Eastern Kentucky farmers' market making a difference
Eastern Kentucky farmers' market making a difference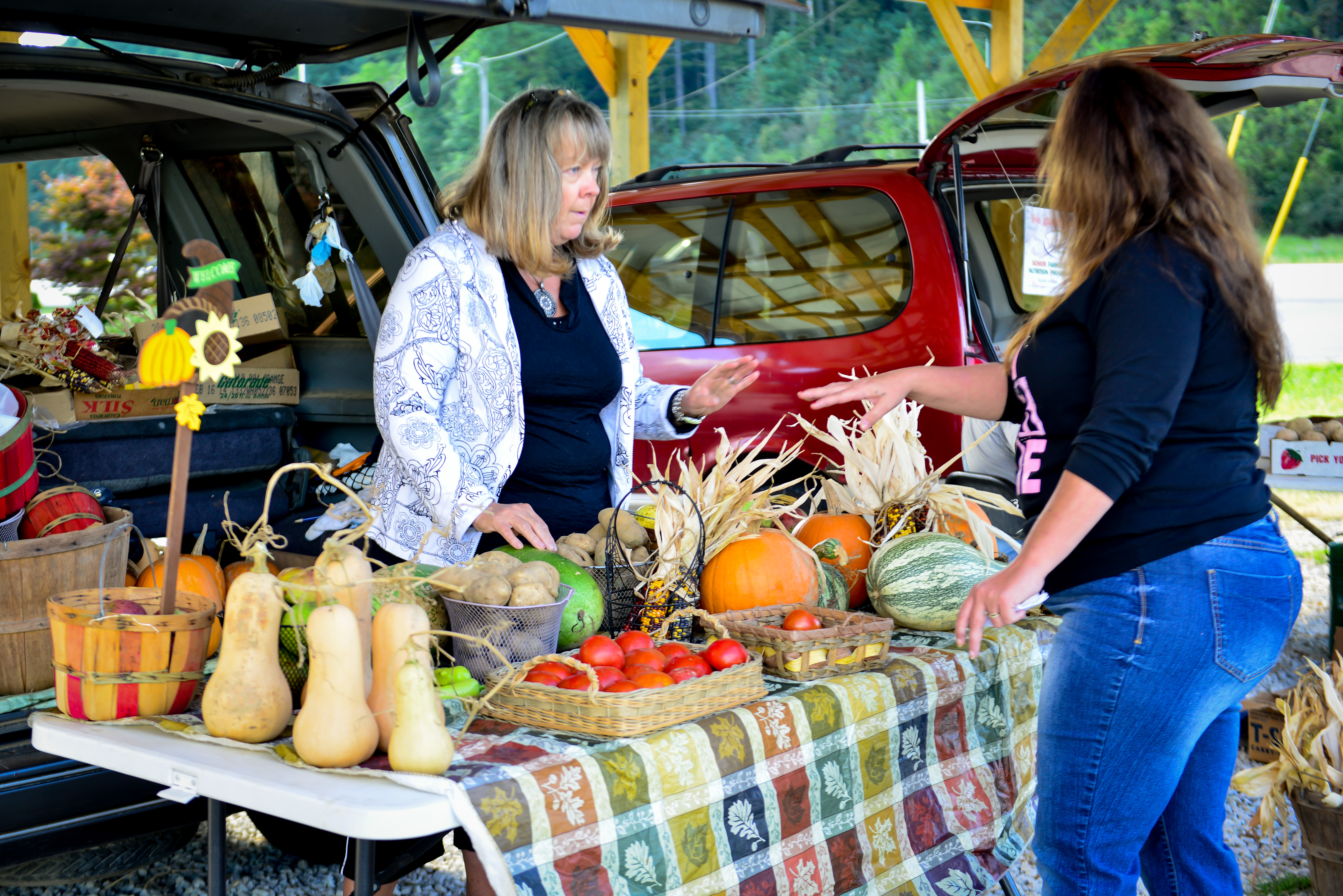 CAMPTON, Ky.—
Oftentimes in Eastern Kentucky, finding fresh, local produce is a tough proposition. With at least 10,000 cars driving through Wolfe County each day to and from the Mountain Parkway, Daniel Wilson and Pam Pilgrim saw a huge opportunity for farmers and consumers.
"We've had the farmers market here for a several years," said Wilson, University of Kentucky Cooperative Extension agent for agriculture and natural resources in Wolfe County. "We've always had four or five farmers selling their products out in the elements."
Wilson sat down with Pam Pilgrim, a member of the Extension District Board, to discuss ways they could bolster participation in the market. Pilgrim applied for and was awarded a grant to construct a permanent shelter for the market from the Brushy Fork Institute in Berea, funded through the Appalachian Regional Commission.
"We used $6,700, volunteer labor and labor donated through Wolfe County Judge Executive Dennis Brooks' office to build a facility," she said. "It puts them (farmers) out of the weather first and foremost."
With space for at least 10 vendors under the shelter, the new market opened this past summer, and Wilson said the number of participating farmers quickly rose from the four or five to about 40.
"We have farmers coming from at least three other counties to sell," Wilson said. "It's really provided more variety for our customers, and it's been a big boost for the farmers as well."
At 70, Donnie McQuinn has been selling homegrown fruits and vegetables for the past 30 years. A retired history and English teacher, McQuinn said the new structure has made a big difference for him.
"I used to sit out here under a tent selling," he said. "Then a big wind would come and blow all of it out onto Highway 15. This is really nice; it's like the difference between night and day, very user friendly, peddler friendly."
McQuinn said selling at the market isn't all about the money for him.
"I just like to garden," he said through a grin. "I just like to meet people and dabble in the dirt and the garden."
Donna Brewer has been selling for a number of years and looked to McQuinn for advice when she started. She said times have really changed since she started bringing the excess produce from her garden to sell at the market.
"Use to be selling produce to people in Wolfe County was like selling ice to Eskimos," she quipped. "But it's not like that now; not everyone has a garden anymore, so this (market), it's good for the people."
Wilson said the market has seen close to $20,000 in revenue in past years and estimates are looking like this year will at least double that.
"We've had such a great response that we are seriously looking at expanding the facility in the very near future to accommodate more farmers," he said. "We had more than $10,000 spent in senior citizen vouchers, diabetes program vouchers and WIC vouchers. So it's been a great way to make fresh produce available to people who may not have had access to it before."
Pilgrim and Wilson are already collaborating on other projects like a new greenhouse at the county extension office. They will use the greenhouse for educational programming through 4-H, where members will learn to raise their own vegetables and then sell them at the market.
---
Community Development
Crops
Extension
Horticulture
Nutrition
Sustainability