Extension agents helping others learn the basics
Extension agents helping others learn the basics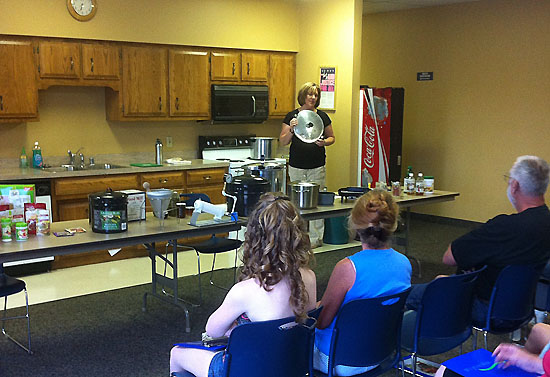 LEXINGTON, Ky.—
Spurred by increased interest in local foods and sustainability along with a struggling economy, many in a generation that has grown up with modern conveniences want to learn the ways of their grandparents.
 In Nelson and Washington counties, agents with the University of Kentucky Cooperative Extension Service are helping individuals learn skills once taken for granted through two educational series.
"A lot of people have missed out on learning things like canning and want to learn how to preserve their harvest," said Dennis Morgeson, Washington County horticulture extension agent. "It's happening nationwide. It seems like the entire population is getting more into local food and trying to be more sustainable. The economy is driving some of that, but I think we were going in that direction anyway because of food safety issues."
Morgeson along with Robbie Smith, Nelson County horticulture extension agent, are hosting a series of classes titled Back to Basics to help individuals learn sustainable practices such as how to produce their own food and composting.
Since October, the agents have hosted monthly classes on seasonal food topics at one of their adjoining counties' extension offices. The classes are hands-on and follow the entire journey of producing a particular kind of food, ranging from fresh produce to meats. In addition to the agents, UK and local experts help teach the classes.
"It's bringing in a different audience," Smith said. "We want them to experience something they haven't before and leave the series with a better understanding of their food system."
Based on the success of the Back to Basics series and after getting questions of her own from clients interested in getting back to their roots, Dayna Parrett, Nelson County's family and consumer sciences extension agent, started a series called Living Simply in June.
Her classes cover topics such as basic sewing skills to making your own cleaning supplies to budgeting among others, all with the goal of helping people become more self-sufficient. In total, the series will have nine classes.
"In the past several years, depending on other people to do things for us was common, and it was expected and 'cool' to go out every night and spend lots of money on new things," she said. "Since the economy went down, it is now becoming 'cool' to do things for ourselves again. The local food movement has a lot to do with it too."
Parrett said her classes thus far have been very successful, with some of the participants in earlier classes submitting canning projects to the county fair for the first time, furthering their interest in sewing at home and exclusively making their own cleaning supplies.
"It's the best time to be a family and consumer sciences agent because when someone, who has never sewn a button before or cooked a meal from scratch before, goes looking for help, we're right here with all the answers," she said.
Parrett said she hopes to begin another series next year that includes classes for beginners and those who are more advanced.
For more information about either series, contact the Nelson County extension office at 502-348-9204 or the Washington County extension office at 859-336-7445.
---
Community Development
Events
Extension
Family Consumer Sciences
Horticulture
Nutrition
Sustainability