Fruit and Vegetable Conference set for Jan. 7-8
Fruit and Vegetable Conference set for Jan. 7-8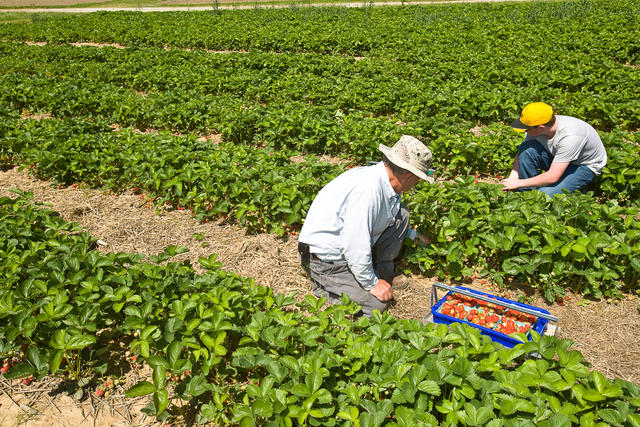 LEXINGTON, Ky.—
The 2013 Kentucky Fruit and Vegetable Conference and Trade Show will have something of interest for all fruit and vegetable producers. This year's event convenes at 8 a.m. Jan. 7 at Lexington's Embassy Suites Hotel and concludes around 5 p.m. Jan. 8.
Preconference activities on Jan. 6 include a Winemaking Techniques Workshop from 1- 5:30 p.m. in Seay Auditorium on the University of Kentucky campus; a reception and the Kentucky Farmers' Market Association annual meeting; and a fruit round table discussion from 7:30 to 9 p.m. at the hotel.
"We have many excellent sessions and speakers again this year," said John Strang, UK College of Agriculture horticulture specialist. "Success with fruit and vegetables is most always based on a producer's management skills, especially being able to do things on time. This conference is for beginners and experienced growers alike. We believe we have something to share with everyone, no matter how steep their learning curve."
Participants may choose from several concurrent sessions with topics including farmers markets, vegetable production, tree fruit production, organic farming and gardening, beginning fruit and vegetable production, small fruit production, a high tunnel workshop, agritourism, wholesale marketing and the Grape and Wine Short Course.
The conference is a joint meeting of the Kentucky State Horticulture Society, the Kentucky Vegetable Growers Association, the Kentucky Farmers' Market Association, the Organic Association of Kentucky, the Kentucky Wine Association and the Kentucky Vineyard Society.
The Kentucky Vineyard Society will offer an optional Celebration of Kentucky Wines at 6 p.m. Jan. 7. The celebration will include wines from Brooks Hill Winery, Camp Springs Vineyard, Cave Valley Winery, First Vineyard, Forest Edge Winery, Heritage at Kentuscany, Redman's Farm Winery, Seven Wells Vineyard & Winery, White Buck Vineyards & Winery, and WhiteMoon Winery. The cost for wine tasting and hors d'oeuvres is $25 per person.
Participants will have an opportunity to use a Trading Post bulletin board to sell used equipment.
Conference registration is $30 and includes a one-year membership in the Kentucky Vegetable Growers Association, Kentucky State Horticulture Society or the Organic Association of Kentucky and entry to the Grape and Wine Short Course. The preconference winemaking workshop is an additional $10. Strang recommended preregistering by Dec. 19 to ensure participants name tags and conference materials are ready for them at the door.
The University of Kentucky Cooperative Extension Service, Kentucky State University and the Kentucky Department of Agriculture jointly sponsor the conference.
For more information about the conference, or to request registration materials, contact Mary Ann Kelley at 270-365-7541, ext. 216. The conference program, Ag Credit AgGenius Agriculture Innovations Contest entry form and registration sheet are available online at http://www.uky.edu/Ag/Horticulture/meetings.html. 
---
Crops
Events
Extension
Horticulture
Research
Sustainability