Grant to empower women farmers, improve child nutrition in Ghana
Grant to empower women farmers, improve child nutrition in Ghana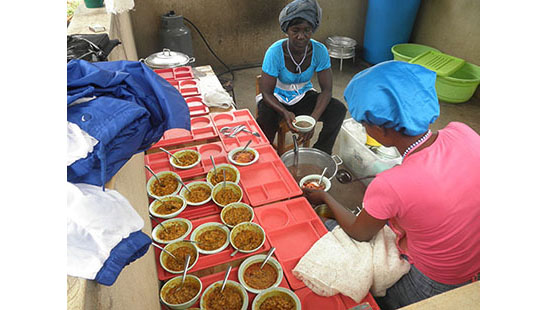 LEXINGTON, Ky.—
While the African nation of Ghana is one of the most developed on the continent, its people still suffer from poverty and hunger. A U.S. Department of Agriculture's Foreign Agricultural Service grant will help University of Kentucky scientists positively impact the nation by helping Ghanaian women who farm improve their job opportunities and their children's nutrition.
Researchers in the University of Kentucky College of Agriculture, Food and Environment will find ways to help women sell their crops to schools. The goal of the project is to provide new opportunities and income for female farmers, increase sustainable agricultural practices in the country and provide Ghanaian children with much needed nutrition.
"School feeding programs are one of the best ways to fight hunger in developing countries, because they give children much needed nutrients to properly grow and learn and provide jobs in communities. Studies have shown that more children, especially girls, will attend school if there's a meal provided," said Janet Mullins, the grant's principal researcher and extension professor in the college's Department of Dietetics and Human Nutrition.
According to the World Food Programme, at least 45 percent of Ghana's population lives on less than $1.25 a day. Large income disparities exist in the country, and the divide deepens the further north a person lives in Ghana. Northern communities account for 63 percent of the Ghanaians living below the poverty line. Unlike in the U.S., schools in the country are not required to provide feeding programs to their students.
During the first year of the grant, Mullins and fellow UKAg professors Mark Williams and Mike Reed will collaborate with researchers at the University of Ghana and the University for Development Studies to learn how schools in Northern Ghana purchase food for their feeding programs and how many of the country's feeding programs already rely on local sources, such as farmers and gardens, for at least part of their food purchases. Two schools in a rural area around the city of Tamale will serve as pilots for the projects. These schools will each have four female farmers and a person charged with purchasing food for the school look at ways that the farmers can begin providing traditional Ghanaian nutrient dense foods like legumes, maize and vegetables to schools.
Mullins will leverage a 10-year relationship UK has operating a kindergarten in Adjeikrom, in the country's Eastern Region to further develop that school's reliance on local women to supply food for its feeding program. The school will serve as a model program for the Northern Region schools.
In the second year, UK researchers will provide technical and financial assistance to women who farm in the Northern Region to sustainably produce these foods and meet the necessary packing, processing and handling requirements for school feeding programs. This includes everything from variety selection to delivery.
They will also develop a social marketing campaign to encourage the country's school food buyers to increase their purchases of locally produced foods for their feeding programs.
---
Economics
Family Consumer Sciences
Horticulture
Sustainability