High tunnel webinar series a convenient option for growers
High tunnel webinar series a convenient option for growers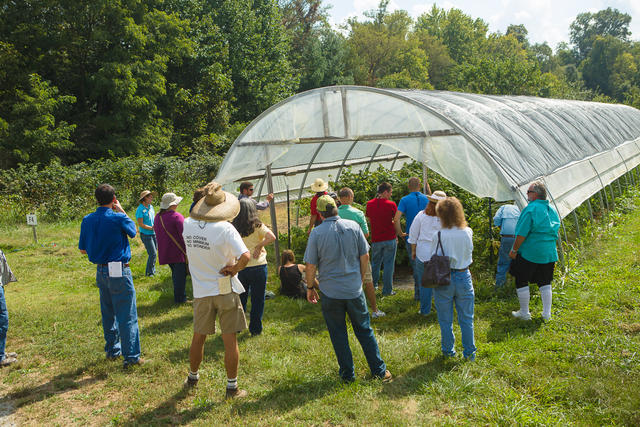 LEXINGTON, Ky.—
Many Kentucky growers are using high tunnels to extend their crop seasons. While it offers a great opportunity, high tunnel production can be overwhelming without the right tools. Growers can learn to navigate the ins-and-outs of high tunnel production through a series of six webinars offered in February and March.
The University of Kentucky College of Agriculture, Food and Environment's Center for Crop Diversification, through the Barnhart Fund for Excellence, is sponsoring the series.
"We are trying to take the information to folks right in their homes, and share it with them at a convenient time," said Miranda Hileman Combs, senior extension associate with the UK Center for Crop Diversification. "Through the series, producers will gain information about crop considerations, market opportunities, construction tips and ideas as well as pest pressure and control."
The webinars are all from 6:30 to 7:45 p.m. EST. Offerings are as follows:
• Feb. 17 -- Season Extension Opportunities + EQIP Funding -- an overview of season extension and the pros and cons of using season-extension technology: high tunnels, low tunnels, row covers, marketing and planning for markets before building a high tunnel, an overview of the basics of high tunnel economics and a summary of the Environmental Quality Incentive Program (EQIP) Seasonal High Tunnel Initiative.
• Feb. 24 -- Structure Options, Construction, and Ventilation and Temperature Control -- an introduction to structure options and layouts for high tunnels, stationary or moveable high tunnels, as well as construction tips and ideas. Other topics include ventilation and temperature control within a high tunnel throughout the year.
• March 3 -- Organic Production and Certification in High Tunnels, Economic and Marketing Considerations in High Tunnels -- Adam Watson, organic marketing representative from the Kentucky Department of Agriculture, will introduce organic certification and how it relates to high tunnel production. Other topics will include economics and marketing of high tunnel crops throughout the year.
• March 10 -- Crop and Equipment Options and Nutrient and Irrigation Management in High Tunnels -- covers what and when to plant and crop options for continued high tunnel production in Kentucky climates. Other topics include types of equipment for high tunnel production, and nutrient and irrigation management in high tunnel production systems.
• March 17 -- Insect, Weed and Disease Control in High Tunnels -- High tunnels can protect crops from some insect, weed or disease pressures, but they can sometimes harbor and magnify pest problems. During this webinar, specialists will teach how to manage pest pressures with cultural and biological controls, and cover available pesticide and fungicides approved for use in high tunnels in Kentucky.
• March 24 -- Producer Views and Series Wrap-up -- high tunnel producers will share their successes and challenges along the way. Paul and Allison Wiediger of Au Naturel Farm in Smiths Grove will discuss their 20-plus years of organic high tunnel production experience. Mark and Velvet Henkle of Henkle's Herbs and Heirlooms in Nicholasville will share their story.
Before the webinars begin, make sure computers are correctly set up to view the series by visiting https://connect.uky.edu/common/help/en/support/meeting_test.htm. UK Agricultural Communications Services produced an educational video about high tunnel production. To watch, visit http://youtu.be/oZj35CFZV1c. To register for the series, contact Combs at 859-218-4384 or email Miranda.hileman@uky.edu.
---
Crops
Events
Extension
Horticulture
Research