James B. Beam Institute partners with Vendome Copper and Brass Works to enhance teaching and research mission
James B. Beam Institute partners with Vendome Copper and Brass Works to enhance teaching and research mission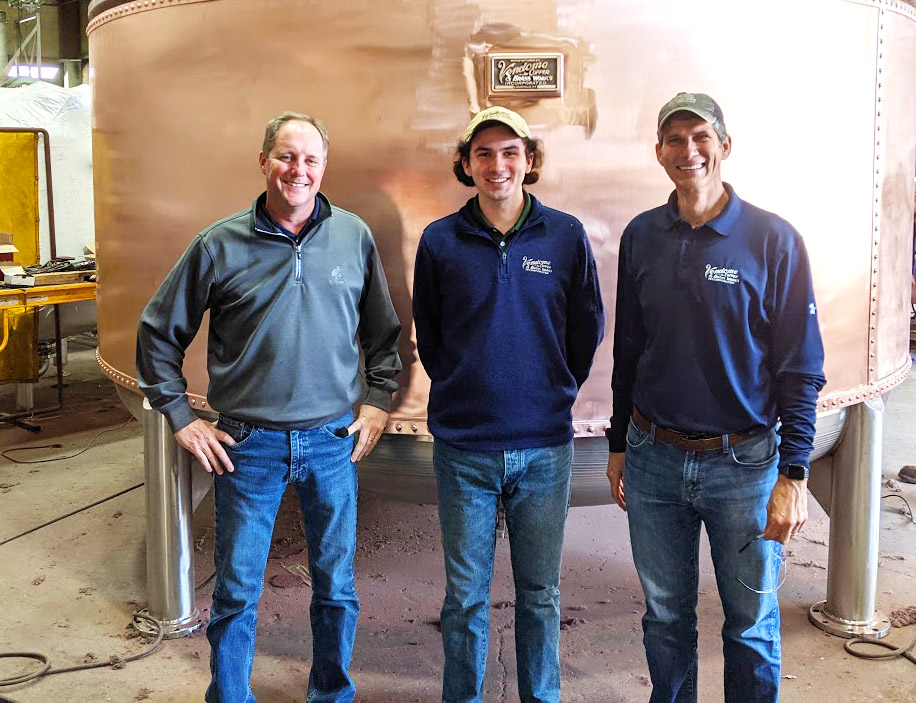 LEXINGTON, Ky.—
Having a working distillery on campus at the University of Kentucky will help train the next generation of distillers and spirits' industry professionals. Vendome Copper and Brass Works recently pledged its support to UK's James B. Beam Institute for Kentucky Spirits to be part of that mission with the Vendome Copper and Brass Works Distillery Support Fund.  
"We are very excited and appreciative to have the opportunity to be a part of UK's James B. Beam Institute for Kentucky Spirits. The distilling industry is very dear to our hearts," said Barbara Sherman, vice president for Vendome Copper and Brass Works. "Vendome was founded in 1903 serving this industry, and today we still provide equipment to distilleries throughout Kentucky, the United States and worldwide."  
The distillation industry is an important part of Kentucky's economy, and the Beam Institute is training students to enter distillation, wine and brewing careers.  
"We are grateful for this contribution from Vendome," said Brad Berron, director of research for the Beam Institute. "Their team is the most knowledgeable in the bourbon business, and they've been sharing that expertise with us ever since we started the Beam Institute. This gift will allow our students to continue to learn from Vendome's experts, as UK students study the science, engineering, and art required to create world-class bourbon." 
The Vendome team has already been collaborating with the Beam Institute by working with current students to contribute to the design process of the institute's facility. Berron said Vendome's engagement has already provided some incredible learning opportunities for the students in the Distillation, Wine and Brewing Studies certificate program. UK students Dylan Shoulders, Emily Smith, Nick Eimers and Will Hubbuch have all contributed to the design of  the institute's new facility.  
"It is very important for this and future generations to be educated in an industry that is such an important part of Kentucky's economy," Sherman said. 
The James B. Beam Institute for Kentucky Spirits ensures the welfare and prosperity of Kentucky's spirits industry. Through teaching, research and outreach, the institute promotes economic sustainability, environmental stewardship and responsible consumption. The Beam Institute is a multidisciplinary effort of experts from the UK College of Agriculture, Food and Environment, College of Engineering, College of Arts and Sciences, Gatton College of Business and Economics. For more information, visit the Beam Institute website at http://beaminstitute.ca.uky.edu 
---
Beam Institute
Food Science
Research