Kentucky 2013 farm cash receipts could approach, exceed $6 billion
Kentucky 2013 farm cash receipts could approach, exceed $6 billion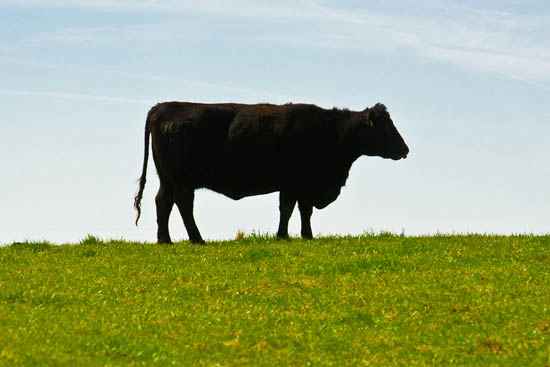 Published on Dec. 5, 2013
LOUISVILLE, Ky.—
Kentucky agricultural cash receipts could approach or possibly exceed, $6 billion in 2013, boosted by exceptionally strong equine, poultry and cattle markets, according to agricultural economists from the University of Kentucky College of Agriculture, Food and Environment.
Will Snell, Kenny Burdine, Cory Walters and Tim Woods, all from UK's Department of Agricultural Economics, along with Kentucky Farm Business Management Program coordinator Jerry Pierce and Jeff Stringer from the UK Department of Forestry shared their agricultural economic outlook for 2014 and an overview of 2013 during the Kentucky Farm Bureau Federation conference Dec. 5 in Louisville.
Official U.S. Department of Agriculture 2013 cash receipts won't be released until summer 2014, but Snell said exceptional grain crop yields are considerably above national yields, which offsets this year's much lower prices and a larger percentage of the crop stored for sale next year.
"It's likely that Kentucky net farm income will remain above the $1.5 billion level we saw in 2011 and 2012, though still fall well below the $2.1 billion record high in 2005, when lump sum tobacco buyout payments inflated income levels," Snell said. "In recent years, tobacco buyout payments have averaged around $150 million annually, accounting for approximately 10 percent of net farm income, which will have to be earned from the marketplace after our last payment in January."
Nearly ideal growing conditions across the commonwealth and in some other parts of the country generated much higher crop yields, but crop prices were considerably lower than 2012's record prices. The USDA is projecting that U.S. net farm income will achieve a record high of $131 billion in 2013, up 15 percent from the previous year and breaking 2011's record by $13 billion.
With tobacco, increased acreage and higher prices will balance lower yields. Snell predicts this could lead to the highest tobacco crop value since the 2004 tobacco buyout.
Walters said the National Agricultural Statistics Service's most recent data show Kentucky corn producers are realizing a record yield of 173 bushels per acre, 154 percent higher than 2012's yield. Soybeans are expected to yield 23 percent more than last year. The Kentucky wheat crop averaged 75 bushels per acre in 2013, which is 21 percent higher than 2012's yield.
Based on recent sales figures, it appears the upward trajectory in equine receipts experienced in 2011 and 2012 continued in 2013.
"The increase in sales figures during the fall sales indicate the market is continuing to rebound from post-recession lows," Burdine said. "Continued strong sales and likely increases in stud fees next year should support the market. Assuming demand remains strong, 2014 receipts could post another year-over-year increase."
Turning to cattle, Burdine said the feeder cattle markets in this year and last gave strong proof of the impact corn prices have on feeder cattle prices.
"Major decreases in corn price during 2013 fueled a feeder cattle market that strengthened throughout the year," he said.
He predicted that the combination of tight supplies and less expensive corn should considerably buttress calf prices by spring, which could reach levels much higher than in spring 2013.
Poultry prices took another jump in 2013 despite more supply reaching the market. Prices increased to around $1 per pound, supported in part by a continued increase in the export market.
Current sales trends in the horticulture industry, which includes the green industry (nursery, greenhouse, floriculture and sod) and produce industry, point toward 2013 gross sales fairly even or slightly ahead of 2012 sales. Woods said the most recent planting intentions data indicates about 13,000 acres of produce crops in the state in 2013, compared to 10,500 acres in 2002.
Home construction and consumer spending drive the green industry, which showed a weak, yet slightly improved marketing season for 2013. Woods expects the industry to show a modest rebound in 2014, as housing starts continue to increase.
The forest industry improved significantly in 2013, Stringer said. Most sectors and commodities performed better than expected. Overall, statewide average log prices increased by 11.4 percent over 2012. Yellow poplar experienced the greatest increase. In 2013, extremely wet conditions in the first half of the year reduced logging output, resulting in demand exceeding supply for all log types and pulpwood in most regions of the state. Still, Stringer estimates that the forestry industry provided a total contribution of $12.7 billion to Kentucky's economy, an increase of 3.3 percent over 2011.
The agricultural outlook for 2014 is mixed, with expectations of continued strong prices for livestock, coupled with lower feed costs and strong international demand. Major row crops may be challenged as increasing global supplies and uncertainty over the nation's energy policy could continue to depress grain prices.
"The equine industry is hoping momentum will continue, and despite all the challenges tobacco faces, the crop value could still remain near its post buyout highs," Snell said. "So despite lower grain prices, Kentucky ag cash receipts could still be near or exceed $6 billion in 2014, especially since a large percentage of the 2013 corn crop will be sold in 2014."
A copy of the outlook publication including information on individual farm sectors can be found at http://www2.ca.uky.edu/cmspubsclass/files/esm/Outlook2014.pdf.
---
Crops
Economics
Forestry
Horticulture
Livestock