Kentucky ag economy slumps in 2015, but cash receipts still in top three
Kentucky ag economy slumps in 2015, but cash receipts still in top three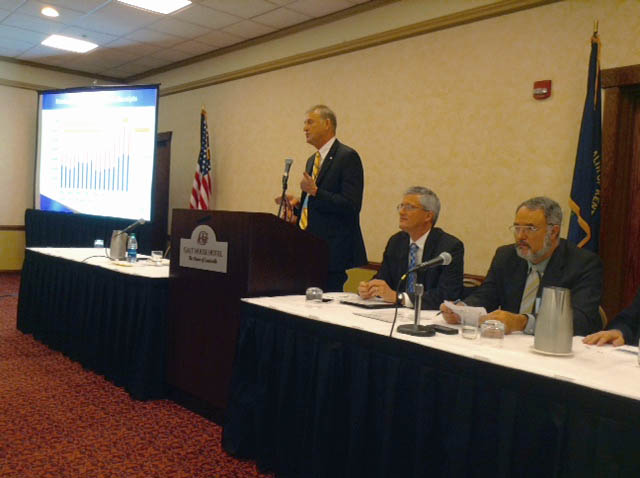 LOUISVILLE, Ky.—
Kentucky agricultural cash receipts in 2015 are projected to be off 8 percent from last year's record high, falling to $6 billion—still the third highest on record. On the national front, the U.S. Department of Agriculture projects cash receipts are down 10 percent from 2014. The outlook for 2016 remains depressed.
"One of the major contributing factors to a slumping U.S./Kentucky ag economy is the decline in ag exports responding to the strengthening U.S. dollar, weak overseas economies, and mounting crop and livestock supplies," said Will Snell, extension professor in the University of Kentucky Department of Agricultural Economics.
Snell and other UK College of Agriculture, Food and Environment faculty, including Kenny Burdine, Todd Davis and Tim Woods, all from the Department of Agricultural Economics, Jeff Stringer, from the Department of Forestry, and Kentucky Farm Business Management Program coordinator Jerry Pierce, shared their agricultural economic outlook for 2016 and an overview of 2015 during the Kentucky Farm Bureau 96th annual meeting Dec. 3 in Louisville.
Though Kentucky crop and livestock receipts are expected to decline 16 and 3 percent, respectively, in 2015, other factors managed to slightly counterbalance the weakened markets.
"Record high grain yields and strong spring/summer cattle prices, coupled with solid poultry and equine sector figures, helped partially offset depressed fall cattle and grain prices, as well as falling tobacco revenues," Snell said.
Tobacco acreage was down, as were yields. This was the first year without tobacco buyout payments.
Though the cash receipts are often touted, Snell said net income levels are a more accurate reflection of the commonwealth's agricultural economy.
According to UK's estimates, Kentucky net cash income likely will dip below $2 billion in 2015 and approach the 2010-2012 average of $1.4 billion in 2016. The state's net cash income peaked at $2.75 billion in 2013, before slipping to $2.5 billion in 2014. Declining cash receipts coupled with the end of tobacco buyout payments are the major cause for the projected decline this year and next.
"The bottom line is, after several great, great years, 2015 and 2016 will be a challenge with net income plummeting," Snell said. "Hopefully, farmers put away some of their profits from previous years to weather the current downturn in the ag economy."
Kentucky continues to be livestock-dependent. Poultry remains the top agriculture enterprise with 22 percent of projected 2015 sales, followed by equine and cattle, each with 16 percent projected sales, and soybeans and corn at 13 percent sales.
A growing calf crop, lower exports, increased slaughter weights and competition from lower-priced meats forced fall calf prices to decline $50 to $70 per cwt from last fall. Burdine said it's likely calf markets will improve seasonally into spring 2016, but the overall downward trend will continue as the beef herd grows.
The poultry sector continues to grow, with production expanding in 2016 despite declining exports.
Hog prices took a dive, dropping more than 30 percent from 2014 as supply increased by 7 percent.
The equine market held the gains it made the last few years, with the 2015 September yearling and November breeding stock sales slightly higher. There are indications that stud fees will increase in 2016.
After a post-buyout high of $448 million in 2014, the value of Kentucky tobacco production likely will fall below $350 million this year and next. Globally, there will be an improved balance between supply and demand in 2016 that may minimize any changes in 2016 burley contract volumes.
2015 was a boom year for grain yields. Davis projected U.S. ending corn stocks at 1.76 billion bushels, the largest since 2005-2006. The U.S. marketing-year average price of $3.65 is only 20 percent above the marketing-year average price in 2005-2006, with inputs, machinery and land costs increasing by more than 20 percent over the past 10 years, resulting in tighter profit margins in 2015.
U.S. ending stocks for soybeans are projected to be 465 million bushels, which are the largest since 2006-2007 and 274 million more than last year.
The cool, wet summer contributed to modest increases in produce sales in 2015, which Woods projected to be $40 million.
As the economy continues to recover and the housing market and retail economy improves, greenhouse and nursery sales, hardwood sawlog and mill production should see moderate upward trajectories in 2016. Stringer said the boom in the bourbon whiskey industry and the subsequent increased need for barrels will produce a seller's market for landowners with quality white oak in 2016.
A copy of the outlook publication including information on individual farm sectors can be found at http://www.uky.edu/ag/agecon/pubs/extoutlook151601.pdf.
---
Crops
Economics
Equine
Forestry
Horticulture
Livestock