Knott named director of UK Research and Education Center
Knott named director of UK Research and Education Center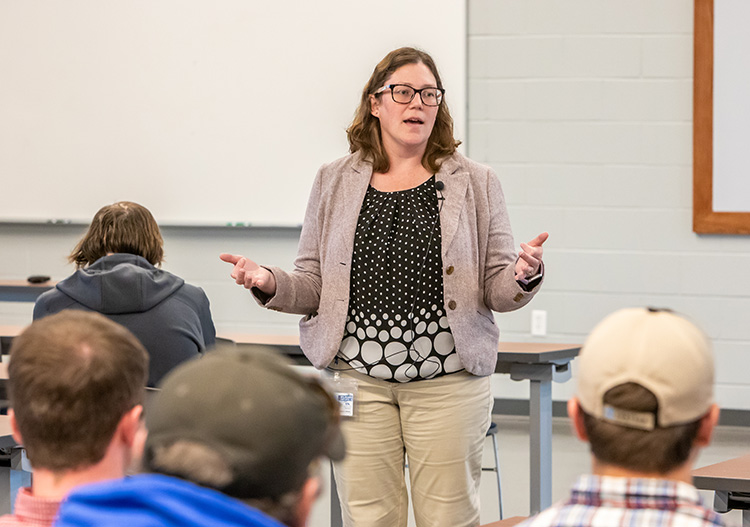 PRINCETON, Ky.—
 A researcher with deep roots in Kentucky agriculture and longtime ties to the University of Kentucky is the new director of UK's Research and Education Center in Princeton. Carrie Knott, UK extension associate professor, will begin her new duties Sept. 1.
"Dr. Knott has developed excellent relationships with farmers, commodity organizations, county extension agents and her colleagues," said Robert Houtz, associate dean for research in the UK College of Agriculture, Food and Environment and director of the Kentucky Agricultural Experiment Station. "She leads the training of new agents and was the lead investigator on a U.S. Department of Agriculture grant for experiential training of undergraduate students. She will bring her organizational skills and focus on helping others to her new role as director of the Research and Education Center. I'm looking forward to working with her."
As director, Knott will facilitate and support the efforts of the center's faculty and staff in establishing innovative programs and projects and developing a team-oriented, mission-centered agenda. She will serve as the liaison between college administration and the center's faculty and staff and will represent the interests of the center to stakeholders. Her responsibilities include budget oversight, long-term planning, strategic programming and shorter-term prioritization. She will continue her extension appointment in applied agronomic research in small grains and soybeans.
Knott hopes to use the center's existing resources to develop center-focused initiatives that involve faculty and staff from multiple disciplines. She is interested in leveraging the center's expertise to develop the next generation of agricultural leaders and help Kentucky agriculture become more successful.
"I hope to engage students early on in their academic careers by bringing them to the center and showing them that there are numerous career opportunities for them in agriculture," she said. "We already have a couple of programs targeting this age group, and I hope to build upon those, so the next generation of Kentucky producers continues to be successful."
An Owensboro native, Knott was always interested in agriculture. From a young age, she worked on her family's farm, which at the time, primarily produced tobacco. She received her bachelor's degree in agriculture from Western Kentucky University. She earned her master's degree from UK in crop sciences. She studied tobacco breeding under Bob Miller, tobacco professor at UK and the University of Tennessee. She achieved her doctorate in crop science with an emphasis in wheat breeding under the advisement of David Van Sanford, UK professor. Knott conducted much of her doctoral research at the UKREC.
After receiving her doctorate in 2007, Knott joined the Louisiana State University faculty as a coastal plant breeder and assistant professor. She returned to UK in 2013 and serves as an extension associate professor for grain crops. She led the USDA summer internship program offered through the UK Grain and Forage Center of Excellence.
---
Biosystems Ag Engineering
Crops
Economics
Entomology
Extension
Livestock
Research