Lemon Tree Prepares Sweet Experience for Students, Patrons Alike
Lemon Tree Prepares Sweet Experience for Students, Patrons Alike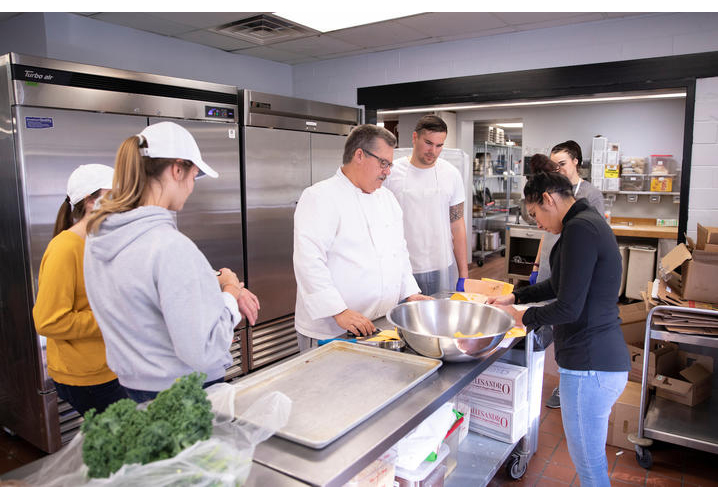 LEXINGTON, Ky.—
Homemade butternut squash bisque, Italian sausage, sweet pepper relish, hand-rolled parmesan breadsticks and a double chocolate brownie sundae. Sound like the agenda of a typical college classroom? It is for some students at the University of Kentucky.
The above is just one of the many hand-crafted meals put together by a UK class and served at the Lemon Tree, an on-campus restaurant. But the course is serving up far more than meets the eye.
The Lemon Tree is a full-service restaurant located in Erikson Hall that is managed and operated jointly by dietetics and human nutrition (DHN) and hospitality management and tourism (HMT) students in the College of Agriculture, Food and Environment School of Human Environmental Sciences. Throughout the eight-week course, students learn quantity foods production using locally grown foods.
Each week, students rotate on teams through positions in front-of-house and back-of-house. Students have a hand in everything from folding napkins and decorating tables, to reservation management and table set-up. The course enables undergraduate students to gain hand-on experience in every facet of the food production and hospitality sector.
The dining room, which can serve up to around 50 guests, welcomes guests from the university and Lexington community.
Students enrolled in the Lemon Tree course, officially titled DHN342: Quantity Food Production, are taught under the guidance of co-instructors Bob Perry, chef and Food Labs coordinator and coordinator of the Food Systems Initiative, and Aaron Schwartz, lecturer and Dietetic Internship Program director in the Department of Dietetics and Human Nutrition.
Perry handles everything and anything in the kitchen, while Aaron Schwartz manages the front-of-house operations like set-up, serving and reservation management.
Emily Gogel, a Georgetown native studying dietetics, appreciated the opportunity to learn firsthand how food is sourced for the restaurant.
"I love learning about where the food is sourced and whether it is organic or local and the type of foreman practices. Learning about food systems in general is such a valuable experience for any future career in dietetics. You hear all of these things about cage-free and you don't really know what it means. But after talking to Chef Bob I gain a better understanding of how such a large university can impact the food systems and availability of local food," Gogel said.
Chef Perry, who has been with UK since 2006, leads the production in the kitchen and was instrumental in launching a local food program in the dining halls. That commitment to local farms and sustainability is inspiring students to look deeper at the food they cook with and consume.
"Local food is usually fresher and harvested fully ripe and therefore retains more flavor and nutrition," Perry said. "Local food also contributes significantly to the local economy, and monies spent on it tend to circulate locally more than monies spent with non-local stores."
Fostering student relationships is another outcome of the Lemon Tree course.
"It's been a great bonding experience for my classmates and I," Gogel shared. "We've been put in a few high-stress situations in which we needed to be on our A-game to ensure the food went out on time. I have become such better friends with so many of my classmates from this experience, and another plus is sharing a meal with them afterward. It's the best food on campus."
But Gogel also recognizes the skills she's learned working front-of-house, including savvy business skills.
"Spending class time learning how to manage and work in a restaurant helps it to feel less daunting because we work on things like finance, money management and management in general as well as how to be a leader that helps and instructs instead of simply telling others what to do. You also learn how to manage different personalities and how to work as a team, which we will carry wherever we end up after graduation," she said.
The mix of students from two different majors has created the perfect recipe for success at front-of-house.
"We work very hard to put the responsibilities on them, which forces them to communicate and lean on one another in order to accomplish the objectives for the day," Schwartz said.  "The fact that it is a class of two professional majors, dietetics and hospitality, management and tourism only further contributes to these points, as students from each department bring their separate strengths and weaknesses. By the end of the semester, each class is a well-oiled machine and relationships have been built and strengthened as a result."
Teamwork is a vital component of the course, as students learn through trial and error.
"This class is built on the foundation of teamwork and service, and students learn its importance firsthand, sometimes through our successes and sometimes through our failures. What we are teaching are real-life, tangible and transferrable skills that I truly believe help mature students and prepare them for the professional world," Schwartz said.
Perry and Schwartz understand that not every DHN and HMT student will go on to work in a restaurant environment or manage food production directly. But they aspire to instill lessons in students about the environment that will carry them into a multitude of fields in the future, as well as their personal lives.
"As most students are now several generations removed from farming, teaching students where and how food is produced is more important than ever," Perry said. "Our students will be feeding themselves for the rest of their lives. We should all be thinking of how to leave less of an ecological footprint in our increasingly fragile ecosystem, and using local foods is a delicious way to do that."
The Lemon Tree is located on the second floor of Erikson Hall and serves lunch Tuesdays and Thursdays at noon sharp for select weeks during both spring and fall semesters. Patrons of the restaurant pay just $14 for a three-course meal made from scratch. Reservations are on a first-come, first-served basis and are required for patrons.
For inquiries regarding reservations, contact Tracy Cayson at 859-257-3800 or through email at tracy.cayson@uky.edu.
---
Family Consumer Sciences
Food Science
Nutrition