Lynn Leedhanachoke wins UK Department of Veterinary Science's Three-Minute Thesis competition
Lynn Leedhanachoke wins UK Department of Veterinary Science's Three-Minute Thesis competition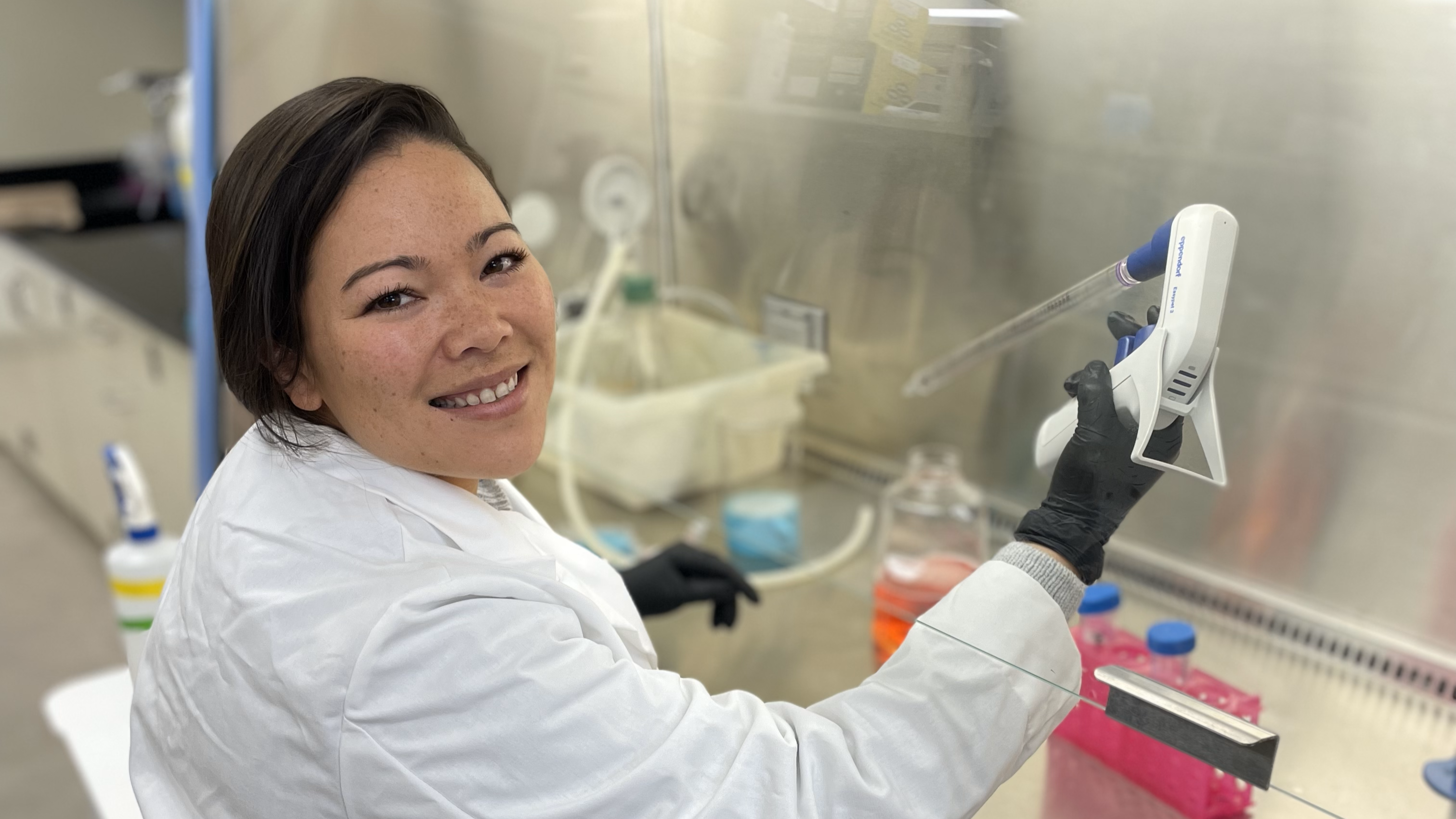 Lexington, Ky.—
Lynn Leedhanachoke, a fourth-year Veterinary Science PhD candidate with a concentration in molecular microbiology at the University of Kentucky Martin-Gatton College of Agriculture, Food and Environment, recently won the UK Department of Veterinary Science Three-Minute Thesis (3MT) competition, hosted at the UK Gluck Equine Research Center.
Leedhanachoke's thesis focuses on the effect of gastrointestinal infections in horses using organoids, miniature organs cultivated in a lab setting. 
Australia's University of Queensland initially developed the 3MT rules, which allows students three minutes to discuss their research using only one presentation slide and no props. 
"Traditionally, the response to gastrointestinal infections has involved offering supportive care and hoping for the best," Leedhanachoke said. "Research is underway to change this narrative by bringing the equine gut to the laboratory bench." 
With organoids, Leedhanachoke is exploring new horizons to understand and address infectious causes of intestinal illnesses in horses. The research project primarily focuses on two main models for growing equine intestinal organoids: flat layer and equine chip systems. 
"The flat layer system is a cost-effective option, accessible to researchers with standard incubators," Leedhanachoke said. "It involves cultivating organoids in a flat, monolayer format, allowing for a controlled environment. This system is an excellent starting point for understanding how equine tissues react to various infections." 
Leedhanachoke says the equine microfluidic chip system represents a state-of-the-art approach that mirrors the natural peristalsis and intestinal fluid flow within a horse's gut. This system offers a more sophisticated and dynamic environment for growing equine tissues. By introducing mechanical stretch and directional fluid flow, researchers can replicate real-life conditions and better study the infection outcomes, mimicking the complexities of the equine gastrointestinal tract. 
Leedhanachoke's advisor, Carrie Shaffer, says Leedhanachoke is the right person for this research. 
"Lynn is incredibly bright and works at the forefront of equine biomedical research," Shaffer said. "I was thrilled she trusted me with her graduate training, while tackling a high-risk/high-reward research project focused on developing innovative in vitro tissue models that reflect the dynamic physiology of the horse." 
In 2022, Leedhanachoke represented Shaffer's lab as a USDA Young Investigator at the international MedVetPathogens conference in Tuscany, Italy. 
"I am extremely proud of Lynn's accomplishments. I'm looking forward to her graduating with several high-impact papers, advancing the boundaries of equine medicine," Shaffer said. 
– 30 –                                      
The Martin-Gatton College of Agriculture, Food and Environment is an Equal Opportunity Organization with respect to education and employment and authorization to provide research, education information and other services only to individuals and institutions that function without regard to economic or social status and will not discriminate on the basis of race, color, ethnic origin, national origin, creed, religion, political belief, sex, sexual orientation, gender identity, gender expression, pregnancy, marital status, genetic information, age, veteran status, physical or mental disability or reprisal or retaliation for prior civil rights activity.   
---
Awards
Equine
Research
Students