March 31-April 4 is BrAg Week at UK
March 31-April 4 is BrAg Week at UK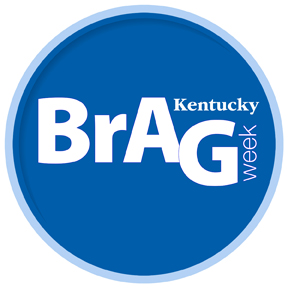 LEXINGTON, Ky.—
It's time to BrAg about agriculture and related fields. The University of Kentucky College of Agriculture, Food and Environment is hosting BrAg Week March 31-April 4, a campus event to raise awareness and to promote agriculture and the career opportunities available.
"Agriculture impacts so many areas of life from food consumption to clothing, health care, recreation, technology and family life," said Jason Headrick, the college's director of student relations. "We also want this week to serve as an avenue for students to talk about their major, their experiences and their personal ties to the ag industry."
Daily events are planned throughout the week to highlight agriculture and the college, which is ranked as a top 10 agricultural research program. A schedule of events is as follows:
·         March 31, Social Media Day: The college's Office of Academic Programs encourages students, faculty and staff in the college to share reasons why agriculture and related studies are important to society and to promote the field. Use the tag #UKBrAgWeek with any posts. The post with the most likes, retweets or conversations will receive a prize.
·         April 2, Ag Awareness Day: The college encourages the university community to visit interactive booths run by UKAg student organizations and outside agricultural groups to learn about the industry's impact on daily life. The event occurs from 11 a.m. until 2 p.m. in the courtyard outside Erikson Hall and is sponsored by the UKAg Dean's Office and the Office of Academic Programs.
·         April 2, ONE Food Forum: The Lexington ONE Chapter and Hunger U! Initiative will sponsor a panel and discussion about global hunger/agriculture and poverty with the goal of mobilizing UK students and Lexingtonians to engage in advocacy. Doors open at 6 p.m.; activities begin at 6:30 p.m. in the William T. Young Library.
·         April 3, Snack-N-Chat with the Archer Daniels Midland Company: A representative from the global food processing and commodities-trading corporation will be in the Agricultural Science Center's Seay Lobby at 3 p.m. to recruit students for operation management positions in the company.
·         April 3, "A Place at the Table": At 5 p.m. in the Seay Auditorium, the Office of Academic Programs will host a special viewing of the movie followed by a discussion led by a UK Ag faculty member. Pizza will be provided. Participants are encouraged to bring $1 to donate to an agricultural-based charity.
·         April 4, Hay, Thanks! Day: An opportunity to thank members of the college or in the agricultural community for their contributions to agriculture literacy. Participants are encouraged to express their "Ag"ratitude to at least four individuals who have impacted their agricultural journey.
More information about BrAg Week is available on the website http://academics.ca.uky.edu/BragWeek2014.
---
Biosystems Ag Engineering
Community Development
Crops
Economics
Entomology
Equine
Events
Family Consumer Sciences
Forestry
Horticulture
Livestock