Marshall County poultry farmers find new use for chicken litter
Marshall County poultry farmers find new use for chicken litter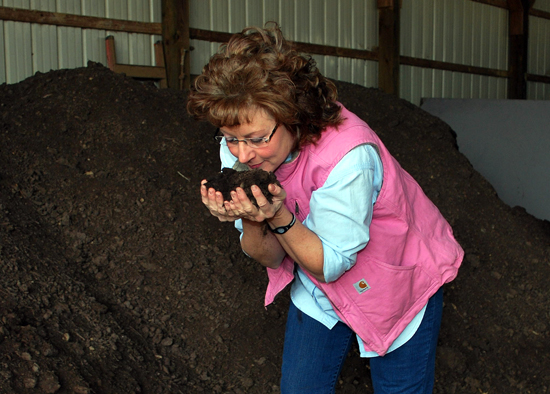 BENTON, Ky.—
Chickens produce a lot of poop. In fact, poultry farmers struggle to find ways to dispose of or reuse chicken litter in a way that's friendly to the environment. In Marshall County, two poultry farmers are using the litter in an innovative way that not only is environmentally sensitive but is making them a little money on the side.
Doug and Dianna Hall are composting the chicken litter and selling the finished product as a composted soil amendment landscapers, home gardeners and personnel of parks and golf courses can use to enrich and improve their soils.
"If we put the time and effort into planting seeds in our gardens and do nothing to improve our soils, we're just wasting our efforts, because we end up with diseased plants, unhealthy plants and unproductive plants," Dianna Hall said.
The Halls came up with the idea and connected with Lincoln Martin, University of Kentucky Cooperative Extension Service agriculture and natural resource agent in Marshall County. He was able to arrange a visit for them with a producer who was doing the same thing in southern Tennessee.
"They built upon some things they learned that day, improved some things, eliminated others and applied intelligence, knowledge and research to find out what it might take to do this," Martin said. "I don't think they've looked back since."
Determining the correct formula for composting the litter and eliminating its smell didn't happen overnight. The Halls began experimenting with different compost mixtures in 2009 and daily monitored the temperature and moisture content of the compost until they found a formula that worked for them. Dianna Hall also consulted Iin Handayani, an agronomist and her graduate school adviser at Murray State University.
The Halls wanted to keep costs as low as possible for the composting project. They used equipment they had already purchased for the poultry operation to start the composting process. Doug Hall collected old farm equipment from area farmers that they no longer had a use for and created a machine that sifts the finished product to give it a uniform appearance and allow for easy packaging. Compost that doesn't fit the uniform standards is sent back through the process.
"It was a lot of trial and error, but the main thing is it was low budget," Doug Hall said. "We're not looking at a lot of money and equipment to get our product out."
---
Community Development
Economics
Environment
Extension
Horticulture
Livestock
Sustainability