Mountain Fest celebrates mountain life in its many colors
Mountain Fest celebrates mountain life in its many colors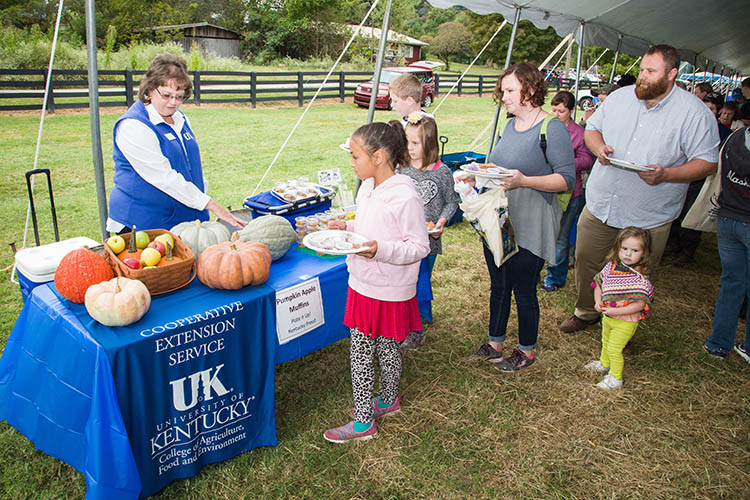 QUICKSAND, Ky., — The University of Kentucky Robinson Center for Appalachian Resource Sustainability ushers in autumn and celebrates mountain life with Mountain Fest, Sept. 18-22.
"We'll celebrate the rich, natural and cultural life of the mountains," said David Williams, the center's director. "There's something for every age group and every interest. We are proud to show off our research in the College of Agriculture, Food and Environment, as well as highlight the arts and talent that are alive in this region."
Mountain Fest kicks off with a Youth Field Day Sept. 18. Fifth- and sixth-graders will gather at the center in Quicksand and choose from agricultural topics that include seed starting, butter making, poultry production, among others. Students in ninth through 12th grades will meet at UK's Robinson Forest and choose between wildlife and forestry tracks. The wildlife track includes radio telemetry in its list of subject matter, and the forestry track will cover topics such as tree identification and ecology and forest health.
Pumpkin Days will burst out the next two days with all-things-pumpkin for the young ones. Kindergarten and first-grade classes are welcome Wednesday, Sept. 19 and Headstart and preschool classes are welcome Thursday, Sept. 20. Activities on the Robinson Center campus will include physical activity stations, coloring stations, pumpkin games, pumpkin tasting and pumpkin story time. Each child will get to pick their own small pumpkin to take home. For more information, contact Martha Yount at 606-666-2438, ext. 235 or email her at myount@uky.edu.
On Saturday, Sept. 22, Robinson Center throws open the gates to everyone for a day of hayrides, tours, workshops, exhibits, vendors and music. Registration begins at 9 a.m., and the field day runs from 10 a.m. to 2 p.m., followed by a Punkin Chunkin' competition at 2:30 p.m.
The day will include UK farm tours and one, led by Jackson Vice Mayor Stephen Bowling, that will cover the history of Quicksand. Visitors can enjoy a painting class and music by Ron Pen, professor emeritus in the UK School of Music. The UK Wood Utilization Center will host birdfeeder workshops throughout the day.
Exhibits under the tent will include more than 20 displays and demonstrations. Crafters will demonstrate their crafts and will have items available for purchase. Food trucks will also be on hand.
Groups are invited to build and bring pumpkin launchers to compete in Punkin Chunkin'. Launchers must be mechanical in nature, such as catapults or trebuchets, and cannot use firepower like cannons or potato guns, for example. Register to participate in the contest by calling 606-666-2438.
More information about the Youth and Mountain Fest Field Days is available online at https://rcars.ca.uky.edu/event/mountain-fest-field-day or by calling a local office of the UK Cooperative Extension Service.
---
Events
Extension
Forestry
Horticulture
Research
Sustainability