Plant pathologist Ardra Kachroo featured in 'I am a UK Innovator' video series
Plant pathologist Ardra Kachroo featured in 'I am a UK Innovator' video series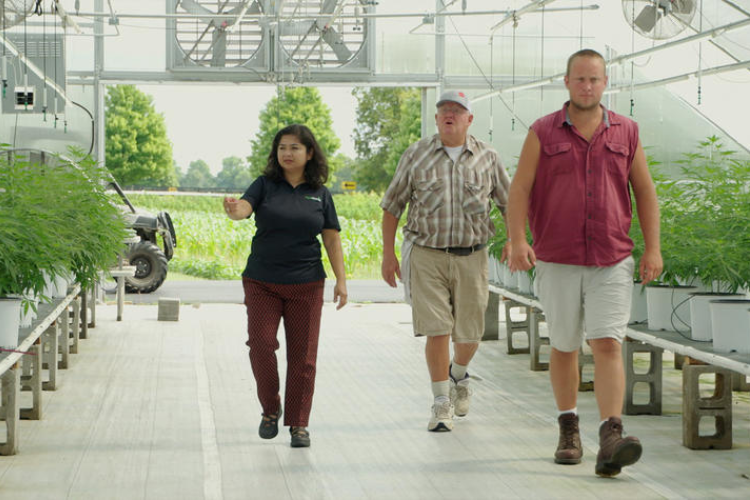 Lexington, Ky—
Every innovation starts with an idea. To highlight people with world-changing ideas at the University of Kentucky, Research Communications produced "I am a UK Innovator," a four-video series featuring faculty innovators who have partnered with UK's Office of Technology Commercialization (OTC). OTC works collaboratively with innovators to strategically assess, protect, and license early-stage technologies and co-create new technology startups. In this Q&A Aardra Kachroo, professor in the Department of Plant Pathology in the College of Agriculture, Food and Environment, shares the challenges of her research and the thrilling moments of discoveries.
Interviewer: What motivated you to go in the direction of becoming a researcher? Was it an interest you've had since you were a child, or did it develop later?
Kachroo: In middle school, I remember driving my mother crazy leaving food items out to mold, so I could peer at the fungal growth under the mini microscope my dad had bought me. I don't think I really recognized it then as a passion for research. I credit one of my undergraduate professors for inspiring me. He would encourage us to question our surroundings and plan little experiments, despite the extremely limited resources for undergraduate research at the time. I was hooked to research the day I first extracted DNA from coconut milk one summer.
Interviewer: What is the most challenging aspect of your research?
Kachroo: In the beginning, it was learning to emotionally disengage from the outcome of my experiments. As a young researcher it is common for your happiness scale to fluctuate with how well your experiments work, and they tend to fail a lot. The greatest challenge now, as an advisor and supervisor, is personnel management, ensuring the emotional and professional wellness of the entire team while maintaining the quality and rigor of research.   
Interviewer: What have been the most fulfilling moments for you regarding your discoveries?
Kachroo: The surprising outcomes of our experiments that have led to breakthroughs in knowledge, either reforming existing notions or advancing the field. Realizing that the basic science discoveries we make can, and do, change lives has also been very fulfilling. Early on in my career at UK, the applicability of my research seemed a distant goal. Yet, one afternoon after five minutes of presenting my research to a group of Kentucky grain crop producers, a few of them came over to me and excitedly asked, "When can I try this in my field?" I will never forget that feeling of gratification.
Interviewer: What is your favorite part of being a researcher?
Kachroo: The unpredictable nature of biological science research. You can have the most well-developed hypothesis one day only to have it completely revised the next. It is the infinite possibilities of exciting outcomes that fuel me.
Interviewer: What would you tell someone who is thinking about joining the research enterprise at UK?
Kachroo: Being a part of the state's flagship university affords unique opportunities for making lasting and impactful contributions to society. We are not without our fair share of shortcomings, but we do value research here at UK. The University provides significant support systems, opportunities for collaborations, multidisciplinary research capabilities, and avenues for professional growth.
---
Crops
Horticulture
Research