A small-grain value chain comes full circle at UK
A small-grain value chain comes full circle at UK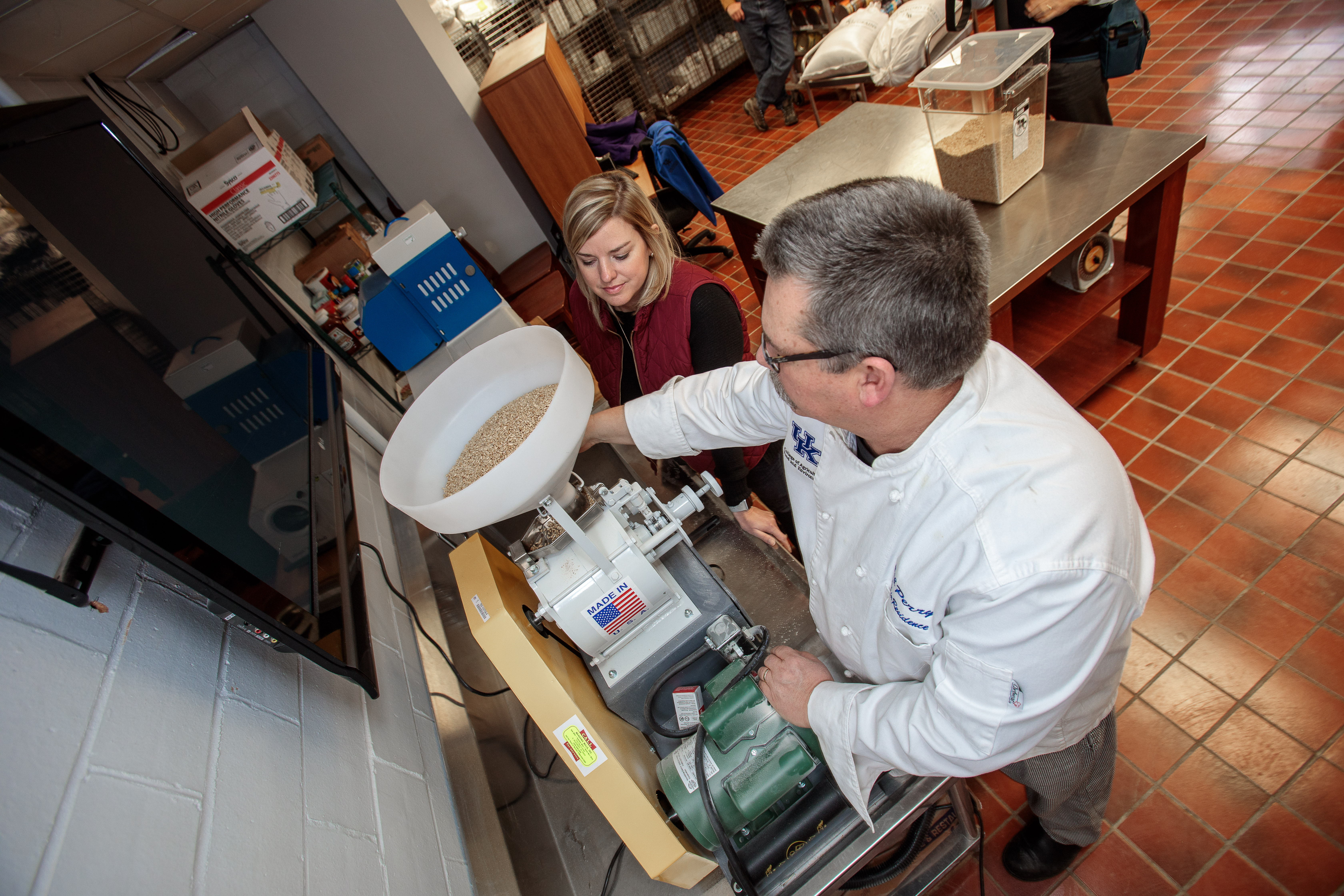 LEXINGTON, Ky.—
To watch the video, click here.
A longtime relationship between a University of Kentucky College of Agriculture, Food and Environment researcher and a Kentucky wheat producing family has led to UK students having a unique learning experience with small grains on campus.
The Halcomb family, of Schochoh in Logan County, have worked with David Van Sanford, UK wheat breeder, on numerous research projects over the course of three decades, including hosting UK's wheat variety trials on their Walnut Grove Farms.
 Both are interested in establishing regional, small-grain value chains to connect Kentucky wheat producers with local millers, restaurateurs and bakers who are interested in incorporating local grains into their products and their menus. As a result, the Halcombs have been growing a small amount of the Edison wheat variety, a hard, white, spring wheat known for its flavor.
"If consumers know where their food is coming from and that it is produced ethically and sustainability, they are going to be proud to eat that food," Sarah Halcomb said. "That's the experience we want to be able to provide for them."
Edison wheat is used to produce scones, biscuits, cakes, muffins, artisan breads and pizza dough. It is not a variety typically grown in Kentucky, but with some production modifications, the Halcombs were able to achieve decent yields.
 "We want people to be aware that we do have the capability to produce it," said Van Sanford, a professor in the Department of Plant and Soil Sciences. "The bakers, who have used it, like Bluegrass Baking in Lexington and Sixteen Bricks up in Cincinnati, just love it, because it is so flavorful and has good dough functionality."
While the Halcombs look for commercial outlets for their product, they are also providing some of the grain to UK for teaching and research purposes.
This is a hands-on teaching opportunity Bob Perry, chef in the UK Department of Dietetics and Human Nutrition, was excited to pursue. He recently purchased a flour mill with funds from the Kentucky Agricultural Experiment Station for a teaching tool at the Lemon Tree, the college's student-run restaurant. Perry will instruct students how to mill the grain and prepare its resulting products in the Lemon Tree class that he co-teaches with UK lecturer Aaron Schwartz. Perry plans to use the flour in each of the breads served at the Lemon Tree this semester and show the students that whole grains can be flavorful. He will also let the Lemon Tree's customers know the bread they are eating is local.
"This is a true value chain," Perry said. "Dr. Van Sanford breeds the wheat. The Halcombs grow the wheat. We mill the wheat, and the customer gets to enjoy it."
William Burgess is a UK student who is excited about the project.
"For me, actually, it's a local thing," he said. "If I can support a local product or a product made by Kentucky families or people who have studied at UK, then it is well worth it to eat that kind of grain."
Van Sanford continues to screen varieties for aroma and taste with the hopes of Kentucky producers growing other nontraditional varieties in the state to meet the needs of the growing local food industry.
"We are interested in working with any farmer who is interested in having the ability to trace flour on store shelves directly to their farms," he said.
---
Crops
Food Science
Research