Students return with new perspective from half a world away
Students return with new perspective from half a world away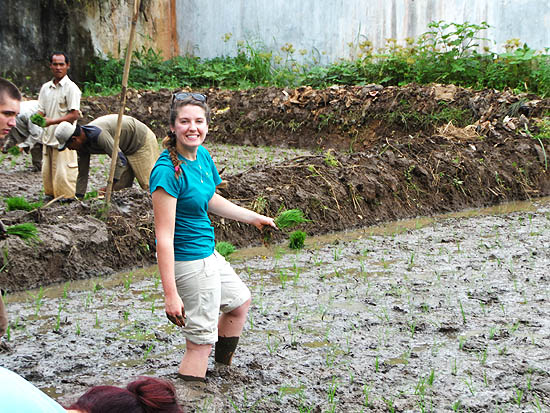 LEXINGTON, Ky.—
Alexis Amorese didn't take a traditional vacation this summer, but she still went halfway around the world and brought back memories for a lifetime.
Amorese, a University of Kentucky senior majoring in horticulture and minoring in sustainable agriculture, was one of five UK students awarded a Benjamin A. Gilman International Scholarship, which helps fund study-abroad opportunities. The Bureau of Educational and Cultural Affairs at the U.S. State Department provides the funds for the scholarship and the Institute of International Education administers it. In Amorese's case, the scholarship helped pay for a "once-in-a-lifetime experience," five weeks in Indonesia as part of a UK College of Agriculture, Food and Environment study abroad program in sustainable agriculture.
For Amorese, who will graduate in December, the trip was an opportunity to cross a couple of items off her bucket list and to give her inspiration as she begins a new job as a UK Cooperative Extension horticulture agent in Boyle County.
"I think there are a lot of things to take from their agriculture system," she said. "They use every resource they have…. It's a really closed system, and I think that's something, sustainably, we're pushing towards (here)."
Krista Jacobsen, assistant professor in the UK Department of Horticulture, led eight students on the extended trip to the Southeast Asian country. The goal was to give an interdisciplinary, international perspective on sustainable agriculture.
"The idea was to go to a different part of the world and learn about the interdisciplinary place-based aspect of sustainability and also to see that folks in a different context and a different way face similar challenges in agriculture: profitability, sustaining the environment and building strong communities," Jacobsen said.
The students, along with Jacobsen, Keiko Tanaka, associate professor in the UK Department of Community and Leadership Development, and Michael Goodin, associate professor in the UK Department of Plant Pathology, visited three of Indonesia's more than 17,000 islands, Sumatra, Java and Bali. It wasn't just a sightseeing trip. Students worked with local farmers and learned from Indonesian scientists.
Sumatra is largely forested. Amorese and her classmates worked mostly in forest and mountain agriculture systems while on the island, learning about smallholder, community-based forests where people raise coffee (Indonesia is the world's fourth largest coffee producer) and participate in a number of agroforestry systems that are being promoted as alternatives to deforestation. Soaked in mud up to their waists, they joined the local village children in planting 60 mangrove trees. They learned about the importance of fisheries and aquaculture in Indonesian agriculture and visited an oil palm plantation, which gave them the opportunity to compare agriculture's effects on community development on both large and small scales.
"Oil palm is certainly not a great thing from an environmental perspective. It maintains forest cover, but it is a giant monoculture, so there are some biodiversity issues and land use issues related to that," Jacobsen said. "But I was hoping the students would gain a perspective on the complex decisions that governments have to make when they think about increasing their GDP and agriculture as development."
Indonesia is one of the top producers of palm oil, production of which contributes more than 4 percent to the country's gross national product. A report by World Growth estimates that employment in the sector effectively lifts 6 million people out of poverty.
"Looking out over literally thousands and thousands of hectares of oil palm trees and seeing this monoculture and this very industrialized crop that is similar to our (industrialized crops) was beautiful and almost kind of scary," Amorese said. "But they're doing things to improve the idea of monoculture, trying to reintroduce species and having protected areas within the plantation, things like that. So it's improving over what it used to be."
On Java, the students experienced traditional Javanese rice production, and Amorese was able to cross off "plant rice" from her bucket list. They learned about complex polycultures where rice is grown in conjunction with ducks, fish, chickens and cows. They also saw farmers who were planting alternative, high-value, small-scale crops to replace rice, which isn't an economically viable crop on a small scale.
A week on Bali taught them about Subak rice production with the help of an anthropologist from Udayana University. Subaks are village cooperatives that help manage the complex irrigation systems that are necessary for the steep, hillside rice paddies.
"I feel like I'm a little more knowledgeable on closing those loops now," Amorese said, looking back at her experiences in Indonesia. "How do you do this, so you make the most of your time, your energy and your resources? Things like permaculture and the way farms are set up are some things I've seen and witnessed more about. I know that my farmers, even home gardeners, can really benefit from what I've learned."
Jacobsen hopes this year's trip will be a pilot for similar programs, particularly intercollegiate collaborations. One of the participants was a student from the University of Missouri. Jacobsen sees this collaboration between programs as a way to broaden each land-grant university's reach and to build on their strengths.
"On a national level, these sustainable agriculture programs are all quite young," she said. "We're all in the same place, where we're trying to build our sustainable ag-oriented education abroad offerings. We want to build strategically as a group."
Jacobsen hopes to have some conversations at a national level about how to expand and share study abroad opportunities among land-grant universities. So the next time this particular trip will be offered—possibly 2015—it could reach a broader audience of students eager to learn about how another culture approaches sustainable agriculture.
---
Awards
Community Development
Crops
Economics
Environment
Horticulture
Sustainability