Time to BrAg about Ag
Time to BrAg about Ag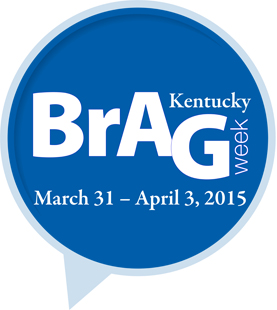 LEXINGTON, Ky.—
It's time to BrAg about all things agriculture, food and environment. The University of Kentucky College of Agriculture, Food and Environment is hosting BrAg Week March 30-April 3, a campus event designed to raise awareness and to promote all aspects of the college and career opportunities available to graduates.
"Agriculture impacts so many areas of life from food consumption to clothing, health care, recreation, technology and family life," said Jason Headrick, the college's director of student relations. "We also want this week to serve as an avenue for students to talk about their major, their experiences and their personal ties to the ag industry."
Daily events are planned throughout the week to highlight the college, which is ranked as a top 10 agricultural research program. A schedule of events includes:
·         March 30, #BrAg Day: Use the hashtag #UKAgBrAgWeek and talk about agriculture and all the areas of life that the college reaches. Students are encouraged to discuss topics like the importance of the industry to everyday life, the relevance of their major, agricultural facts, personal agriculture experience and more. There will be retweets and likes all day.
·         March 31, Diversity in more than majors. Join us for Under the Rainbow, an open dialogue about being LGBTQ (Lesbian/Gay/Bisexual/Transgendered/Questioning), moderated by Carol Taylor from UK's Violence Prevention Center. The event begins at 6 p.m. at UK's E.S. Good Barn and is open to any UK student, faculty or staff interested in networking with others or learning how to be an advocate.  This meeting will allow open discussion and be a welcoming place for all.
·         April 1, Awareness Day Join the college from 11 a.m. until 2 p.m. for #UKAgAwarenessDay in front of Erikson Hall and behind Memorial Hall. Come and learn how agriculture impacts food, clothes, Lexington, the nonprofit scene and many other parts of life. There will be free T-shirts, food, fun and Ale-8-One beverages sponsored by Ale-8-One. Also, the college's Horticulture Club will have their spring plants available for purchase.
·         April 2, A Night with the Ag-ademy. The college's ambassadors will sponsor a showing of the movie Plastic Paradise: The Great Pacific Garbage Patch, followed by discussion about the use of plastic and how to lessen environmental footprints. Free cloth bags will be available on a first-come, first-serve basis to those who attend. The event begins at 5 p.m. in the Ag Science Center's Seay Auditorium.
·         April 3, Make It Personal!: Celebrate Agriculture in Your Own Way. This day encourages everyone to celebrate agriculture's impact on their lives. Possible ways to celebrate include thanking a farmer, posting a vine or Instagram, buying local or carrying a cloth shopping bag. Students are encouraged to share their Ag celebrations with others.
Make sure to check out the college all week on the University of Kentucky College of Agriculture, Food and Environment Facebook page and with Instagram and Twitter at @UKAgriculture, @UKAgStudents.
---
4 H Youth
Biosystems Ag Engineering
Community Development
Economics
Entomology
Equine
Events
Extension
Family Consumer Sciences
Food Science
Forestry