Twin brothers share love for UK, medicine
Twin brothers share love for UK, medicine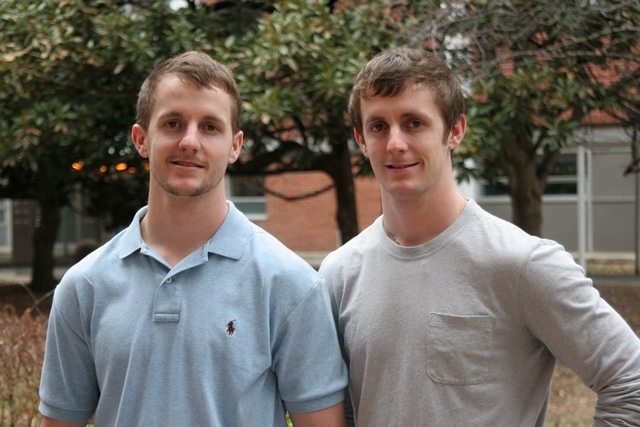 LEXINGTON, Ky.—
The Dickens' twins look alike, have similar taste in food, listen to the same music, and enjoy outdoor activities. They are both good in math and science, both earned a bachelor's degree at the University of Kentucky in human nutrition science with a minor in biology, and both are pursuing careers in medicine.
However, for perhaps the first time in their lives, Brett and Blake Dickens are at a fork in the road and each are going their separate ways; one road leading to the UK College of Dentistry and other road leading to the UK College of Medicine.
Blake and Brett, 23-year-old identical twins from Owensboro, say they grew up in a big UK family that bleeds blue, many of whom are in the health care professions. They remember listening to the stories of their two older sisters, Megan and Ashley, both graduates of the UK College of Nursing, and cousins, who are all nurse anesthetists, as they talked about their experiences on the job. Blake and Brett knew at a fairly young age that they wanted to follow in their family's footsteps to UK and into some area of health care.
"We really are alike to a T," Blake Dickens says. "Growing up and being so close, we always had conversations about what we wanted to do with our lives. So while we were dreaming about being professional athletes and other things that boys do, we also spent a lot of time talking about going into medicine."
Whether by nature or nurture, or perhaps a little of both, the brothers were drawn to medical careers. Blake became interested in dentistry because it allows him to combine both medicine and working with his hands. In addition, dentistry is a profession where he feels as though he can build strong, long-term relationships with his patients.
"I like seeing the before and after of good dental work," said Blake Dickens, currently completing his first year in the UK College of Dentistry.
Brett's interest in emergency medicine was influenced by an experience he had as a teenager while out riding with his dad, a retired firefighter and EMT.
"We came upon the scene of a horrible accident. My dad got out to help until paramedics arrived. Watching him work to help those people is something I will remember for the rest of my life," he said. "If bad things have already happened, I want to be there to help with a quick response."
Brett Dickens, currently completing his first year in the UK College of Medicine, worked in UK's Emergency Department (ED) all four years as an undergraduate student, and working in an ED is where he hopes to be someday, helping people in traumatic situations.
Blake Dickens says that he and his brother have spent almost their entire lives side by side.
"It's definitely a new experience to go an entire day without having a class together," he said.
"This is probably the biggest decision that we have made independent of each other," Brett adds.
Despite the running joke among their friends about how much Blake and Brett look and act alike, they have embraced their individual roles as UK dental and medical students and are thriving on their separate paths.
"I like learning about things I have seen and questioned and gaining an understanding in those things. It enables me to put things in order," Brett Dickens said.
Outside of class and studies, Brett represents his class in the Medical Student Government Association and takes part in an ultrasound interest group while Blake is president of the College of Dentistry's Class of 2017.
"The College of Dentistry does a good job of creating a supportive, family-like atmosphere. Faculty come out and mingle with students at events. It's a very collegiate network," he said.
The bond that exists between Blake and Brett Dickens is undeniable. Even though they are on separate journeys towards a career in dentistry and medicine, they will always share the advantages that come along with being a twin; as well as the bond that links them to an entire nation - the Big Blue Nation - they bleed blue.
---
Family Consumer Sciences
Food Science
Nutrition