Two CAFE professors receive Excellent Undergraduate Research Mentor Awards
Two CAFE professors receive Excellent Undergraduate Research Mentor Awards
Published on May. 31, 2023
LEXINGTON, Ky.—
The University of Kentucky Office of Undergraduate Research recently honored four professors for their dedication to mentoring with the Excellent Undergraduate Research Mentor Award during the 17th annual Showcase of Undergraduate Scholars.
The student-nominated award recognizes UK faculty who have demonstrated an outstanding commitment to mentoring undergraduate researchers, providing exceptional undergraduate research experiences, as well as supporting and promoting undergraduate research initiatives on campus.
This year, students nominated a record number of 42 faculty mentors for the award, representing 30 disciplines and eight colleges. During the 2023 award ceremony, two of the four outstanding faculty mentors were are from the College of Agriculture, Food and Environment.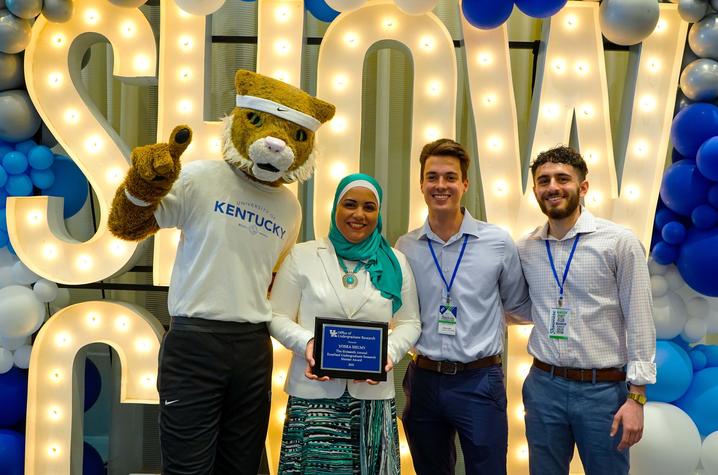 Yosra A. Helmy, an assistant professor for the Department of Veterinary Science was nominated by two students, Grant Kelley and Rami Musa.
When asked why Helmy should be considered for the award, Kelly said, "Dr. Helmy has inspired me to always think critically and seek out my own answers. She's taught me that while precedent is important, new and unique thoughts, ideas and perspectives are what fuel the acquisition of new knowledge." Musa continued, "Dr. Helmy's unwavering support, guidance and encouragement have played a critical role in my success as a student researcher. Her professionalism in overseeing every student and her dedication to providing career advice and support to all of her students makes her the best candidate for the award."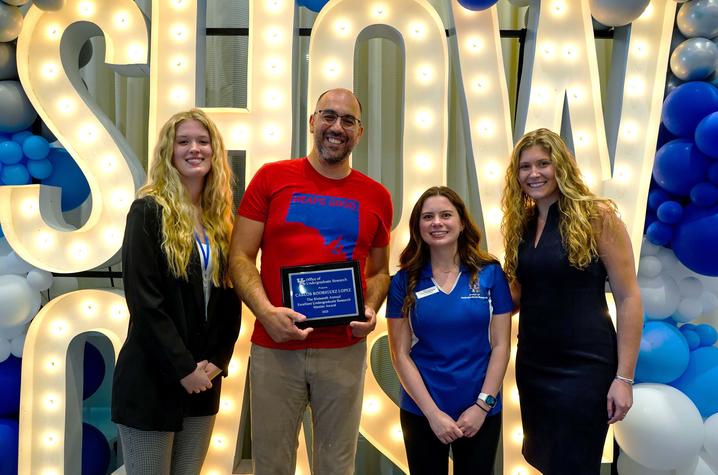 Carlos Rodriguez Lopez, an associate professor for the Department of Horticulture was nominated by three students, Isabella Lytle, Bridget Bolt and Gretchen Ruschman.
"Dr. Lopez goes above and beyond for his students,"  Lytle said. "He will push his students to work hard and get to the future that they dream of."
Bolt continued, "From the beginning, Dr. Lopez has been invested in the success of every student that steps foot into his lab," Bolt added. "He focuses on implementing skills that aid in the future professional development of students that lasts a lifetime. I would not be where I am today without him. The experience he granted me has opened continuous doors I would never have imagined open."
Ruschman said Lopez stands out as a mentor.
"Within the lab, there is a diverse group of undergraduate researchers with their own unique ambitions," he said. "He does an excellent job in guiding and supporting each one of us on our own individual path. Dr. Lopez truly cares for his undergrads and has fostered an environment of encouragement, mentorship and scientific excellence that transcends beyond the lab."
At UK, faculty mentoring is a valued investment and a key ingredient to students' success in the relationships formed between faculty and students. The dedication and mastery of these mentors prepare students for the rigors of not just their career fields but how they progress professionally and personally.
For a list of this year's award nominees, click here. For a full list of previous award winners, click here.
---
Research
Students