UK agricultural and medical biotechnology student's education, career path, shaped by Alaskan internship
UK agricultural and medical biotechnology student's education, career path, shaped by Alaskan internship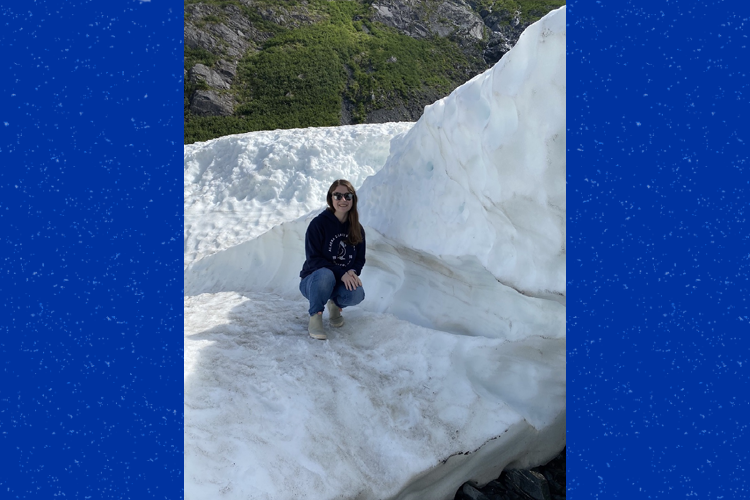 LEXINGTON, Ky.—
Getting out of the classroom or lab and exploring somewhere new can be a life-changing experience for a science student. Of course, it certainly doesn't hurt if the location also has spectacular mountains, beautiful glaciers, craggy coastlines and diverse animal life. 
Elisabeth Rintamaa, an agricultural and medical biotechnology senior (ABT) in the University of Kentucky College of Agriculture, Food and Environment, learned just that while doing a summer research internship with the Alaska SeaLife Center in Seward, Alaska.   
Long before she embarked on her 4,000-mile journey to Alaska, Rintamaa's story started in childhood, when she showed an early interest in science. Even while baking cookies or helping cook meals in the kitchen, Rintamaa often remembers wondering, "Why is that happening?" or, "Why is this going on?"   
Rintamaa's mother, a former middle school science teacher and an associate dean in the UK College of Education, noticed these early signs and helped shape her daughter's future. 
"(My mom) could tell that I was very interested in chemistry and lab work, so she directed me to the ABT Major," Rintamaa said.   
But attending UK as an undergraduate student wasn't always something the Lexington native had considered.   
"My mom works here and my dad used to work here part time, so I (thought) 'that's a little too close to home,'" Rintamaa said. "(My mother) knew that the College of Ag was very helpful, and a little bit like a family, so she was like, 'let's try to find a major that fits you over there.'" 
Rintamaa has appreciated the flexibility of the ABT major, especially since she arrived not yet knowing exactly what she wanted to do after college. She also appreciates how it prepared her for doing research later in her undergraduate program.  
"I appreciate how it moved me into the research side so that I could discover that I liked conservation during junior year," Rintamaa said. 
Throughout her undergraduate program, Rintamaa kept adding valuable skills and experiences to her resume. One of those experiences was an internship doing lab research in the UK Department of Plant Pathology in 2021. 
According to academic coordinator Esther Fleming, all ABT students must complete a formal research experience. While most pursue internships in healthcare, working as EMTs, nursing aides and medical scribes, doing a marine internship is fairly uncommon.   
"Elisabeth is one of the first ABT students to complete a marine biology internship," Fleming said.  
An even lower percentage of ABT students complete two internships, as Rintamaa did. In her second internship, she made a conscious decision to look for opportunities that would give her broader experience in another field of biological science and included additional experiences outside the lab in the natural environment.  
"I went looking for (another) internship because I wanted to try animal research and get more experience in the field," Rintamaa said.   
After searching for opportunities and applying to several internships, she was accepted to the 2022 Seabird Research Internship program at the Alaska SeaLife Center in Seward, Alaska.  Nestled at the base of the Chugach Mountains, 125 miles south of Anchorage, the small town at the head of Resurrection Bay is known as a gateway to numerous tourist attractions, including nearby Kenai Fjords National Park.      
During her two and a half months at the SeaLife Center, Rintamaa worked on several different projects related to various aspects of wildlife conservation. 
One of those projects involved monthly, all-day boat trips on Resurrection Bay to make counts of seabird populations. This task required her to learn identifying features of the various seabird species and track any observed changes in population over time.     
Rintamaa also assisted with managing and organizing data from local soil samples collected by SeaLife Center scientists as part of a study investigating the diet of Alaskan seabirds. Within recent decades, microplastics introduced from marine pollution have presented an increasing threat to these populations. 
Another project involved monitoring nesting sites of the Black-legged Kittiwake, a vulnerable gull species whose populations have declined 40% since the 1970s over just three generations. 
Two other projects involved nutritional studies of clams and a study of water-borne toxins impacting a seabird species called the Common Murre. While Common Murres are one of the most dominant species of fish-eating seabirds in the North Pacific, a heatwave in 2014-2016 led to tens of thousands of dead or dying birds washing ashore on beaches from California to Alaska. The mass mortality event was linked to toxic algae in a large mass of warm ocean water called "The Blob." 
In addition to her research work, Rintamaa had a behind-the-scenes tour of the center's marine mammal rescue unit. At that time, the center had two seals in residence. 
"I definitely appreciate travel now," Rintamaa said. "Not that I didn't appreciate it before; its just so cool that I got to go up there, and I was working, and I also got to see all these new things that I had never seen before." 
Another lasting benefit from her internship has been the close personal relationships she developed with her fellow interns.   
"I really appreciated the connections that I was able to make while I was up there," Rintamaa said. "I had three great roommates (with whom) I am still in contact with to this day, and I'm still in contact with the seabird research team that I worked with."  
Rintamaa said going to Alaska was valuable in shaping her education and career paths. 
"It's the out-of-classroom experiences that have most shaped what I'm going to do," Rintamaa said.  "(The time) in the classroom gives me the background to know what I'm doing, but when I go out of the classroom, that's when I'm like, 'Oh, I like this,' or 'Nope, this is not for me.'" 
Rintamaa is looking forward to her future career and is motivated to get there after graduation.  
"That internship definitely taught me that I want to work with animals," she said. "I definitely appreciate when science has practical applications in the real world. I like getting to see something that I've invested so much of my time into helping the world. I want to continue to help as much as I can." 
---
Research
Students