UK College of Agriculture, Food and Environment receives record number of grant awards
UK College of Agriculture, Food and Environment receives record number of grant awards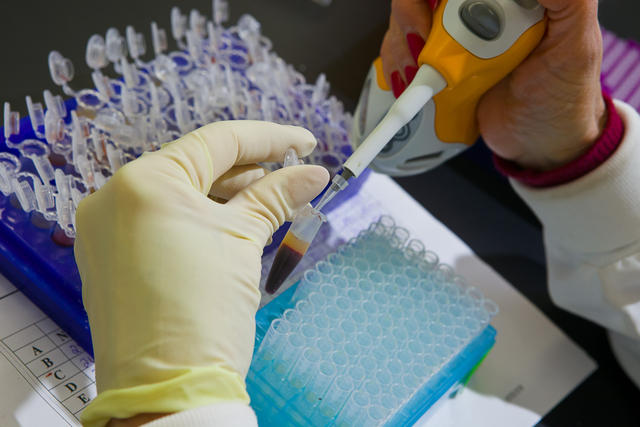 LEXINGTON, Ky.—
Researchers in the University of Kentucky College of Agriculture, Food and Environment brought in a record amount of grant awards from outside sources during the past fiscal year.
Grant awards totaled more than $39.2 million in fiscal year 2016, which was from July 1, 2015 to June 30. It is the most the college has ever received and is an increase of nearly $3 million from fiscal year 2015. It continues the steady increase in external grant awards for the college's researchers in the past several years. The award total includes grants that received first-time funding as well as those being funded for subsequent years.
"Our college continues to build on our tradition of providing a balance of basic and applied research to address challenges facing the region and state," said Rick Bennett, the college's associate dean for research and director of the Kentucky Agricultural Experiment Station. "We maintain a statewide presence in agricultural, food and environmental research, which are key components of Kentucky's economic future."
Awards included such diverse projects as a Centers of Disease Control and Prevention grant that seeks to help lower obesity rates in counties with a high number of obese adults and a grant from DuPont that explores how to increase poultry's digestion of amino acids, which could reduce their environmental footprint.
An award from the U.S. Department of Agriculture's Food and Nutrition Service funds the Rural Child Poverty Nutrition Center, which was established in 2015. Housed in the college's School of Human Environmental Sciences, the center is led by Ann Vail, director of the school and the project's lead researcher, and Joann Lianekhammy, center director. Its mission is to improve coordination between nutrition assistance programs, which will in turn increase program participation and reduce childhood food insecurity in persistently poor communities. The center has awarded $1.3 million in grants to 17 organizations in 12 states. Currently, members of those organizations are conducting research on barriers that prevent children from accessing nutritious food and participating in nutrition assistance programs. They are also developing partnerships with others in their communities to help them successfully implement their projects.
In another study, UK virologist Udeni Balasuriya is leading a team of Gluck Equine Research Center scientists to find a way to stop the spread of equine arteritis virus, which causes high rates of abortion in mares, death of young foals and stallions to become carriers. Before they received the USDA National Institute of Food and Agriculture grant, researchers already had found a subpopulation of white blood cells that makes some horses more susceptible to becoming carriers. They also have shown that genetics play a role in whether horses have this susceptibility.
A team of researchers led by Jan Smalle, associate professor in the UK Department of Plant and Soil Sciences, found nanoparticles can easily extract flavonoids from plants. Flavonoids are plant-made chemicals that have many potential human health benefits. Until the Smalle lab finding, scientists had no easy way to extract them from plants. Smalle and his team are now using their USDA NIFA grant to study how nanoparticles travel through the plant and whether this extraction process works on many different crops.
"We're proud of our landmark achievements in research this past year. We look forward to our continued trajectory of securing external grants needed to conduct research, which will expand our fundamental and applied knowledge impacting the lives of Kentuckians in all parts of the state," Bennett said. "Our outstanding research conducted by CAFE researchers with delivery through the Cooperative Extension Service, is a vital component of our state's economy."
---
4 H Youth
Awards
Biosystems Ag Engineering
Community Development
Crops
Economics
Entomology
Environment
Equine
Events
Extension